Archived Arts & Entertainment
This must be the place: Remember no man is a failure who has friends
Wednesday, December 21, 2022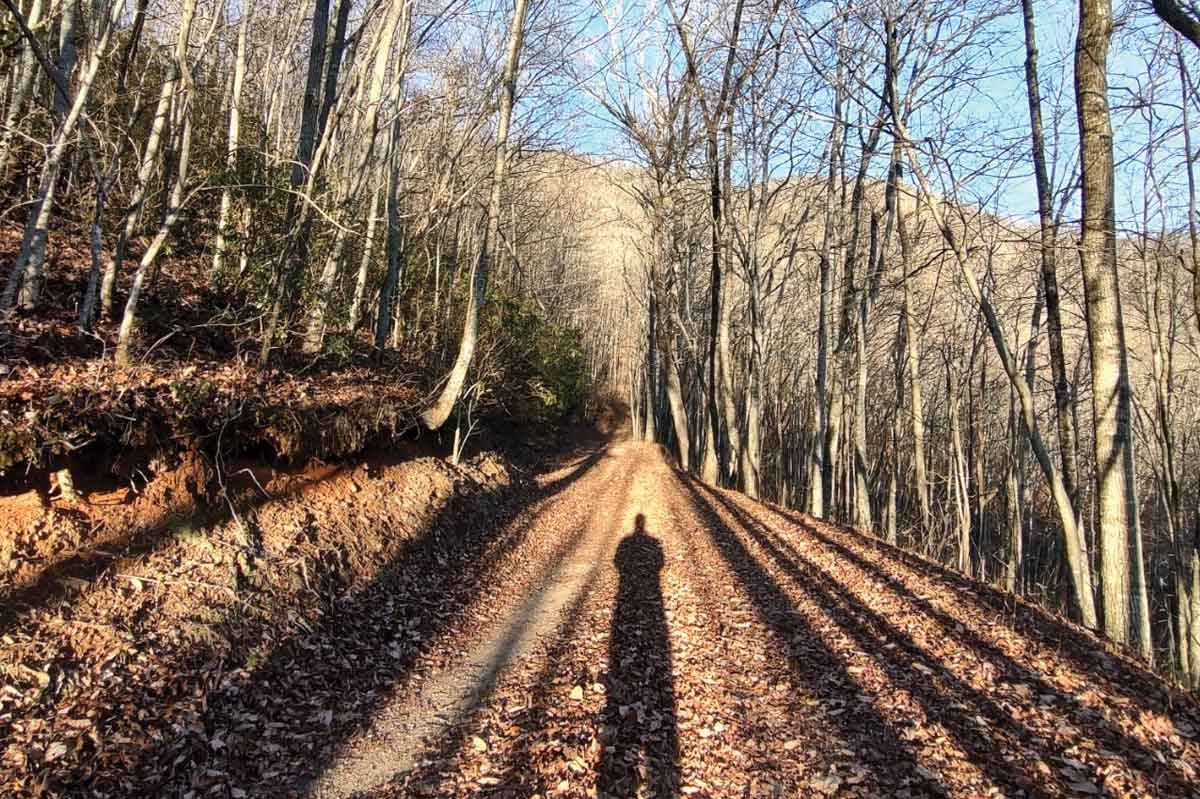 Trail running in Haywood County. (Garret K. Woodward photo)
Sunday morning. Across the globe, Argentina and France were battling it out in the World Cup soccer final in Qatar. Half-a-world away, and yet I was already a half-hour late for the early morning "Bloody Marys & Futbol" party up the mountain ridge outside of town at my friend's house.
Rolling over to check the time on my smart phone, I groaned that I had slept in and missed the start of the game, even though I was wide awake at 6 a.m. After some restless scrolling on Instagram and wandering down into a YouTube rabbit hole of videos, I fell back into sleep, only to open my eyes again at 10:30 a.m.
I suppose if the United States were still in the fight, I'd have shot out of bed and made my way to the party. Though, by all accounts, this year's final was a game for the ages. But, whatever the case, something deep inside me didn't feel like watching the match. And, for me, I'll always follow that instinct way down below in my gut.
That feeling deep inside told me, "Slow down, it's been a long, whirlwind year. How 'bout actually taking the time to make yourself breakfast, at your own pace, and with how many pieces of bacon your damn little heart desires?" Thankfully, I'd listened to that feeling deep down the night before, when I was grocery shopping, ultimately picking up a robust packet of bacon, eggs, yogurt, berries, and cold brew coffee.
Truth be told, it felt nice to go grocery shopping at my local Ingles on Russ Avenue in Waynesville. I couldn't begin to remember the last time I stepped foot in there. I've been on the road so much this year — on writing assignments coast-to-coast or merely due to family obligations up in the North Country — that I was rarely home enough to justify buying groceries for myself, seeing as past experiences resulted in uneaten food being thrown away. Money wasted, a no-no for us scrappy, vagabond writers and ole road dogs.
So, it was decided. Screw the World Cup. I want bacon, eggs, yogurt, berries, and cold brew coffee. Nowhere to be, but here right now in my humble abode apartment. Pull up the window blinds. Look out onto downtown Waynesville in the mid-morning hour. Throw some Mile Davis "Kind of Blue" on the stereo, skip ahead to "Blue in Green," then put the rest of the seminal jazz album on shuffle.
After a joyous breakfast for one, after washing the dishes and putting them away, after taking the last sip of my cold brew coffee, it was time for a little bit of writing. My personal philosophy is to live each day in three parts: constructive creation, physical movement, and purposeful leisure. A full day, indeed.
The idea being, in essence, I can't have a cold beer and some fun until I go for a run or exercise and "sweat it out," and I can't exercise until I've done some work. Doesn't have to be a lot of work, but at least something to say and feel that my day wasn't wasted in the endless pursuit of long held dreams in real time.
Type away wildly with the lingering effects of the caffeine from the cold brew. Put thoughts and emotions onto the empty page. Attach to an email to your editor. Submit. Put the window blinds back down. Turn off the Miles Davis on the stereo. Reach for the outdoor running gear. Lace up the shoes. Lock the front door. Start trotting around downtown.
Circling back to the apartment, I felt that deep feeling again, but this time it said, "You haven't been to the movies in a while. What's playing?" Well, turns out there was a special holiday screening of the 1946 classic "It's a Wonderful Life." A $12.50 purchase later, I had a ticket for the 4:30 p.m. showing.
For one of the greatest films ever conceived to once again resurface in a modern-era theater was a truly unique thing to behold, but it seemed I was one of the few aware of that fact. Every other screen was packed for the new "Avatar" sequel. My screen was mostly empty. Myself and four other sentimental, old souls on an otherwise quiet Sunday afternoon watching a film that most of us have only watched on TV.
Immediately, I felt a tug at my heart when "It's a Wonderful Life" appeared on the screen. I also realized it was the first real action on my part to acknowledge and appreciate the current holiday season. Something about classic cinema that just does it for me, hitting all the feels, you know? Especially when its Jimmy Stewart and Donna Reed playfully interacting before your eyes, "What is it you want, Mary? What do you want? You want the moon? Just say the word and I'll throw a lasso around it and pull it down."
By the end of the film, when Stewart reads the card from Clarence the Angel — the iconic "Remember no man is a failure who has friends" part — I felt the heaviness that I'd been carrying for a while now slowly evaporate from the depths of my soul. All that sadness and grief weighing me down from personal losses throughout the last couple of years (hell, any year) chipped away and fell to the ground like ice.
There was a kick in my step leaving the theater, as does happen when the heart sings in curious wonder and sincere gratitude after an experience such as that, a certain melody ringing through my mind, "Buffalo Gals can't you come out tonight. Can't you come out tonight."
The rollercoaster of existence. The ebb and flow of the highs and lows. Even in the deepest depths, there's always a light at the end of the tunnel. Remember, nothing matters except love, friendship, and dreams chased after with a reckless abandon. That, and throwing as many pieces of bacon onto the frying pan as your damn little heart desires.
Life is beautiful, grasp for it, y'all.