Archived News
After 33 years, Steven Lloyd steps down from HART
Wednesday, December 21, 2022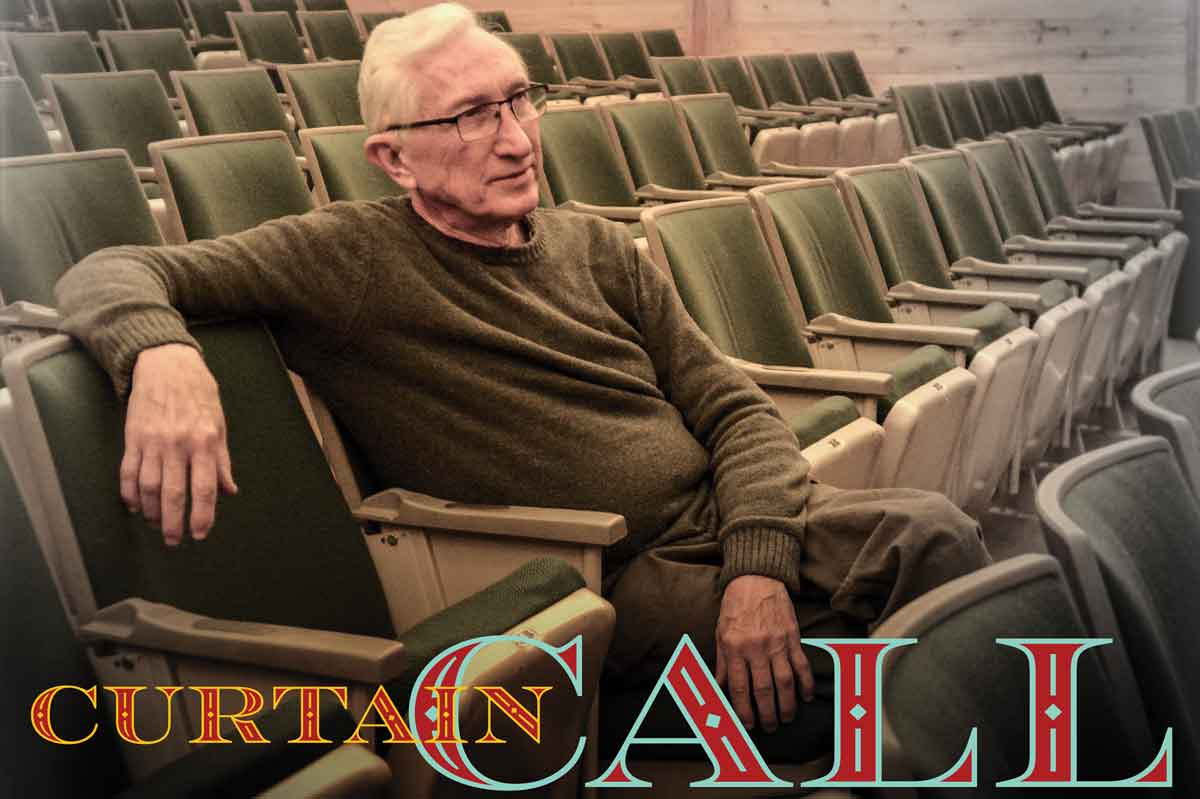 In the depths of the Fangmeyer Theatre, on the property of the Haywood Arts Regional Theatre (HART), just down the hill from Main Street in Waynesville, Steven Lloyd sits behind his desk.
With a few more clicks of the computer mouse, Lloyd will be doing something he's been dreaming of doing for a long time — attending the TCM Classic Film Festival in Hollywood, California.
"This is the first time in 33 years that I've been able to go on vacation," Lloyd smiled. "The film festival is in April, then I'm going to Wales and Ireland in May."
The tantalizing idea of, well, doing whatever he wants, whenever he wants is something Lloyd will have to get used to. You see, after 33 years at the helm as the executive director of HART — arguably one of the finest community theatre companies in the nation — Lloyd will step aside and retire when the clock strikes midnight this New Year's Eve.
Steven Lloyd onstage in one of his many HART performances. (John Highsmith photo)
"I mean, I'm still going to be around in some capacity," Lloyd noted. "People will see me here volunteering, behind the concession stand, and helping out in whatever ways I'm needed. But, now, I won't have to be responsible for everything to keep the theatre running smoothly."
And, as a final item on his "to do" list to be crossed off in the coming weeks, Lloyd is overseeing the installation of 48 solar panels on the roof of the main theatre building, with the stage recently named in his honor for his decades of hard work and commitment to HART — the Steve Lloyd Stage.
"We try to be environmentally responsible, where if you order a glass of wine during a performance, you get an actual glass that we reuse, and not plastic," Lloyd said. "But, leaving the theatre with solar panels is a real feather in the cap for me."
At age 69, Lloyd has been toying with the idea of retirement for several years now. But, it was the COVID-19 pandemic and complete shutdown of HART in 2020 which accelerated that process towards his ultimate exit strategy.
"Before COVID, I was here [at the theatre] 60 hours a week, and it had been that way for 30 years," Lloyd said. "Once COVID hit and the buildings were shut down, I discovered that there were a lot of other things that I enjoyed doing, other hobbies and interests."
The long and winding road that is the life of Steven Lloyd began in Winston-Salem. His grandparents owned a traveling carnival, with his grandfather a Vaudeville performer in the 1920s. When he was eight years old, Lloyd got a job working for the carnival, selling concessions and doing odd jobs.
"The carnival would go to county fairs and all kinds of places. [My grandparents] had rides, and even owned a gorilla named 'Suzy,'" Lloyd reminisced. "So, I grew up in a show business family, with an emphasis on the business."
When he was a kid, Lloyd enjoyed puppetry. With his marionettes and portable stages, he would perform on local television stations and at birthday parties all through high school. At one point, Lloyd teamed up with a magician and toured shopping malls up and down the Eastern Seaboard.
And although Lloyd's father had aspirations for his son to be a manager at a factory or be a dentist "because you don't have emergencies and you make a lot of money," Lloyd eventually found himself at the University of North Carolina at Chapel Hill. He graduated with a bachelor's degree in journalism, then a master's in speech communication.
"The reason for the degrees in journalism and speech were because I kept trying to avoid theatre," Lloyd admits. "And, I finally just bit the bullet when I was 29 and went back for an MFA in theatre [from the University of North Carolina at Greensboro] — I knew that I was not going to do anything else but that."
A lifelong performer, Lloyd has acted in hundreds of productions. (Donated photo)
At that time, Lloyd had already dipped his toes in community theatre as an actor, dancer, and stage manager for "Unto These Hills" — an immensely popular, longtime production still showing in Cherokee.
Even then, Lloyd held strong ties to Western North Carolina. A distant cousin of famed Southern Appalachian writer John Parris (Lloyd's real last name is Parris, with Lloyd his mother's maiden name), Lloyd had deep ties to this region, whether through blood or performance.
"There were family reunions up here, so I spent a lot of time in these mountains," Lloyd said.
In 1988, Lloyd found himself in Waynesville as part of the "Visiting Artist Program" (known as the Edwin Gill Theatre Project) through the UNC system. As the representing artist for Haywood Community College (HCC) in Clyde, Lloyd and his acting skills soon entered the realm of the Haywood Arts Regional Theatre.
Formed in 1984, HART was still somewhat in its infancy at The Strand Theater on Main Street in Waynesville. By 1990, Lloyd's two-year stint through the "Visiting Artist Program" had come to an end.
But, Lloyd didn't want to leave. Not only did he genuinely enjoy HART and the deeply supportive Waynesville community at-large, he also fell in love with his now husband, Daniel Miller, the couple recently celebrating 35 years together.
"[Daniel] had three kids, and he couldn't leave this community because [of his family]," Lloyd said. "So, I knew I was going to have to figure out a way to stay here once the ['Visiting Artist Program'] was over."
Thus, Lloyd approached HART and asked if they would hire him as the executive director. HART said yes and so began Lloyd's career in charge of a small, yet growing theatre company, one with unlimited potential. Sure, there will endless bills to be paid and things that needed to be done, but there were butts in the seats every single show.
"One of the reasons I knew I could grow this theatre was because everything that I did here drew packed houses at The Strand — the support for the arts in this community was unbelievable," Lloyd said.
But, growing pains soon emerged in the early 1990s, with HART trying to find stable ground — literally and figuratively. While balancing a moving target of a budget and trying (successfully) to make a profit, Lloyd knew HART's tenure at The Strand was coming to an end.
"I had two seasons there [as executive director] before the fire marshal kicked us out," Lloyd chuckled. "The building was not up to code and the owner of the building was not willing to put any money into it. And we couldn't invest hundreds of thousands of dollars into something we were renting."
In 1992, HART found refuge at the auditorium in HCC, a place it called home until it finally had a permanent home of its own with the grand opening of the 10,000-squre-foot Performing Arts Center on the campus of The Shelton House in 1997.
Through two highly successful capital campaigns, one to erect the PAC, and later the 9,000-square-foot Daniel & Belle Fangmeyer Theatre (opening in 2016), Lloyd will always be grateful to the kind, generous donations from the general public — those longtime supporters who believed in HART's mission to showcase quality arts and culture productions right here in our backyard.
"[The PAC] cost $850,000 in 1997. We opened it with a couple hundred thousand dollars already towards the mortgage, and it was paid for by 2001," Lloyd said. "And the [Fangmeyer Theatre] cost $1.3 million — we burned that mortgage last month."
Lloyd and his husband, Daniel Miller (left). (Donated photo)
Aside from an endless sea of volunteers and local folks steadfast in keeping the HART ship pushing ahead, Lloyd also pointed to the mere fact the theatre company has always worked within its means.
"We have a budget and we stick to it," Lloyd said. "It's a realistic budget, a conservative budget. We don't do crazy stuff. I mean, we take risks, we've done shows that nobody else has the courage to do. But, we also make sure we've got 'The Music Man' in the middle of the summer to pay for everything."
Of the hundreds and hundreds (upwards of 400) of HART productions that occurred under Lloyd's watch — either at the PAC or the Fangmeyer, through Kids at HART or the black box stage known as the Feichter Studio — he's most proud of putting on the musical "Parade" in 2000, a dramatization of the 1913 trial and imprisonment (and 1915 lynching) of Jewish American Leo Frank in Georgia.
"It is a spectacularly beautiful, powerful piece. And I don't know of any other theatre that's had the guts to do it," Lloyd said. "We did a great production of that, and the community turned out and supported it — I'm really proud of that."
When asked what was the biggest obstacle overcome in his career, Lloyd immediately pointed to the survival of HART through the 2020 pandemic — the immense effort to keep the lights on come hell or high water, the donations arriving in the mail before the theatre company was able to get federal grants and loans to stay afloat.
"We shut down on March 13, [2020], and if we had to refund everything to everybody that had paid ahead of time, we'd have been broke by April 1st," Lloyd said. "Our patrons told us to keep the money. And people sent us money without us going out and asking — they just wanted to make sure we survived."
Reflecting on the last 33 years at HART, Lloyd can vividly recall every single performance. But, more importantly, he can still picture and visualize every single actor, director, and stage hand that stepped foot onto the stage — his stage, one of passion, compassion, and inclusivity.
"The buildings are one thing, but the things that happened in these buildings — all the people who met each other, children who have come into this world because of those people meeting, and the shows that were done to bring people together — this theatre changed this community," Lloyd said in a humbled tone.
Taking over Lloyd's duties as executive director in the New Year will be Candice Dickinson, an extremely talented actor and performer who has held the position of artistic director at HART in recent years.
Steven Lloyd. Steven Lloyd. (Garret K. Woodward photo)
"[Candice] has a vision of what she wants to do, and that's reinvigorating — she's bubbly and vivacious, and has the energy to do this," Lloyd said. "I don't have anything left on my bucket list [for shows to direct]. And it's nice to step away and let the younger generation have their chance, let somebody else have their turn — I've had my turn for 33 years."
In a whimsical, full circle kind of thing, Lloyd can't help but laugh in awe of the notion of him once again, now in retirement, working the concession stand at HART — a gig he hasn't had since he first entered show business working as a young kid for his grandparents' carnival those many years ago.
"[Stepping down] is a little surreal. Like anything you've been part of for such a long time, it's been incremental in the way it has grown. But, it's strange to walk around here and look at everything, and know when something was bought, and when it came into the building," Lloyd said, slowing scanning the walls of his office, peering out his door and into the Fangmeyer building its situated in.
With his official retirement now less than two weeks away, Lloyd is looking forward to more quality time with his seven grandchildren, who, lately, have been the lucky recipients of numerous homemade dishes of culinary delights — cooking being one of the many new hobbies Lloyd is immersing himself in these days.
"You know, it meant a lot when they named the [main theatre stage] for me," Lloyd said. "It means a lot because people are forgotten pretty quickly. And I have seven grandchildren now — and that's going to mean something to them."