Archived News
SCC and Mars Hill University partner on degree path
Wednesday, December 21, 2022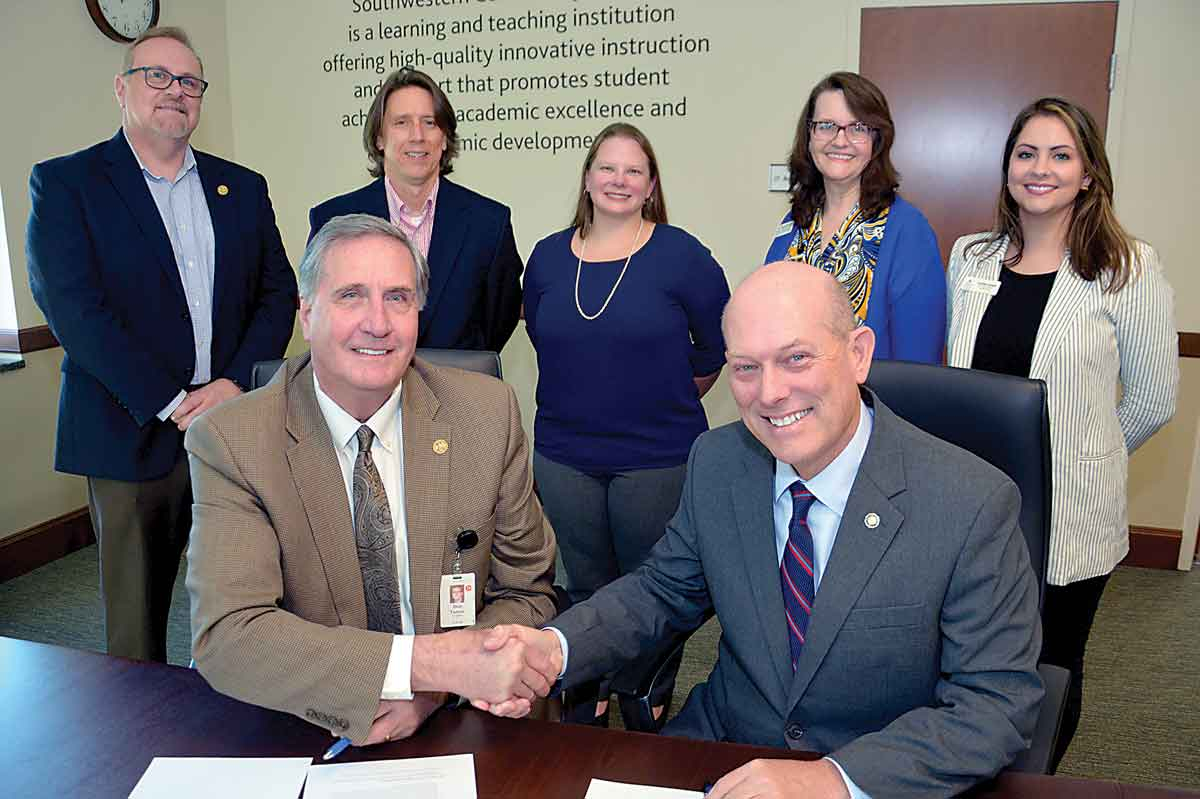 Don Tomas, left, SCC president, and Tony Floyd, Mars Hill University president shake hands after signing the agreement to create the Mountain Lion-Southwestern Promise.
Graduates of Southwestern Community College who want to take the next step in their education by earning a bachelor's degree now have a direct pathway to do so at Mars Hill University.
MHU President Dr. Tony Floyd and SCC President Dr. Don Tomas signed an agreement, creating the Mountain Lion-Southwestern Promise during an event at SCC's campus in Sylva.
The program provides a streamlined process for Southwestern's associate degree graduates to enroll at MHU. It's designed to help students navigate the intricacies of admissions criteria, determine which community college credits will transfer to the four-year institution, fulfill general education requirements and address other potential issues that may arise when transferring.
The Mountain Lion-Southwestern Promise gives SCC students access to information about academic programs faculty and staff at MHU who will facilitate their transition to the university. They will be able to receive admission, financial aid, registration and orientation communications early in the transition process, which will set them up for maximum success at both institutions.
SCC students will need to maintain a 2.0 grade point average, earn an associate degree in a college transfer program or applied program for which there is an articulation agreement with MHU, and enroll at MHU within one academic year after receiving their associate degree.
Students interested in the Mountain Lion-Southwestern Promise may contact Kristan Blanton, Director of Enrollment Management at SCC at This email address is being protected from spambots. You need JavaScript enabled to view it. or 828.339.4255 or Carolyn Kuzell, Associate Director of Admission at MHU at This email address is being protected from spambots. You need JavaScript enabled to view it. or 828.689.1589.