Archived News
WNC foodbanks feel the pinch
Wednesday, December 21, 2022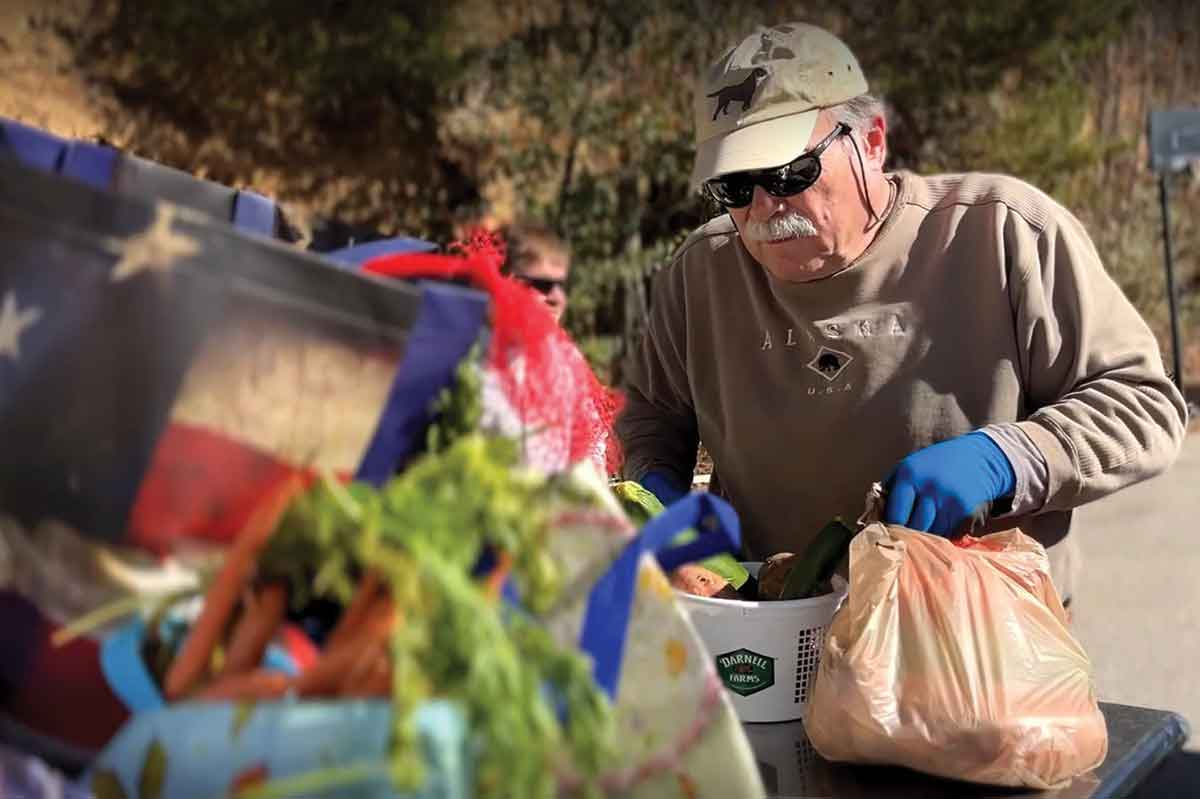 A volunteer at a recent MANNA event in Robbinsville works to load up some produce. MANNA FoodBank photo
The holidays, a time of overabundance for some, can be the toughest time of year for those suffering food insecurity looking ahead toward a long winter.
To make matters worse, there's a nationwide trend of increased demand and reduced supply at community foodbanks, a trend that's mirrored in Western North Carolina. In a sense, the cause for both the shortage of supply and the increased demand are the same — long-term inflation coupled with supply chain issues that have hampered the worldwide economy since the height of the pandemic.
Melissa Baker Swan is the director of Swain County's Resource Center. While the resource center isn't primarily a foodbank, it does offer emergency food and connects people with any kind of service their family may need. She said the resource center typically gets its supplies from donations, whether that's food drives, community initiatives or personal monetary contributions.
"We have seen families that usually make donations or sponsor families that just don't have the funds to contribute this year," she said. "Now they're struggling to support their own families."
Along with providing food, clothing, hygiene products, school supplies and even emergency funds for heating and electricity, the resource center offers generous individuals the chance to sponsor local children for Christmas whose families may struggle during the holiday season.
"We're going into Christmas right now, but we're seeing our donations drop," she said. "We're also seeing power and heating costs have went through the roof, so we're dealing with that issue too."
The Macon County Care Network Food Distribution Center operates primarily as a foodbank. Its executive director, Tom Hogsed, said that right now things may be the direst he's seen in his five years on the job there.
"This is more challenging than during COVID," he said.
Hogsed highlighted the extreme need, saying that while before COVID the organization would distribute about 300,000 pounds of food, last year, it set a record with 527,000 pounds. He expects this year will end with around 575,000 pounds being distributed. While some of the clientele has stayed the same, he's also seeing some new faces desperate to keep things together through the coming winter.
"We're seeing a lot more people coming through for the first time. People who didn't think they'd need our help are needing it now," he said, adding that many are also people who he hadn't seen in a while who are again in need.
Hogsed said that donations were down over the last few months. However, although they still remain lower than desired, there's been an uptick in donations of canned goods, as well as turkeys and hams. He added that he's still concerned they may not be able to keep up with that surging demand.
Along with providing food to families in need through the distribution center, Hogsed and crew also run a program through which they bring backpacks full of food to schools in Macon County every Wednesday for distribution to kids who may not otherwise eat a full meal all weekend.
"We're having a tough time getting things for those like Chef Boyardee products, boxed mac and cheese, things kids can fix on their own," he said.
While the need may seem more visible during the Christmas season, it is sure to carry on throughout the winter — and things may get even worse. Along with the fact that some donations drop off after the holidays, Jackson County DSS Director Christopher Weatherford said that the government allotments for food and nutrition to those on fixed incomes — which largely includes senior citizens — are about to change. While they went up to about $280 per month during the pandemic, they're going to eventually change back to normal rates — $20 to $50 per month — in the near future.
Weatherford said those allotments kept many from having to turn to foodbanks, which may have kept the demand somewhat manageable, but that may all change.
"When the public health emergency unwinds, there's going to be a huge uptick in the need for those services," he said.
Weatherford said there is no set date when those allotments will change and that there will be a two-month notice prior to it ending but that it is on the horizon.
Local foodbanks aren't the only ones likely to continue to feel the pinch of the recession and its associated issues. MANNA FoodBank, which is based out of Asheville but is the main food sourcing agency for most of North Carolina's 16 westernmost counties, has also had a tough time pulling together enough resources to meet the need.
Unlike smaller community foodbanks that need donations from people in the community, MANNA relies more on large donations of food from farmers, grocery stores and other wholesalers.
Kara Irani, director of marketing and communications for MANNA, said the nonprofit has seen a significant drop-off in donations from most of those partners.
"We've seen a huge decrease in food donations we receive since the pandemic," Irani said. "There are supply chain issues worldwide."
Considering MANNA provides food to foodbanks and charities across the region, the trickle-down effect can really hurt those smaller entities such as Swain's Resource Center and The Macon County Care Network Food Distribution Center.
And of course, MANNA has taken note of the increased demand, as well.
"We have been in a situation of needing to purchase tremendously more food than we have any time in our (39-year) history … we saw the need for food skyrocket as we are serving double people per month that we saw prior to pandemic," Irani said, adding that the majority of people MANNA serves are members of working families, particularly single parents, as well as senior citizens on fixed incomes.
Another problem for MANNA has been maintaining a steady supply of fresh produce, considering it tries to maintain at least a 25% inventory of fruits and vegetables to ensure a balanced diet.
MANNA runs a free, confidential food helpline open to anyone in North Carolina to help connect them with resources. That number is 1.800.820.1109.
Irani noted that MANNA is in need of monetary donations since it can buy food wholesale and stretch every dollar far more than someone who shops for canned goods to donate. Anyone interested in donating to or volunteering for MANNA can do so by visiting its website at mannafoodbank.org.
Hogsed said folks can bring donations of canned goods, turkeys or ham to 130 Bidwell St. in Franklin or they can make a monetary donation online at maconcarenet.networkforgood.com. The Macon County Care Network Food Distribution Center is open Tuesday through Friday.
Baker said anyone interested in helping the Swain County Resource Center who may be able to provide donations for families needing food, heating or shelter may do so by stopping by their location at 300 Hughes Branch Road in Bryson City Monday through Friday from 8 a.m. to 5 p.m.