Archived Arts & Entertainment
This must be the place: Know it's a wonderful world, if you can put aside the sadness
Tuesday, December 13, 2022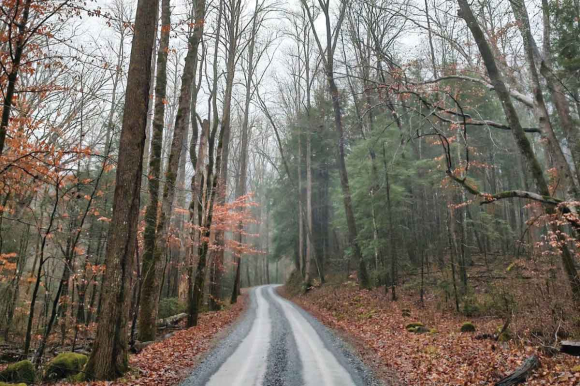 The entrance to Big Creek. (Garret K. Woodward photo)
It's 51 degrees with a warm sun and blue skies hovering above downtown Waynesville. A little after 2 p.m. Monday with a cup o'joe in-hand while sitting at Orchard Coffee. Folks milling about in conversation, others simply reading a book or typing away.
Emerging from bed in the ole humble abode this morning, I didn't realize that Christmas is just around the corner. Maybe it's the oddly warm weather in Appalachia compared to the heavy snowfall and freezing cold temperatures the day I left the North Country for Haywood County last month.
But, me thinks it's just being busy, head buried in work obligations and writing assignments. Places to be and hands to shake. Things to do and endless miles traveled in the Tacoma pickup. Shit, I was going for a jog in the humid swamps of Florida just about a week ago, a far contrast from that November run in ankle-deep snow in the Adirondacks.
Maybe I forgot Christmas (and the impending New Year's Eve) is soon to be here. Maybe I just hate it when this time of year takes forever to arrive, and yet disappears in a blink of an eye, usually with a bleak hangover on Jan. 1 amid grey skies and no places open for a much-needed greasy spoon breakfast cure.
At 37, I find this time of year usually leaves me teetering on a fine line between sadness and gratitude, a place I've been balancing along for some time now. To be honest, I can't really remember when I started to feel those sad aches and pains of life. Maybe they've been there since the beginning? Who knows? Who cares?
I just know that "all that darkness" lingers somewhere in the background, hiding behind a tree in the forest of my wandering and pondering. To be sad and to be happy (and everything in-between) is to be human, right? Each of our respective paths in life is a pendulum swing between the good, the bad, and the ugly.
And yet, I think the last few years — whether due to the pandemic, politics, or the organized chaos and white noise of the digital age — all of us are probably in this same boat, more so a rollercoaster of emotions, where we are keenly aware of our vulnerability. And we see the edge of our sanity, and we'll do whatever it takes to either not fall over or merely ignore where the edge is. Head held high. Onward, eh?
I feel this year was, for good or ill, the one where everything really came into focus. When you're young, you're bright-eyed and bushy-tailed — now yes, you might experience trauma, sadness or grief — and there's usually (hopefully) this glimmer of hope that someday things will change, and for the better. You'll become an adult. You'll make your own decisions. And life will be, well, what you make it.
But, the thing "they" sometimes don't tell you is that the life you make can be built with new emotional walls and clear windows, but those memories of the past — the road to the here and now — can, and do, remain in a shoebox (or many shoeboxes) in the closet of your mind.
And you can't seem to be able to throw the shoebox away. So, it just gathers dust, and sometimes something triggers you to reopen it and examine its contents, hold the mental images in your hand in hopes of salvation. Thus, 2022 was a year where I walked into that closet and dusted off several of those shoeboxes.
Cathartic? Yes. But, hot damn, it can be a hole of despair that you must be well-aware of when to pull yourself out of. Those ladders out of the dark hole of despair are the Drive-By Truckers or Crosby Stills & Nash on the truck stereo on a solo cruise down a backroad. Or endless cups of coffee with a friend in a diner — nowhere to be but here, and with you.
And, for me at least, writing about it is my biggest, most sturdy ladder. The empty page and my restless thoughts deep down within remain the vessel that I'll continually climb into in search of honest truths and hard-earned realizations. Like clockwork, once the column — this one or any other — is finished, I feel lighter within.
That's what the creative realm does for those who create and for those who absorb the creation. Reading a book, going to a live concert or sauntering around an art gallery. That, and disappearing into the depths of Mother Nature. Lace up the hiking boots and hit the trailhead. It's done wonders for humanity since we first achieved consciousness, and it's as important and vital now as ever before.
So, yeah, here I am. Age 37. Single. No roommates. A vagabond journalist. More at home on the road ramblin' than sitting in my apartment. Never met a stranger. A hopeless romantic to a fault. Rough around the edges, but an eternal smilin' fool.
Christmas is almost here, a sometimes-uncomfortable season and wide-range of emotions for me, one that I'll always wrestle with (and I know I'm not alone in that sentiment). But, those urges to completely avoid the Hallmark sugary-sweet nature of the holiday in the modern world will subside once-in-a-while.
Like last night, when my urge to avoid and ignore the impending holiday fa-la-la-la-la subsided when I got a text late Sunday afternoon from a dear friend and his wife. Hadn't seen them and hung out in a little bit. They invited me over for a steak and potatoes dinner.
A hearty feast, to say the least. Laughter and guitars being played around the dining room table. Crack a beer and rehash cherished stories from back-in-the-day, plans eventually made to make new ones in the coming months — people, places and things to look forward to in the depths of the winter doldrums.
Sitting at that table, that sense of gratitude and happiness — of human connection and that feeling of familiarity of your true self — bubbling up to the surface of the moment unfolding before you and yours. Truth? The holidays are hard for every single one of us. But, sincere friendship and genuine love is the cosmic glue that keeps it (us) all together.
Life is beautiful, grasp for it, y'all.
Leave a comment
3

comments
Thank you for the reminders.

Monday, 12/19/2022

This is one of your finest pieces.❤️

Thursday, 12/15/2022

Preach on, brotha!!

Wednesday, 12/14/2022