Archived Reading Room
C.S. Lewis bio is worth a read
Wednesday, December 07, 2022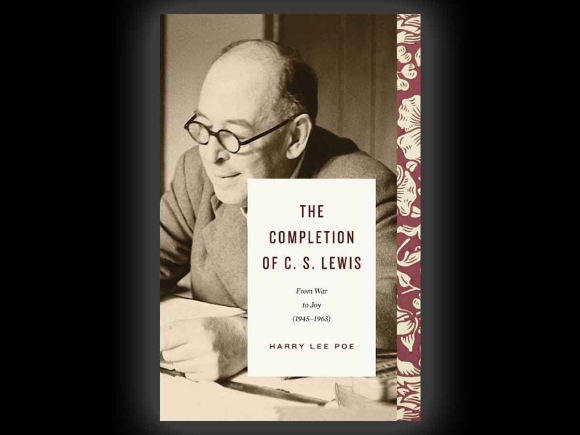 Mention the name C.S. Lewis to other readers, and they might recollect him in any number of roles. The younger set and their parents might mention him as a writer of children's classics like "The Lion, the Witch, and the Wardrobe."
Science fiction aficionados might claim him as one of their own for his "Space Trilogy: Out of the Silent Planet," "Perelandra," and "That Hideous Strength." Scholars of English literature might cite as influential his "The Allegory of Love" and "A Preface to Paradise Lost." Other lovers of literature would bring up his novel "Till We Have Faces," the wonderful retelling of the myth of Cupid and Psyche.
These works alone would have bestowed on him a crown in the pantheon of letters, but it is his works on Christian apologetics that were perhaps his greatest achievement. These include such fictions as "The Screwtape Letters" and "The Great Divorce," collections of essays like "The Weight of Glory" and "God in the Dock," the autobiographical account of his conversion "Surprised by Joy," and the book that is perhaps key to his Christian beliefs and world view, "Mere Christianity."
Those seeking to deepen their familiarity with this prolific author and remarkable thinker would do well to turn to the work of Harry Lee Poe. He has written several books on Lewis, including "Becoming C.S. Lewis: A Biography of Young Jack Lewis" (1898-1918) and "The Making of C.S. Lewis: From Atheist to Apologist" (1918-1945). Now, with "The Completion of C.S. Lewis: From War to Joy" (1945-1963), published by Crossway in 2022, Harry Poe has made the history of this man and writer readily accessible to the general public.
In this 416-page study of the last third of Lewis's remarkable life, Poe covers the books written by Lewis in this period, his friendships, his marriage to the American Joy Davidman Gresham, her battle with cancer, and Lewis's own ill health and decline into death.
Several features of "The Completion of C.S. Lewis" should appeal to readers. Long-time fans of Lewis will find much that is familiar, while those new to him will discover a biography whose clarity and ease of style make a perfect introduction. And though Poe is a professor, here we find none of the academese that marks — and often mars — scholarly works, but instead an approachable book that brings us both insights and entertainment in the man, his genius, and his writing.
In writing of "The Lion, the Witch, and the Wardrobe," for example, Poe notes that J.R.R. Tolkien, famed for his Lord of the Rings stories, despised Lewis's book for children, "The Lion, the Witch, and the Wardrobe" — "His criticism went beyond evaluation and suggestion to the level of insult." This book and its successors, with their mix of realism, magic, and Christian allegory, were, Poe contends, absolutely in sync with the mood of children and the nation following the Second World War. Given the sales of these books, and indeed their ongoing popularity today, Lewis quite clearly knew his young audience and the sort of stories and fairy tales they desired.
Poe has spent a lifetime influenced by Lewis and is, like Lewis, a Christian. He earned a Ph.D. from the Southern Baptist Theological Seminary and is currently the Charles Colson Professor of Faith and Culture at Union University. Nonetheless, he doesn't hesitate to reveal Lewis's shortcomings. In regard to his physical well-being, for instance, we learn that Lewis was in poor health even in his fifties, a condition largely self-inflicted. He drank excessive amounts of strong tea, and though not an alcoholic like his brother, nonetheless imbibed various spirits daily and deeply. He overindulged at the table and practiced an unhealthy diet, which left him overweight and contributed to his heart and prostate conditions. He had also smoked cigarettes since his adolescence, and was according to a source quoted by Poe, a two-pack-a-day man.
Consequently, admirers will find in these pages a man, not a saint.
Yet what a man he was. In his summing up of Lewis's life, Poe describes the amount of valuable time Lewis spent responding to letters from "people with great physical, financial emotional, and spiritual burdens … who could give nothing in return." He "learned to accept his declining health and meet death as a friend." Through his unusual relationship with Joy Davidman, Lewis "learned to love a woman and to receive love." He overcame his animus against Americans and his decades long hostility toward T.S. Eliot. He eventually "embraced the belief that his faith meant dying daily with Christ," a demanding ordeal many Christians attempt, often without the success of Lewis.
Near the end of "The Completion of a Life," Poe makes an observation that applies not just to Christians or to Lewis fans, but to each and every one of us: "In our health-conscious world, some readers may fall into the trap of judging Lewis for not living according to our current attitudes about smoking and diet, or reduce the goal of life to avoiding death. The goal of life is to become human."
On Lewis's gravestone are these words from Shakespeare's King Lear: "Men must endure their going hence." Left out is another part of this quotation: "Ripeness is all."
As Lewis knew, it is taking aim at that ripeness, living life to the hilt, that makes us more fully human.
(Jeff Minick reviews books and has written four of his own: two novels, "Amanda Bell" and "Dust On Their Wings," and two works of nonfiction, "Learning As I Go" and "Movies Make the Man." This email address is being protected from spambots. You need JavaScript enabled to view it..)