Archived Outdoors
Through National Geographic Photo Ark, people can look endangered wildlife in the eye
Wednesday, December 07, 2022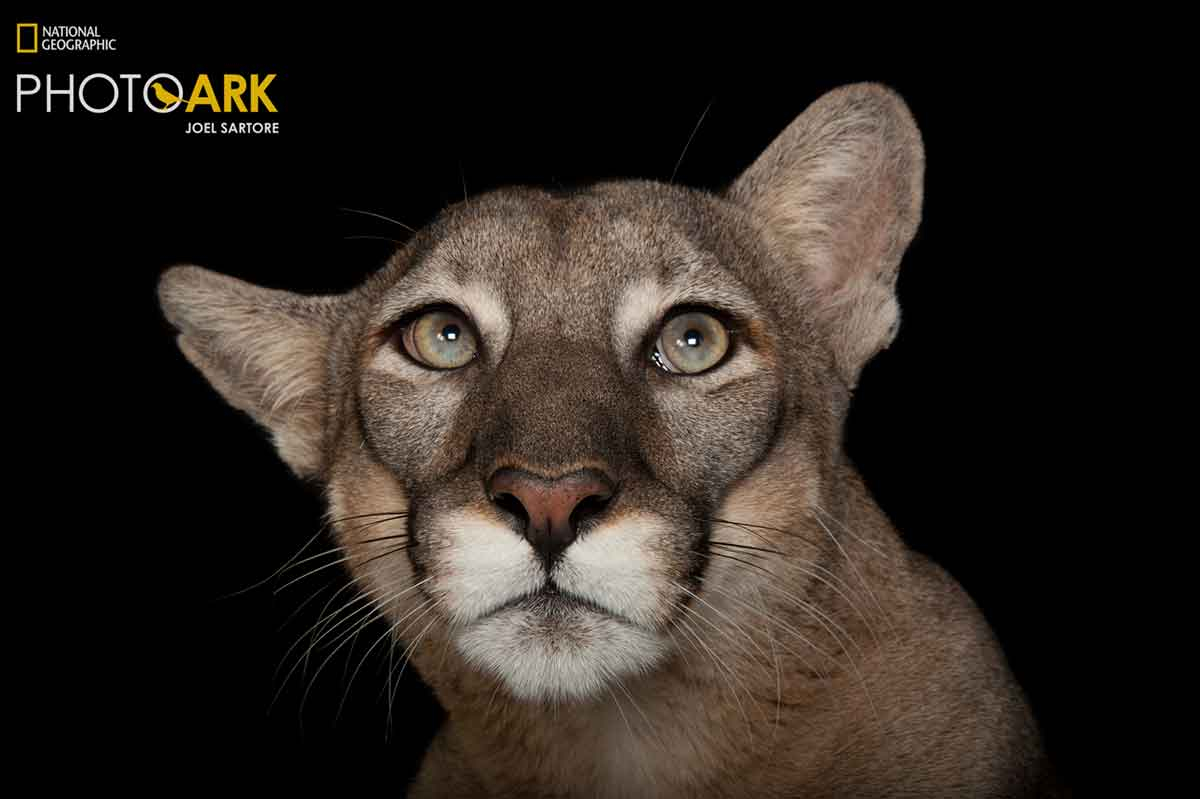 A Florida panther (Puma concolor coryi) gazes into the camera at the Lowry Park Zoo in Florida during a National Geographic Photo Ark shoot. See more portraits at natgeophotoark.org. Joel Sartore/National Geographic Photo Ark photo
Joel Sartore lives in Lincoln, Nebraska, but he — and his camera — are constantly on the move.
Sartore spent most of the fall on assignment in southeast Asia. He got home the day before Thanksgiving only to return to the airport Sunday morning, destined for San Diego to photograph fringe-eared oryx, a male impala, and more than a dozen other species. A blizzard canceled his return connection in Minneapolis, so he drove through the night, finally collapsing in bed at 2:20 a.m.
The Smoky Mountain News caught up with him eight hours later, one week before his next scheduled departure, this time for North Africa with stops in Morocco, Egypt and Israel. He'll be gone until the end of December.
A veiled chameleon (Chamaeleo calyptratus) confronts a camera lens during a National Geographic Photo Ark shoot at Rolling Hills Wildlife Adventure, in Salina, Kansas. Joel Sartore/National Geographic Photo Ark photo
A crayfish bigger than an elephant
There's an urgency to Sartore's travels.
A National Geographic Society Fellow and photographer, Sartore has been covering conservation issues for more than three decades. But he's dedicated the last 16 years to a project that aims to call attention to the plight of Earth's most imperiled species — before it's too late.
Called the Photo Ark, the project grew from a time when Sartore's world was shrinking. He'd been shooting conservation stories for National Geographic all around the globe since the early 1990s, but in 2005 at the age of 42, all that came to a halt. His wife Kathy was diagnosed with breast cancer, and Sartore paused his career to stay home, taking care of her and their three children.
Kathy beat the disease. But the break in his career gave Sartore a chance to reflect — on life, on work, and on what he was really trying to accomplish. After 17 years and 30 stories, he realized, only a couple of them had moved the needle of conservation at all.
"If she got better, and I was allowed to go again, do I want to just keep doing the same thing over and over again and expecting different results?" he asked himself. "And I really thought about the fact that there are so many animals that are in need of a voice that are in trouble, and they are small. Tigers and gorillas get all the press."
That thought led Sartore to create the Photo Ark, a project that aims to give a voice to creatures great and small by creating clean, detailed portraits of all 25,000 animal species in human care worldwide.
For the past 16 years, Sartore has been chipping away at that number, so far adding 13,662 animal species to the Photo Ark. The Ark's tens of thousands of portraits are available on an online database, containing intimate portraits of everything from the ruby-throated hummingbird to the African elephant against simple black or white backgrounds.
"There's no size comparison at all, so that the Smoky madtom (catfish) can be as large as a polar bear. The Nashville crayfish, he's bigger than an elephant," Sartore said. "That to me was the real impetus for this, the chance to showcase these animals that live in muddy water, or in soil, mud, high up in the trees and [under] leaf litter — things that you really can't see well, because if you did find them, they're tiny."
Sartore compares pressing the shutter button at a Photo Ark shoot to launching a rocket ship. It's exciting, fulfilling and happens fast. The preparation for that moment, however, is quite involved.
Sartore and his team keep a running list of animals they still need to add to the Ark, and when they hear about a facility in a part of the world they need to go, they'll reach out for an inventory of the animal species kept there. They'll compare the inventory to their master list of species to figure out if the facility has any the Ark still needs, then request access to any unphotographed species. The institution lets them know which species it can make available, and logistical planning begins.
Joel Sartore has been a National Geographic photographer since 1990. Ellen Sartore photo
Small animals, like frogs and lizards, go into a tabletop shooting tent made of soft cloth. Sartore sticks his lens inside and waits for the animal to turn toward it. After a few pictures, the creature goes back to its enclosure. Similarly, aquatic animals are put in a tabletop tank, with lights on each side and on top. Slightly larger animals like bobcats go into a photo kennel — "something wire where they can't bite Joel," Sartore said.
Larger animals — giraffes, camels, elephants, rhinos — require even more extensive preparation. During his upcoming North Africa trip, Sartore will be shooting a Barbary lion. To make the shoot possible, the zoo is painting an entire enclosure white, including the floor. When Sartore arrives, staff will shift the lion inside, the studio lights will go on, and Sartore will start shooting.
It's a lot of work and a lot of preparation, but the results are beautifully detailed, charismatic images of creatures that don't often get the spotlight. The images have been projected on the Empire State building and the Vatican, published in books, printed in National Geographic magazine stories and used by nonprofit institutions.
"[They're shown] just about every way we can think of," said Sartore, "with one goal: to get the public to realize there's a lot of nature left. It is worth saving. What are we going to do about it?"
Looking extinction in the face

Sartore has seen the needle of conservation move farther in this second half of his career, dedicated to the Photo Ark, then in the first half without it.
Part of it is timing —the Photo Ark launched just as the internet age was blossoming, making it easier to share images than it had ever been before. But the images themselves are also critical to success. They give a window into the essence of creatures often seen from far away or not at all, and when paired with words detailing the animal's plight, they can be extremely powerful.
As an example, Sartore pointed to a 2013 Audubon Magazine story that used his photo of a Florida grasshopper sparrow on the cover. At the time, the bird was expected to go extinct in the few remaining prairies of central Florida. The government had allocated a small amount of money for biologists to track its demise, Sartore said.
Then the Audubon story ran. Shortly thereafter, the government announced it would drastically increase that yearly funding to start a captive breeding program.
"That has saved the sparrow," Sartore said.
He's also seen encouraging developments with other critically endangered animals. The Vancouver Island marmot, black-footed ferret, California condor, Mexican gray wolf and the red wolf — whose tiny wild population resides in eastern North Carolina — all now have breeding programs to prevent these species from completely disappearing.
Being part of these efforts is remarkable and satisfying, Sartore said, but there aren't enough success stories. He often thinks about Nabire, the northern white rhino he photographed in July 2015 at Safari Park Dvur Kralove in the Czech Republic. Nabire died just one week after the photo was taken, and now only two white rhinos are left on earth. The survivors are both female, though there's still hope of resurrecting the species using pre-fertilized eggs created before the last male died.
"You're looking at these animals, and you're looking extinction in the face, and you're just thinking geez, am I qualified to tell this animal's story?" Sartore said. "Will I do a good enough job? Will it really convey how tragic and epic this is? This is momentous. It's monumental. And it really speaks to the future of life on earth when we lose species to extinction."
Native to the Appalachian region, the green salamander (Aneides aeneus), shown in the National Geographic Photo Ark, is threatened by road development, over-collection, habitat loss, disease and drought. Joel Sartore/National Geographic Photo Ark photo
When the arrival of the COVID-19 pandemic put a halt to Sartore's globe-trotting lifestyle, he began focusing his lens on even lesser-known critters, closer to home.
"I just did insects for the better part of a year," he said. "We put up lights and sheets at night to collect from. I was amazed there was over 100 species of insects just over the first week. Right in my yard."
Over the next year, Sartore photographed insects at locations across Nebraska, neighboring Kansas and Iowa — anywhere close enough to be back in his own bed at night — as well as around the family cabin in Minnesota and a friend's empty guest house in Santa Fe, New Mexico. He documented 1,000 species this way, including images of the long-toothed dart moth, which Satore later learned had never been photographed alive before.
"It was just really a good time to see that insects are a real driver," Sartore said. "Without insects, humans couldn't survive."
Saving wildlife to save ourselves
Decades of meeting thousands of the planet's most amazing creatures have ingrained Sartore with respect and admiration for the animals who share the planet with us. And while the Photo Ark is a bid to save their lives, it's also an effort to save our own.
"If you look at something like a freshwater mussel or salamander, they have to have clean water. Great, so do we," Sartore said. "So if we doom these other species to extinction because our water is so altered or so filthy, that's hard on us. It's foolish to think that we can doom half of all species to extinction, which is what some projections are, but that people will be just fine. It won't work that way. So when we save all these other species, we're actually saving ourselves."
With 13,662 species down, Sartore still has more than 10,000 to go — an undertaking that will require another 10-15 years of work. But he's committed to finish. And if he can't, his son, Cole, also a photographer, will. The Photo Ark, Sartore said, is "a long-term ad campaign on behalf of nature." Each photo helps raise awareness of the "wondrous" species still out there — and the need to keep them around.
"When Chevy rolls out a new truck or Taco Bell rolls out a new taco, you know about it. It's top of mind while that item is new, right?" he said. "Well, we have to keep nature new and fresh and interesting to everybody on the planet to keep us engaged. If we let nature become just some quaint notion on a smartphone, it's over with."
The Photo Ark inspired real-world action in 2017, when National Geographic partnered with the Zoological Society of London's EDGE of Existence Program to support new fellowships bolstering on-the-ground conservation efforts to save creatures featured in the Photo Ark. The first cohort of five candidates were based in Latin America, with subsequent cohorts working in Asia and Africa.
A koala (Phascolarctos cinereus adustus) poses with her babies at Australia Zoo Wildlife Hospital during a National Geographic Photo Ark shoot in 2011. Joel Sartore/National Geographic Photo Ark photo
The program puts money directly into conservation projects run by people who are on the ground in their respective countries, convincing local communities not to shoot and eat imperiled species, working with developers to reduce habitat loss and educating school kids. It's an exciting program, Sartore said, but it's also limited.
"That is a drop in the bucket compared to the need around the world," he said. "I mean really, the people, the world, have to realize that we can't afford to turn the entire planet into either a farm field or a city, that we have to save big, intact blocks of habitat. Intact rainforest especially is important because these are places that cool our planet, provide us with oxygen, and stabilize the rainfall patterns that we get."
Above all, Sartore hopes that the Photo Ark will inspire people to take concrete action of their own. If every person did a few simple things in their own sphere of the world, the collective impact would be huge. Things like planting a backyard pollinator garden with native milkweeds and nectar-bearing plants, improving home insulation to reduce energy needs, not buying products made with environmentally destructive products like palm oil and tropical hardwoods, and leaving lawns natural by refraining from watering them or pouring chemicals like herbicide, fertilizer and pesticide. Many of these measures actually save money rather than costing it.
"A lot of these green things that I'm talking about are profitable, and so it's just a matter of education, and then that change comes slowly," Sartore said. "You know, they say true change takes a generation. Well, I'm not that patient a guy."
Perhaps giving people the chance to stare into the upturned hazel eyes of a Florida panther or gaze at the shimmering skin of the green salamander will reduce the need for patience.
"This project, it's bigger than just portraits of animals," he said. "It is designed to get people to think about our role on the planet, and what we want to do to make the world better."
Visit the 'Photo Ark'
Through Jan. 8, Joel Sartore's work will be on display in a traveling exhibition of the National Geographic Photo Ark in the Baker Exhibit Hall at the N.C. Arboretum in Asheville.
The National Geographic Photo Ark is a compelling and visually powerful project aiming to photograph species living in the world's zoos and wildlife sanctuaries, creating an archival record for generations to come. The project also provides a hopeful platform for conservation and shines a light on people and organizations working to preserve species worldwide.
The exhibit features more than 50 of Sartore's most compelling images to put visitors face-to-face with the animals of the National Geographic Photo Ark.
The exhibit is free, though a standard fee of $16 per car is required to park at the Arboretum. Learn more about the project at NatGeoPhotoArk.org. Browse the entire Photo Ark catalogue at joelsartore.com