Archived Arts & Entertainment
The sound of community: With Christmas Jam back from hiatus, 'Jam By Day' returns
Tuesday, December 06, 2022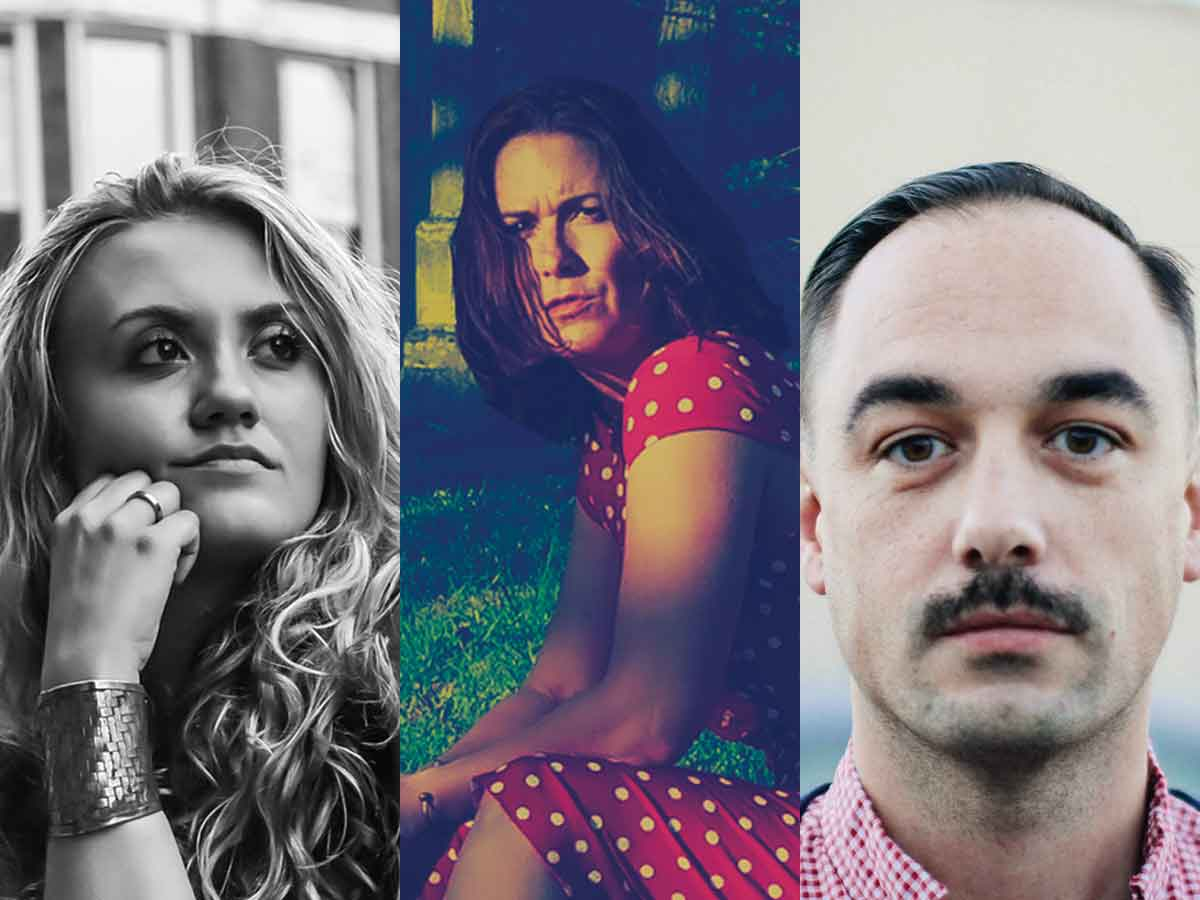 Left to right: Abby Bryant, Eleanor Underhill, and Kevin Fuller. (File photos)
After four years of radio silence, the nationally revered Warren Haynes Christmas Jam will return for its 31st installment on Saturday, Dec. 10, at the Harrah's Cherokee Event Center in Asheville.
And though the longtime arena showcase will feature marquee acts like Phil Lesh & Friends, Tyler Childers, Dinosaur Jr. and Brothers Osborne, the spotlight will also focus on numerous local artists. With its "Jam By Day" component, musicians and bands from around the region will take the stage at the Asheville Music Hall, The One Stop, and Jack of the Wood.
"It means the world to me to be part of the rich legacy of Christmas Jam here in Asheville," said Abby Bryant, lead singer/keyboardist of indie/soul group Abby Bryant & The Echoes. "Sharing this day that folks have held close to their hearts for years, and closing out 'Jam By Day' alongside so many friends, is a real highlight for the holidays."
Kicking off at noon, a slew of acts running the gamut of musical genres will get behind the microphone. They'll not only radiate their intricate talents, but also be cultural ambassadors for Asheville and greater Western North Carolina — all alongside Christmas Jam's storied past of giving back to the community through its partnership with the Asheville Area Habitat for Humanity.
"Growing up in Asheville, the spirit of Christmas Jam was a great teacher. It demonstrated the value of giving back through music, and the power of unity," said Andrew Scotchie, lead singer/guitarist of blues rockers Andrew Scotchie & The River Rats. "Music is greater than one band, it's greater than one artist — music is about something bigger. Events that help our communities are perhaps the most rewarding kind in the industry."
From funk to hard rock, blues to indie, the Asheville Music Hall and The One Stop will feature The Snozberries, Paper Crowns, Mike Barnes Band, and Josh Blake's Jukebox, amongst several others.
"Christmas Jam represents the merger of two of our city's greatest assets — incredible music and a strong community with an empathic and giving spirit," said Blake, who is also a producer/engineer at Echo Mountain Recording. "['Jam By Day'] gives these artists exposure to people who came to town for the big show that may never have discovered them otherwise."
Also returning this year is the deeply beloved "Songwriters in the Round" at Jack of the Wood. The presentation will include the likes of Leigh Glass, Eleanor Underhill, Kevin Fuller, Ashley Heath, Ed Jurdi, Kevin Smith, and more.
"It's awesome anytime local artists get to share the spotlight, especially in the context of raising funds for a good cause," Underhill said. "It's [also] a fun opportunity for us to get together as musicians, catch up, hear what people are working on, and be inspired."
"I get to sit up onstage with some of the best songwriters in the world, who are from Asheville," Fuller added. "Warren [Haynes] brings in some of the best musicians, but what really brings it on home is showcasing the local talent we have here — it means everything to the local scene."
With Christmas Jam just around the corner, Scotchie can't help but reflect on the origins of the musical gathering, which was simply a group of Asheville musicians getting together during the holidays to play music and help their city. These many decades later, that initial mission is as important now as ever before.
"Without local artists, there would be no Asheville. Without local artists, there would be no Christmas Jam. And you better believe Asheville wouldn't be such a destination without local artists," Scotchie noted. "Christmas Jam was started by locals who wanted to reunite, and spotlight local musicians while helping those in need — the spirit and roots of Christmas Jam are ever present at 'Jam By Day.'"
Want to go?
Although the 31st Warren Haynes Christmas Jam at the Harrah's Cherokee Center Asheville is sold out, the popular "Jam By Day" celebration will feature local and regional artists beginning at noon Saturday, Dec. 10, at the Asheville Music Hall, The One Stop, and Jack of the Wood in downtown.
For more information and a full schedule of "Jam By Day," go to xmasjam.com and click on the "Day Of" tab.