Archived Arts & Entertainment
This must be the place: Morning comes wearing diamonds, where she is, the sun is shining
Tuesday, December 06, 2022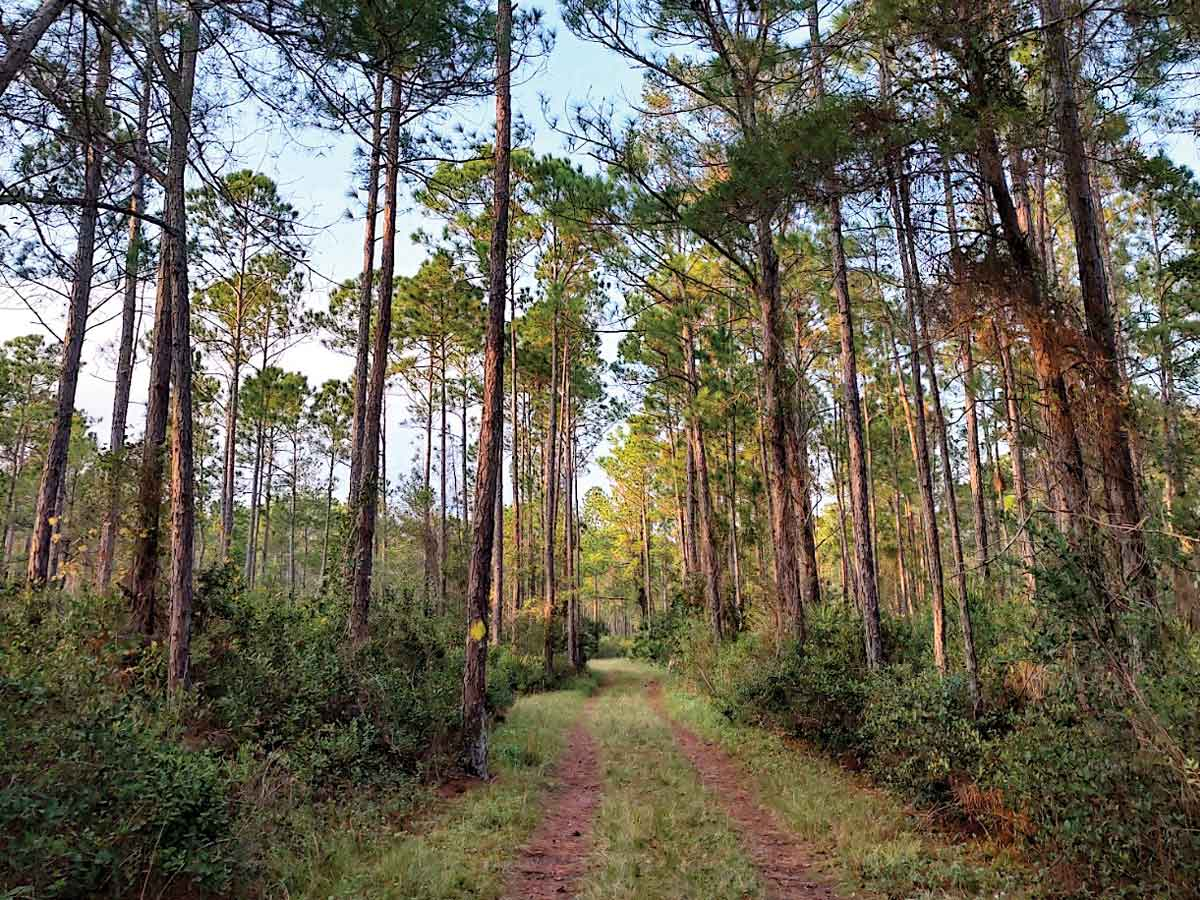 Moses Creek Conservation Area, Florida. (Garret K. Woodward photo)
Hello from Room 128 at the Red Roof Inn in Hardeeville, South Carolina, just north of the Georgia state line off Interstate 95. It's 10:01 a.m. Yesterday, I awoke in Room 208 at the Hampton Inn outside of Lake Wales, Florida.
After being the stage emcee at a music festival in Lake Wales, it was time to hightail it back to Haywood County and greater Western North Carolina. About a 10-hour drive, some 650 miles of a solo trek. Three days in The Sunshine State, pack up the truck and aim north, back to the humble abode in downtown Waynesville.
The driving has never been an issue, seeing as I've always felt more at home on the road than anywhere else, usually lost in deep though, a beloved tune on the stereo, windows rolled down, cruise control and let the wheels roll along the highway. It's in the space, and in those moments, where I truly feel at ease.
Waking up this morning in the Red Roof Inn, it dawned on me how many hotel rooms I've been in this year. Although it's normal for a vagabond journalist like myself to find themselves in roadside lodging, 2022 has been one where I've really pushed out into the depths of America, more so, perhaps subconsciously, as a reaction to returning to normalcy in a post-pandemic world.
Even before March 2020, the urge to roam, to wander and ponder, has flowed through my veins as far back as I can remember. And, even though I feel that I can (and do) drive for hours and hours, hundreds and hundreds of miles, at some point I need to pull over, check into a motel for the night. Kick off my shoes. Take a shower. Plop down on the bed. Turn on the TV. Crack a cold beer from the cooler.
It's funny, right now I can't help but have these countless images of all the rooms that I've stayed in, and in just this year. Lately, I'll take a photo of my trusty road guitar on the bed, mostly out of posterity, to remember where I was, what state I was passing through, where I was headed, and, well, what the bedspread looked like, too. You'd be surprised by some of the wild choices and patterns I've come across over the years.
Motel 6 within earshot of I-90 in Bozeman, Montana. Super 8 off I-81 in Christiansburg, Virginia. Days Inn buffering I-64 in Caseyville, Illinois. Comfort Inn bordering I-65/I-40 in Nashville, Tennessee. Red Roof Inn on the edge of Lexington, Kentucky. SureStay by Best Western in Johnson City, New York. Hilton Garden Inn near downtown Monterey, California. Travelodge a stone's throw from I-71 in Mansfield, Ohio. Days Inn with the dive bar in Rapid City, South Dakota.
And the list goes on. I remember each hotel and every single room — the modern or less-than-modern décor, surrounding geography of urban or rural settings, sounds of old A/C units, white noise of tractor-trailers on the interstate. Usually, I'll check in late at night, pushing down on the gas pedal as hard and fast as I can get to somewhere, anywhere. Roll in near the midnight hour and politely ask for a late checkout. Unpack the truck, hands full while trying to locate the room key in one of your pockets.
Sometimes the breakfast in the lobby was top-notch with homemade waffles, eggs made-to-order and freshly-squeezed orange juice. Other times, it was either nonexistent or simply some old cereal and watered-down milk. Take what you can get in your belly and hit the road to destinations unknown. To note, the best bang for your buck breakfast is the Hampton Inn. Sure, the room may be a little more expensive than other hotel chains, but that monetary difference is sincerely made up for with an elaborate all-you-can-eat breakfast station.
While sometimes I can't even remember a story that I wrote just a couple of years ago, I'll somehow remember all those hotel rooms over the years. Often, I'll be crisscrossing old paths along the paved arteries of the Eisenhower Interstate System and, out of the corner of my eye, will see a hotel that I once stayed at. Immediately, memories will dance atop the dashboard as I rehash where I was, who I was with, and what was on my mind when I checked into that spot.
Some of those spots were either lonely nights, ones spent on a road trip with friends, or ones with a long-gone femme fatale, certain images of those times together tacked up under some cosmic magnet on the universal fridge of nothing and everything. Laughter, deep slumber, and moments shared soaked into the walls of these random rooms across this wide-open country of ours.
Mid-morning here in Hardeeville, South Carolina. I've got a Zoom meeting shortly for one of our travel magazines here at the newspaper. Then, finish up the watered-down coffee from the lobby of the Red Roof Inn, pack up all my things, crank over the truck engine, and start making my way back to Waynesville.
It's Monday, Dec. 5, which means the Christmas Parade should be kicking off right when I roll back into town. The parade lineup will, like clockwork, block my street entrance back to my apartment. No matter, I'll just park at the newsroom downtown, emerge from the vehicle, and disappear into the happily vibrant mass of locals and visitors alike, all together to celebrate the holiday season — the road weary vagabond journalist finally back home, at least for now.
Life is beautiful, grasp for it, y'all.