Archived Arts & Entertainment
Brotherhood and backwoods tradition: A retrospective on Balsam Range
Wednesday, November 30, 2022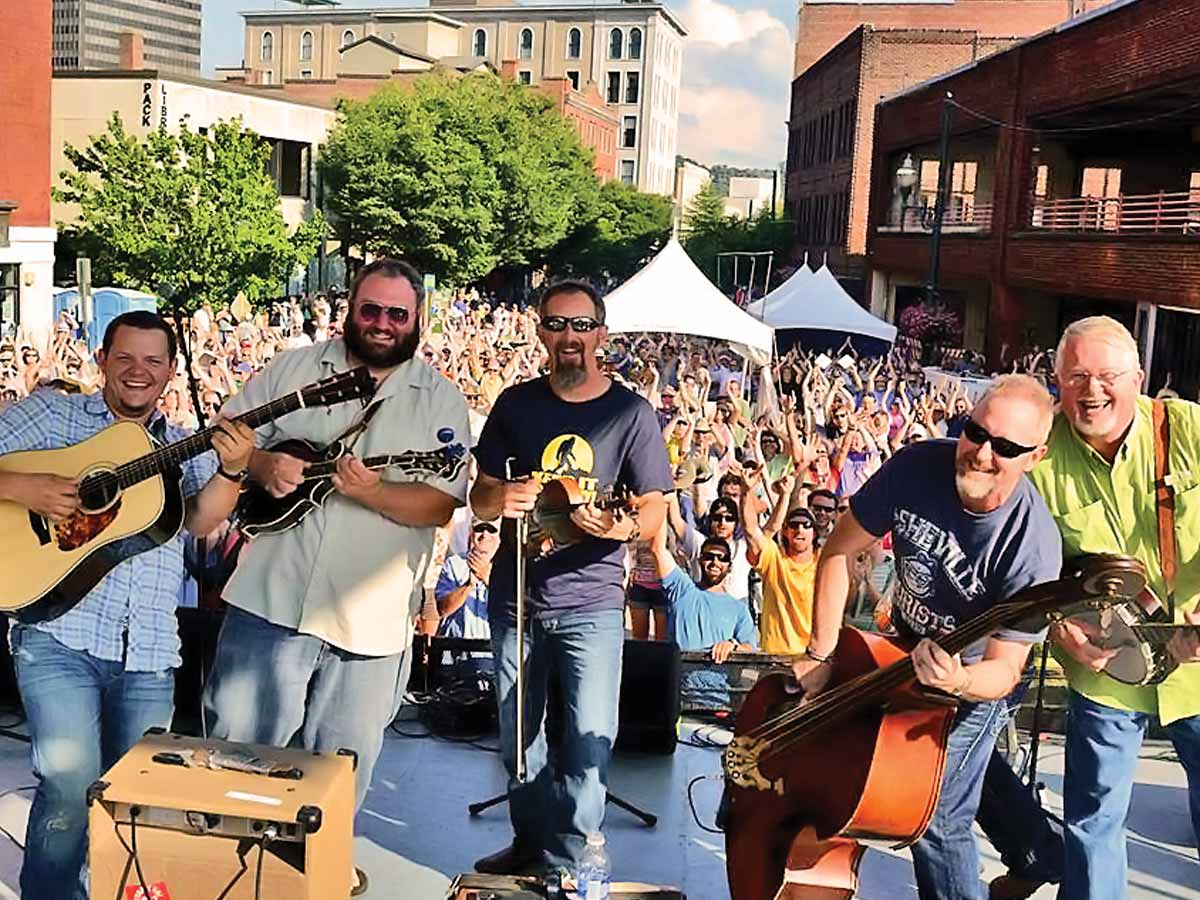 Balsam Range performing onstage at the Bele Chere festival in Asheville. (Garret K. Woodward photo)
Writers' Note: Since I started in the position of arts and entertainment editor at The Smoky Mountain News in 2012, I've been able to dive deep into the legend and lore of bluegrass sensation Balsam Range.
Not only has the group become musical heroes in their own right, they remain a pillar of the genuine compassion and inclusive nature at the heart of folks here in Haywood County and greater Western North Carolina. Below are excerpts from numerous cover stories and articles over the last decade. Congratulations on 15 years, my friends.
August 2012
On the heels of their latest release, "Papertown," Balsam Range held court at the historic Colonial Theater in Canton last Friday night, Aug. 10. The sold-out album-release party attracted around 250 patrons. The concert was a celebration of not only a new record, but also a homecoming and "thank you" to all in Haywood County — all of those who are a part of "Balsam Nation" — on their continued support of a band that is realizing more and more each day that the sky's the limit with its potential.
"I grew up in the mountains and music was part of our heritage. My dad played and about everybody in my family played. We'd play every evening, especially on Friday nights when other musicians would come by and sit on the porch," said mandolinist Darren Nicholson. "As long as people have been living here, music has been here. Music and dance is a big part of mountain culture. It's just a way of life. Sitting down with your family after dinner and playing. It's been like that around here for hundreds of years."
Entering their fifth year together, the group came to fruition in a roundabout way of old friends and new, sitting down and pickin' for the sake of pickin'.
"Originally, we just got together to jam. A couple of the guys had put out solo records and some of us played on those records," said bassist/dobroist Tim Surrett. "We had so much fun and ended up picking together. By the second time or so we picked, we got asked to play a show and then we just had to look for a name."
The quintet features Nicholson, Surrett, guitarist Caleb Smith, fiddler Buddy Melton, and banjoist Marc Pruett. From winning a Grammy Award (Pruett) to being inducted into the Southern Gospel Music Hall of Fame (Surrett), PowerGrass Music Awards "Male Vocalist of the Year" (Smith) to performing at the Grand Ole Opry (Nicholson) or playing alongside the legendary Doc Watson (Melton), they're an array of talent and acclaim deeply rooted in Western North Carolina.
"We all grew up around here. There's something magical about [bluegrass] that grabbed me," Melton said. "It's hard to describe until you've experienced it. We meet new fans all the time that have just discovered this music and it hits them in the heart."
Wandering backstage before the show, a cacophony of strings drift through the hallways. Each member finds their own corner where they tune-up, take a moment to collect their thoughts and catch their breath in the minutes leading up to the performance.
"I think the reality of bluegrass is that it's real. There are songs about racehorses, rivers, mountains, murder, baptisms, etc., and all of that still resonates today," Smith said. "When we look for stuff, we look for things that aren't written for bluegrass. As a whole, bluegrass is a feel type of music. It's believable. It's always fun to bring new music to people and step out with brand new things to offer."
Stepping up to the microphone, Surrett saluted the crowd amid raucous cheers and applause. Outside, the tall steam stacks of the paper mill signal that there's a lot more work left to do and tomorrow is new a day.
"We grew up here and we played ball here," he said. "We live here and we think it smells just fine here."
June 2014
Pulling into the parking lot of a Tractor Supply Company in Clyde, fiddler Buddy Melton pops the tailgate of his truck down and takes a seat. An engineer for the N.C. Department of Environment and Natural Resources Public Water Supply Section (the department covers 19 counties), Melton just finished another full day of work.
He sits on the tailgate and takes a break for a moment. Soon, he'll get ready to travel to Highlands for a Balsam Range show that evening — show two of five that weekend.
"It's exciting. It's hard to believe looking back at where we started and to see it materialize in the way it has," he said. "'Papertown' was a benchmark as to where we're at. We're really proud of this new album and what the future holds."
The de facto leader of Balsam Range, Melton started playing fiddle in college. He performed with bluegrass/gospel group Jubal Foster, an act that had some success, but not enough in the tank to keep it going. Melton also performed with bluegrass legends David Holt and Doc Watson before he found himself jamming in Nicholson's kitchen. With the rapid success of Balsam Range, Melton can only pinch himself to see if it's real.
"I remember going to the IBMA awards prior to playing music and just as a fan, and watching folks I admire up onstage winning awards," he said. "You never dream you'd be up there one day going through the same process."
But, the awards and accolades received by Balsam Range almost never happened, with the band at the mercy of the heavens when Melton was severely injured in a farming accident in early 2012. Owner of a 300-acre farm in Crabtree, Melton was kicked in the face while loading cattle. He suffered brain trauma, with surgeons wondering if he'd survive, let alone be the same again after recovery.
"The accident changed me drastically. I went through life without any major glitches, never been in a hospital. You think you're somewhat invincible, you see people suffer and you feel for them, but when you personally go through something like that it's a reality check," he said. "You realize life is precious, life is short, and you need to take advantage of every opportunity that comes your way."
Though Melton admits there are certain oddities that remain from his accident, for the most part he's made a positive recovery. He was able to take the stage to perform at the album release for "Papertown" only a handful of months after he was one foot in the grave.
"You've just got to put it all behind you, take what you have and move forward," he said. "The accident definitely changed my outlook on life and Balsam Range. It doesn't take long to realize this is a special thing the five of us have — I'm grateful for it all."
Each time Balsam Range hits the stage Melton is humbled by the supportive and encouraging audiences. He's also thankful for the mere fact that he knows exactly what the other four members will give — passion, professionalism and a piece of mind that their band is a fruitful endeavor.
"We are five guys with similar needs and wants, similar families and goals. We have talent and are focused. We communicate openly and honestly, with each trying to keep it successful, with each able to put on different hats at different times," he said. "We will play the Grand Ole Opry on a Saturday night, then get up for work on Monday morning. You have to switch those hats, be focused and know you have a limited time to get it all done and do you get it done? We do."
Balsam Range receiving an IBMA award in Raleigh.
October 2014
Caleb Smith had no idea.
"I didn't hear them announce it," he marveled. "I was backstage talking to Del McCoury about a guitar and he says to me, 'Son, I think they just called your name.'"
"They" as in the International Bluegrass Music Association (IBMA), and what was called turned out to be Balsam Range winning Entertainer of the Year at the annual award show Oct. 2 in Raleigh. For Smith, the guitarist in the Haywood County group, taking home the biggest honor in the bluegrass industry was both shocking and very humbling.
"I just couldn't believe it," he said at the band's celebratory after-party. "It's humbling to even be nominated for this award by your peers and your heroes, and to win it and take it home, well, it was a milestone moment we'll never forget — we hit the top of the mountain."
The final honor of the evening, Balsam Range took the grand stage at the Raleigh Memorial Auditorium to accept the award. It was the band's third win in an evening that also garnered them "Vocal Group of the Year" and "Male Vocalist of the Year," which was bestowed upon Melton.
"My mind was just racing. There were a lot of nominees in that category who were people that are the reason I got into singing in the first place," Melton said. "To be included with that caliber of performers is amazing, and to win it just put it over the top."
Since their inception in 2007, Balsam Range has rapidly risen into the stratosphere of 21st century bluegrass. Amid their numerous number-one singles, accolades and Grand Ole Opry appearances, they also won the 2011 IBMA "Song of the Year" award for "Trains I Missed."
And on the heels of winning "Album of the Year" in 2013 for "Papertown," the quintet released the follow-up "Five" in June. The new record and its singles have spent most of this past summer burning up the bluegrass charts.
"Music is a very powerful thing, it speaks to people, it's the universal language, and there's a responsibility with that when you get to the level we're at," Melton said. "People connect to your music and they tell you their life story, and it brings awareness to what we're doing. We're impacting people's lives and they're impacting ours — that's a pretty special thing."
Before the final award for "Entertainer of the Year" was presented, Balsam Range took the stage to play their hit song "Moon Over Memphis." The melody took the roof off the building, as the audience roared in applause following its completion.
The band had yet to return to their front row seats when it was announced they had won "Entertainer of the Year." The auditorium shook with cheers and a standing ovation when they emerged from backstage to receive their trophy. The group waved to the crowd, only to look down with smiles from ear-to-ear at their ecstatic wives clapping from the front row.
It was a moment they'd never forget, a moment of pride that will go down as one of the finest in the long and storied musical history of Western North Carolina.
"I haven't felt this proud since Pisgah High School won the state football championship in 1976," Surrett chuckled. "We've not done anything differently since we started playing together. We just keep doing what we're doing, and it just seems to get out there to more people — we keep pushing forward."
October 2015
It was another banner year for Western North Carolina bluegrass acts at the International Bluegrass Music Association awards in Raleigh last Thursday evening.
Despite torrential downpours, and the possible threat of Hurricane Joaquin making landfall, the annual industry showcase once again brought together musicians, promoters and bluegrass fans alike for a week of memorable moments, onstage and off.
As the reigning "Entertainer of the Year," Balsam Range watched The Earls of Leicester pick up the honor this year, but the quintet defended their title of "Vocal Group of the Year" and once again brought home "Song of the Year" for "Moon Over Memphis." The band also was decorated by Gov. Pat McCrory with "The Order of the Long Leaf Pine," the highest civilian honor in the state for a proven record of service in North Carolina.
Alongside his awards with Balsam Range, bassist Tim Surrett also won "Bass Player of the Year" and was selected to be the incoming chairman of the IBMA Board of Directors — as much an honor as a responsibility to not only preserve bluegrass music, but also perpetuate it into the next generation of picker and listeners.
"To be recognized by the bluegrass world is one thing, but to be recognized for the charity work we do, it's just really nice. It means a lot. We give back to the community because we're part of it. It's for people we know, people we care about," Surrett said about the "Order of the Long Leaf Pine." "I don't know how someone could say no to someone right in the eye when asked to help out with a charity event. Charity begins at home. We've got plenty to take care of in Haywood County and Western North Carolina."
(Editor's note: Balsam Range recently raised $10,000 at a benefit for a family who lost their home in a fire.)
Balsam Range guitarist Caleb Smith. Jeffrey Delannoy photo
October 2018
Coming into this year, Balsam Range found itself once again nominated for numerous IBMA honors, this time for four awards: "Entertainer of the Year," "Vocal Group of the Year," "Male Vocalist of the Year" and "Bass Player of the Year." And for the last three years, the Jerry Douglas-led act The Earls of Leicester had taken home "Entertainer of the Year" (2015-2017).
"It's just wonderful to still be able to work, to still be in the ring," Pruett modestly said. "But, the biggest award for me, is to get back out there on the stage with my buddies, pick some tunes again, and leave folks with a warm smile and some good music — that's the only award I need."
Right out of the gate of the nationally broadcasted show, Surrett won the first award of the evening, "Bass Player of the Year," his second time receiving the honor. Not to be outdone, Melton then won "Male Vocalist of the Year," also his second.
And as the tension in the room wore on leading up the announcement of "Entertainer of the Year," the final award of the evening, Balsam Range took the stage and performed its latest single, "The Girl Who Invented the Wheel." Just as the band got offstage, the envelope was ripped open, a raucous audience roaring in cheers and shouts when the new "Entertainer of the Year" was crowned — "And the winner is…Balsam Range."
"Eleven years we've been together, and we are like family. This is the best group of guys, I love playing music with them," Nicholson said. "This has been an incredible ride, but they're better people. They've been there when it hasn't been great and they've been there when it has been great — and that's what family does."