Archived News
The next chapter: Balsam Range celebrates 15 years, looks ahead
Wednesday, November 30, 2022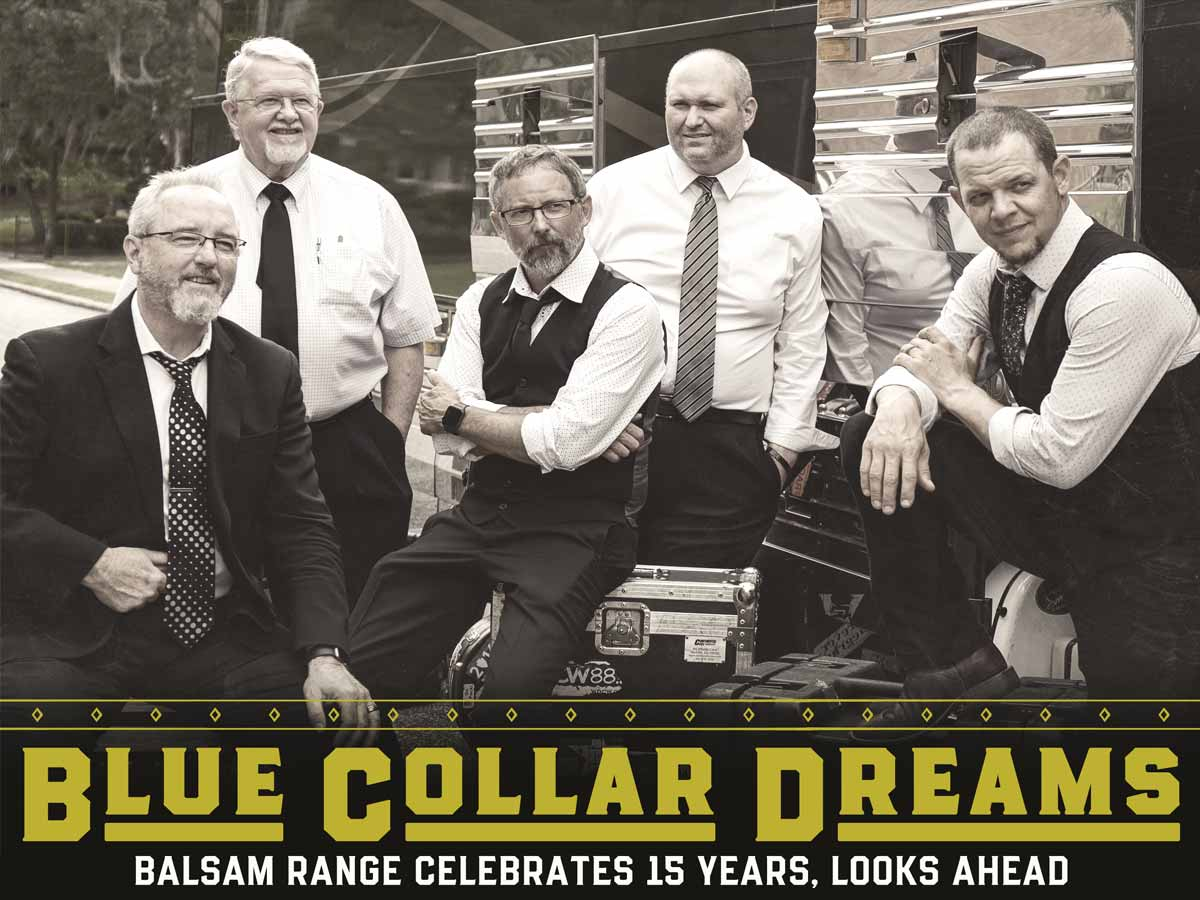 In a year that'll surely end on a bittersweet note, beloved Haywood County bluegrass sensation Balsam Range is not only celebrating 15 years together, the band is also saying goodbye to one of its founding members, mandolinist Darren Nicholson.
"[The timing] feels just right for me," Nicholson said. "I did [over] 250 performances last year on my own, and almost 40 with Balsam Range. It's very simple — it's just gotten hard to do it all."
SEE ALSO: Brotherhood and backwoods tradition: A retrospective on Balsam Range
Although the departure from his longtime group is amicable, Nicholson noted that his health, physically and mentally, was the main reason as to deciding to pursue a solo career with his popular country/bluegrass act, The Darren Nicholson Band, and put his entire focus on one artistic entity instead of two.
"I'm in a place in my life where health is a priority, and juggling careers is quite stressful from a scheduling standpoint," Nicholson said. "Health is physical, mental, and spiritual, so this is about serenity for me, [with] my physical health probably the best it's ever been in my life [right now]."
Thus, Nicholson's final bow as a member of Balsam Range will come during the ensemble's annual "Art of Music" festival, taking place Dec. 2-3 in the Stuart Auditorium at the Lake Junaluska Conference & Retreat Center. The weekend long musical gathering will also officially mark the 15-year milestone for the quintet.
"Looking back over the [15-year] journey, I'm still amazed at all we've accomplished, as so many incredible memories," said lead singer/fiddler Buddy Melton. "After all the planning, strategizing, long hours, countless miles, and family sacrifices, does it seem worth the effort? The answer is yes — it doesn't take much reflection to feel proud of our journey."
(From left) Balsam Range is guitarist Caleb Smith, mandolinist Darren Nicholson, banjoist Marc Pruett, fiddler Buddy Melton and bassist Tim Surrett. (David Simchock photo)
Coming together as an impromptu jam session in the kitchen of Nicholson's Canton home in 2007, Balsam Range was initially meant to be a casual musical project for all involved, each having been professional touring musicians for many years prior. But, the vibe felt so right and seamless, the group started booking gigs around the region, the project soon taking on a life of its own.
"The early days were full of excitement, hope, long hours, and much effort — setting out-of-reach goals, building teams and strategies to achieve them," Melton reminisced. "We are told our whole lives to follow our dreams, [and] dreams only die if we start looking at all the difficulties it takes to achieve them — focusing on the dream, those difficulties are merely steps that help us climb to the top."
And since its inception, Balsam Range has become one of the most decorated and award-winning acts in the wide world of bluegrass music. The band has taken home the following International Bluegrass Music Association (IBMA) honors: "Entertainer of the Year" (2014, 2018), "Album of the Year" (2013, 2017), "Song of the Year" (2011, 2015) and "Vocal Group of the Year" (2014, 2015), with Melton named "Male Vocalist of the Year" (2014, 2018) and Tim Surrett "Bass Player of the Year" (2018).
"It's most meaningful to me to remember how the band has been able to help certain families," said banjoist Marc Pruett. "[Whether it was] a child with cancer [or] a family whose home burned, and the fragile and old we helped feed through our efforts with Meals On Wheels, and the Backpack Program — for me, those are my accolades."
So, even after spending most of their lives immersed in the ancient legend and lore of the "high, lonesome sound," just what is it about bluegrass music that still tugs at the heart of the members of Balsam Range all these years later?
"It's organic. It's the hills crying out. It's love, heartache, hope, and inspiration. It's the music of experiences and real life," Nicholson said. "This music is deep in my soul. It's been there since I was a small child in rural Western North Carolina with all my family and their pals playing music in our living room."
"I remember how wonderful it made me feel when I first heard Lester Flatt, Earl Scruggs and the Foggy Mountain Boys, then Bill Monroe, then the Stanley Brothers," Pruett added. "Earl's banjo playing went straight to my 10-year-old heart, and each time I get to step onstage with my banjo, I try to play with a feeling that will make others get that same spine-tingle that I got then. There is perfection in the music 'of the old guys' that still moves me — I still study it, and I still learn."
Want to go?
The annual Balsam Range "Art of Music" festival will take place Dec. 2-3 in the Stuart Auditorium at the Lake Junaluska Conference & Retreat Center.
Alongside two performances by Balsam Range, other stage acts will include Sierra Hull & Justin Moses, Travelin' McCourys, Michael Cleveland & Flamekeeper, Atlanta Pops Orchestra Ensemble, Shannon Wright & Adam Wright, and The Studio Dream Team Band.
For more information and to purchase tickets, click on balsamrangeartofmusicfestival.com.