Archived News
Couple calls out FedEx after driver admits to 17 break-ins
Wednesday, November 23, 2022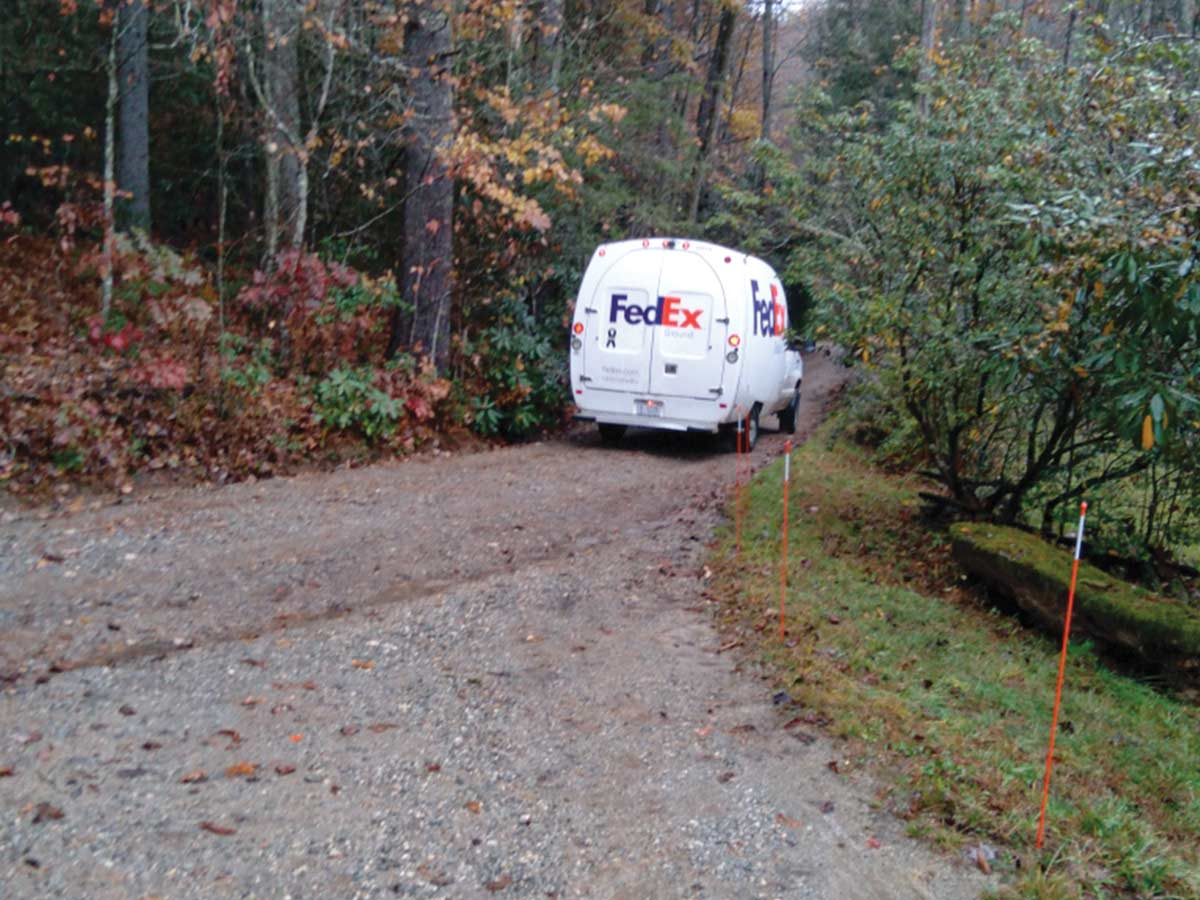 Jim Smith took this photo of what is allegedly Bufkin's truck trespassing on their property. The Smiths believe he was casing their home while on his delivery route.
A couple that owns a home near Highlands is speaking out after they say FedEx failed to act even after warned that one of its drivers was likely robbing several homes along his route.
By the time Gregory Bufkin, 43 was caught, he'd broken into at least 17 homes in the Highlands and Scaly Mountain areas, and multiple people expressed that they believed he was responsible for break-ins elsewhere in Macon and Swain counties.
Bufkin was arrested when a homeowner called the police to report that they saw a Macon County Sheriff's Deputy on a home security camera. The deputy was there to investigate a call that the home's door was wide open even though no one was thought to be home. Once the deputy cleared the residence, he left. But once the residents reviewed all their security footage, they saw Bufkin had been inside prior to the deputy's arrival.
Almost a year after his arrest, Bufkin pleaded guilty to 17 counts of felony breaking and entering, seven counts of larceny after breaking and entering, seven counts of possession of stolen goods and six counts of larceny of a firearm. According to reporting from The Southern Scoop, Bufkin was sentenced on each charge to 6-17 months in prison, but that sentence was suspended and Bufkin instead was given five years of probation. In addition, Bufkin must spend a total of 238 days in the county jail — time that can be served at the discretion of his probation officer.
FedEx sent settlement offers to cover restitution that included nondisclosure agreements to Bufkin's victims. Jim and Penelope Smith, Florida residents who live part time in the Horse Cove area, refused to sign and instead spoke with The Smoky Mountain News.
"I wasn't going to sign away my First Amendment rights," Jim Smith said.
In addition to sitting down for an interview with The Smoky Mountain News, the Smiths shared a series of emails outlining their communications with FedEx. The emails show that the Smiths were upset with Bufkin trespassing and damaging property well before he broke into their home.
Jim Smith recalled the day they first spotted Bufkin, noting that they knew it was him and not a driver because he was driving a "bubble truck," which is far rarer than a typical FedEx truck. They were sitting in their living room when they heard the back-up buzzer on the truck turning around near their driveway.
"The door was open, and we saw the FedEx truck. We're like, where's he going? Because [our neighbors] up the street, they don't even get mail on the street. They get it they have a P.O. box … FedEx doesn't come up this road," he said. "When [Bufkin] turned around, he displaced a bunch of rocks and a drainage system I have up there."
After some back and forth, FedEx did not reimburse The Smiths for repairs to the damaged culvert because there wasn't video evidence of Bufkin's delivery vehicle damaging the property.
"There's nothing that confirms it's FedEx other then [sic] your facts of the loss, stating a FedEx vehicle caused the damage, there's nothing else able to identify the person, no license plate, no photo's [sic] of the vehicle, nothing," a FedEx rep wrote. "My options are limited when there's nothing provided to verify the identity of the party."
The Smiths allege that about two weeks later, Bufkin returned and again aroused suspicion.
"He went all the way up to [a neighbor's] house and there were home and saw it. And so that at that time, Jim ran out to the driveway, and that's how we got that picture," Penelope Smith said.
"I just had another Fed Ex driver drive up and back down my driveway without delivering a Package," an email Jim Smith sent to FedEx reads. "It's raining so I haven't been able to see what additional damage may have been done. How do I stop Fed Ex from TRESPASSING on my property?"
In addition to all this, the Smiths find it hard to believe that FedEx wouldn't have additional cause for suspension, given that a simple Google search turns up results that highlight his prior struggles with opioid addiction.
The Smiths told SMN said that as soon as break-ins began getting reported in the Highlands area, they reached out to law enforcement saying they felt it was Bufkin and that he had likely cased their home. They said that although the Macon County Sheriff's Office did put an undercover deputy in their area to watch delivery trucks as they came and went, it didn't turn up any evidence that could lead to an arrest. Before long, their home was broken into and an antique double-barrel shotgun was stolen. In the process of breaking in, Bufkin severely damaged the home's front and back doors.
The Smiths' back door, which like the front door, was severely damaged when Gregory Bufkin broke into their home.
Because the Smiths had informed FedEx several times that Bufkin had trespassed and they told law enforcement they thought he was casing homes, they believe the problem could have been nipped in the bud sooner, which would have prevented numerous break-ins, including the one that occurred at their home.
Two months passed between the date that the Smiths initially complained about Bufkin to the time that he was caught.
"Why the heck would FedEx knowingly keep using the problematic employee?" Penelope Smith said. "And he was on drugs using their vehicle? I mean, why did they not care about that? Why are they really so hard up for help? They need to wait until he got popped for breaking and entering? And it ended up costing them."
The Smiths believe that the nondisclosure agreements are an obvious means for FedEx to avoid bad publicity or even civil liability. While FedEx declined SMN's request for an interview and didn't respond to written questions submitted via email, the company offered a brief statement.
"FedEx Ground is appalled by this activity and cooperated fully with law enforcement during their investigation," the statement reads. "The individual arrested no longer provides service on behalf of FedEx Ground."
The contractor that employed Bufkin to drive a FedEx truck is JOT Delivery Inc. out of Candler. Joe Buckner, who runs that operation, said in his 22 years he'd encountered some people he believed were using illegal drugs and he'd even terminated some based on poor performance, but he's never had someone steal while on the job.
Buckner said Bufkin was a decent employee, the kind of guy who'd bring everyone biscuits at the beginning of a shift.
"The guy always came into work," Buckner said. "He was usually there early every day."
However, Buckner did note one particular thing that seemed odd.
"The only thing I seen when this took place was that he would sweat a lot," Buckner said. "Nobody else would be like that. He'd be drenched at times."
Sweating can be a symptom of even brief opioid withdrawal experienced between doses.
Buckner said he has 25 drivers employed now, and while he cuts the checks and provides the trucks, it's FedEx's responsibility to conduct drug screenings. He said it's a shame the way things happened with Bufkin.
"The guy's a good guy and a good worker," Buckner said. "I hate that was going through addiction."
Either way, the Smiths are clear that they feel someone dropped the ball by allowing Bufkin to continue driving, considering he was stealing on his route, and they believe he was likely using opioids on the job, as well.
"If they're starting to get questions about this driver, I can't believe they didn't just drug test him, because he was probably high while he's driving there," Penelope Smith said. "If they didn't care about us in our burglary, you would think that they wouldn't want him to kill somebody in their FedEx truck."
Leave a comment
7

comments
Time for a lawsuit vs FedEx and its contractor.

Monday, 11/28/2022

As a driver for FedEx Express this definitely gives us a bad name. Please understand that FedEx express and FedEx ground are totally separate entities under the same name. Express drivers are hired and work directly for the FedEx corporation but ground drivers are contracted by route or truck owners who purchase routes for FedEx ground. I don't understand why the individual who hired this guy is trying to hide behind the company, he is the one who hired the guy and he is responsible for that employee on a daily basis. If I had to guess I would say he really don't care who he hires as long as it's a warm body in a seat, we at express hire former ground drivers occasionally which explain to us that the pay is terrible and there are almost no requirements as far as driver training or testing. Whereas at express you have to pass a DOT physical, drug testing, background checks, and defensive driving classes prior to being put on road. We have argued for years that they are entirely too lax at FedEx ground which puts a blight on the entire company, it's embarrassing at times just seeing the way some dress, but they have no requirements when it comes to how they must present themselves. At the same time you will get what you pay for when it comes to shipping, we at express are held to much higher standards and requirements, we provide overnight service which is money back guaranteed if not delivered overnight and 2 or 3 day service, but at ground there is no time commitment and all packages will be delivered when they get time. It's no wonder when you look at how nice most Express trucks are and then look at how beat up most ground trucks are, that alone should explain a lot. I'm not assuming all ground drivers are bad, I'm sure a large majority take pride in their work especially if they own the route they run, but there is a glaring difference in their employees too often.

Sunday, 11/27/2022

The reason I left the message that I did about Florida people and second homes here is they need to understand that if they want to have these second homes here back in the woods or on top of the mountains that used to be so nice looking before the developers, building contractors and of course the rich people willing to pay anything for a part time residence. The Law enforcement officers are far to busy than to look after your property. Might I suggest that you take some of your riches and hire your own security or even better like I said before stay away and make most of us HAPPY.

Sunday, 11/27/2022

Stay in Florida or wherever else you people are coming from and driving homes and land so high that natives can't afford it here. You have your homes and addresses listed in one state but honor us with your appearance in your fancy homes well guess what most of us don't care for you or want you here.

Saturday, 11/26/2022

"they can't just be drug tested on the spot"

Yes--- They can. You sign a form that says they can.

But again-- They don't care, as long as the packages
are delivered.

Friday, 11/25/2022

As a former FedEx driver I can tell ya...
They DON'T CARE as long as the packages get
delivered!!!!!!!

The hours are LONG and the pay is POOR.
10 to 14 hour days for $120. Would you do that??

Ohhh... Also, if you damage a truck, YOU PAY for it.
With "JOT" it will cost you up to $20,000 !!!!
Thank about that!

Friday, 11/25/2022

Wow! While I hate that anyone had to experience a break in and I don't make lite of that but are we not jumping to conclusions here? How do the Smiths know he was high at work? Why would FedEx terminate this guy just for being suspected? Surely the Smiths know that employees have rights and often, depending on company policy, they can't just be drug tested on the spot. I do hope though that all of the victims were able to get some relief and find their homes safe from what I imagine is a terrifying event.

Friday, 11/25/2022