Archived News
Seeing green: Inexperienced tax collector-elect gears up for new role
Wednesday, November 23, 2022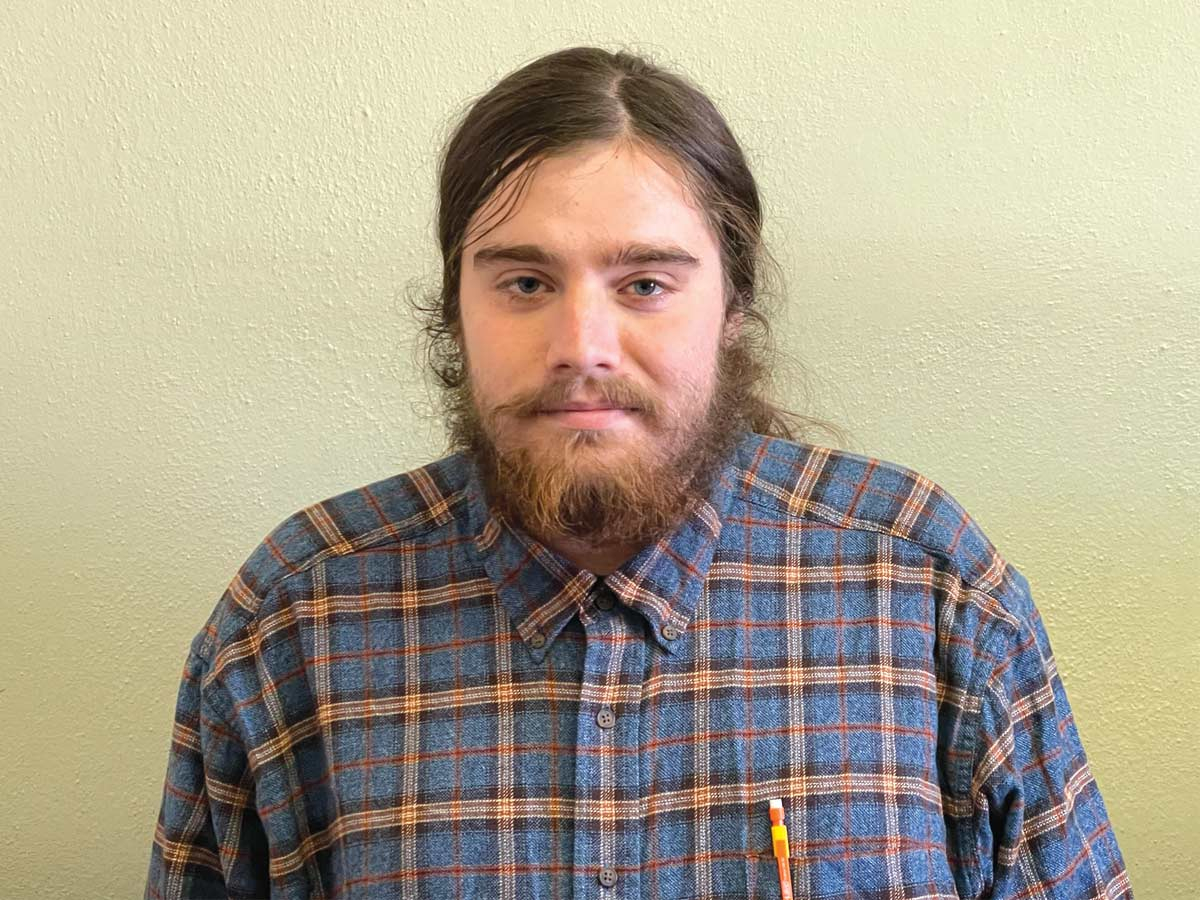 Sebastian Cothran. Kyle Perrotti photo
Of the many Republican victories in the 2022 General Election amid a red wave washing over Western North Carolina that brought multiple unexpected GOP wins, 21-year-old Sebastian Cothran's remains the most surprising.
When the inexperienced UNC Asheville college student decided to run for tax collector, he didn't do so in coordination with the Haywood County GOP, although he did eventually gain their endorsement and appeared on voter guides. This has led to plenty of speculation over whether he won because people knew who he was and trusted what they may have seen as earnest ambition or whether they just blindly cast a ballot for the candidate with an "R" next to his name.
But Cothran's not too worried about that now.
Since getting elected, Cothran, who told The Smoky Mountain News he's lived in Canton his whole life, has been the subject of statewide intrigue, not only because of his age, but because he received about 52.5% of the vote to unseat Democrat Greg West, who'd previously achieved the county's highest tax collection rate in history at 98.35%.
Cothran said his brief time in the political spotlight hasn't bothered him too much — after all, there will always be supporters and detractors. He said he just wants to get to work. Among his first steps is simply upping his knowledge of what's required to do the job, given his lack of prior experience. While he said he still hasn't talked to West about turning the office over, he is still doing what he can.
"I've been looking at some of the tax documents like the Machinery Act," he said. "And I've had meetings with the county manager and talked to a couple of the commissioners. I've been working on the transition, filling out the paperwork and doing stuff like that, just trying to make sure to smooth the transition out as much as possible so I can hit the ground running once I take office."
Cothran said that while there will be plenty to learn, the one thing he can lean on as soon as he assumes the role is his work ethic.
"If you talk to my professors or the board of elections, because I've worked for them, just anybody that I've been in contact with, they'll talk about my work ethic," he said. "I got my Associates in a year and a half. And now I'm double majoring. I'll have two degrees in four years, so that says I know how to get stuff done."
He specifically said that as he transitions, he will prove his dedication to the job, specifically noting that he won't have any of the issues that bogged down Republican Mike Matthews when he held the office from January 2015 to January 2019. While Matthews had some attendance problems, he also faced scrutiny for improperly waiving tax payments.
"You can't show favoritism in government," Cothran said. "You have to treat everybody the same, regardless of if they're family, not family, whatever their party affiliation is."
County Manager Bryant Morehead has been helping Cothran get up to speed. He was candid about the fact that he's been impressed with Cothran's attitude and maturity.
"The magnitude of this isn't lost on him," Morehead said. "I think he's committed to the job; he's taking it seriously."
And he'd better be. The tax collector is responsible for ensuring everyone pays up, or at least as close to everyone as possible. County services, including those like police and EMS that can save lives, depend on a healthy fund balance — a fund balance driven primarily by property tax collection. The job itself requires a combination of technical and statutory knowledge, as well as an ability to deal with people who may be facing tough circumstances.
"Well, there's always gonna be people that hate me. That's the nature of the tax system," Cothran said. "I do have a little bit of wiggle room, but I have to, number one, follow the laws. For some people, as long as they're really trying, I can do payment plans … I will work with people as much as possible."
One big question surrounding Cothran's election was what his surety bond may look like, considering he's so young and has no practical experience to ready him for his new job. Bonds can vary greatly. For Matthews, the bond was $800,000, a relatively high number due to his prior credit issues; that bond cost the county $9,000. The board of commissioners voted Monday to authorize the finance director to solicit a $1 million bond for Cothran. Cothran told SMN that his credit score is in the low 700s, which is a decent number for someone so young, and Morehead noted that the high bond wasn't specifically tied to any credit concerns.
"Because of Cothran's inexperience, we decided to move it up to $1 million, so if something goes awry, we have protection," Morehead said
With all the questions surrounding Cothran's qualifications, it's worth considering who he is outside of the fray. Although he was ridiculed on social media for his age and his appearance on filing day when he wore a T-shirt with a video game logo, he said he actually doesn't spend much time, if any, playing video games. He said on a typical Saturday afternoon, if he has some free time, he's likely hanging out with his four younger siblings or reading. He noted that he's a fan of classic American literature, specifically mentioning the works of John Steinbeck and Herman Melville.
"And obviously I'm still in school until the spring," he said. "So I don't play video games like I used to."
Ultimately, Cothran said that amid all the noise surrounding his victory over West, he wanted to remind people that he plans on prioritizing public service, as he said any elected official should.
"I intend to do the job to the best of my ability. If anybody has any issues or just needs to talk to me, then talk to me. I'll be in the tax office," he said. "I'm passionate about what I'm about to start doing. I'm not just out to game the political system. I genuinely care."
Leave a comment
3

comments
It never ceases to amaze me how much nonsense (R) will excuse just to have a seat at the table. This kid sounds earnest, but there's no denying the cause for concern regarding young, inexperienced candidates with little-to-no work history; especially after Madison Cawthorn proved doubters right in unexpectedly face-palming ways.

Thursday, 01/05/2023

Why don't every body leave this man alone until he doesn't do the job,my God he won the election so evidently west wasn't doing to good of a job.The democrats are just mad because they lost or couldn't steal the election!!!!!

Friday, 12/09/2022

Why is everybody looking down on this guy before even giving him a chance to show them what he can do.The real problem is the democrats have ruled every thing in haywood county the way they wanted it good or bad and crooked now they are mad because the Republicans won.Get over it democrats !!!!!

Friday, 12/09/2022