Archived Outdoors
Celebrating 'Long Man': Eastern Band Cherokees work together to care for their rivers
Wednesday, November 16, 2022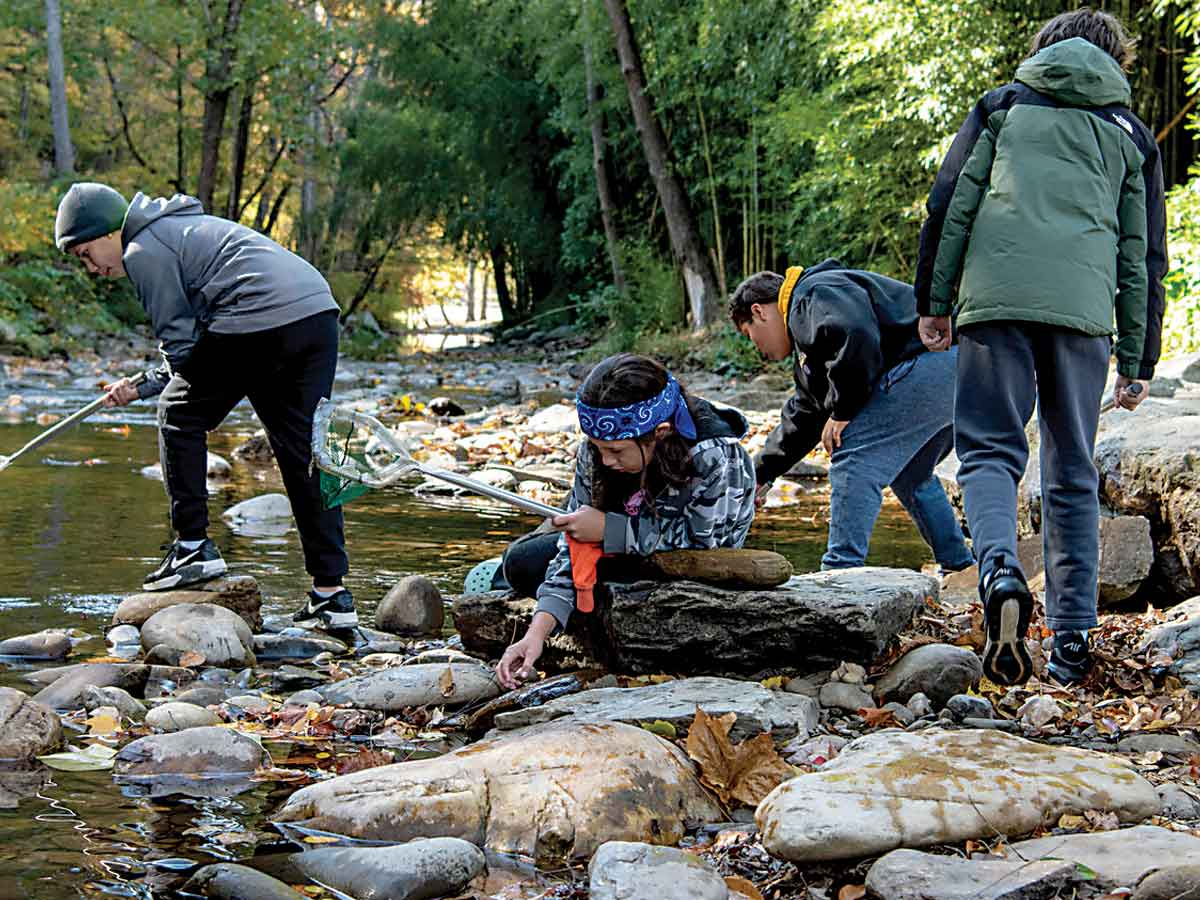 Students search for aquatic life in the Oconaluftee River. Scott Campbell/Casablanca Digital Media photo
On a crisp autumn morning, the Yellowhill Community Center in Western North Carolina buzzed with excitement as more than 120 Cherokees and their allies shared conversations, laughter and a hearty breakfast. They had descended upon the center in the Qualla Boundary on Oct. 19 to mark the second annual Honoring Long Man Day in the homelands of the Eastern Band of Cherokee Indians.
Part river cleanup and part celebration, the day was an occasion to take climate action and reflect on the ongoing importance of rivers in Cherokee life.
After morning prayers and a few words of gratitude were offered by Principal Chief Richard Sneed, the purpose of the gathering was articulated by Juanita Wilson, an EBCI member and the driving force behind Honoring Long Man Day: the participants were present to take care of "Ganvhidv Asgaya (Long Man), the river, with his head in the mountain and feet in the sea."
Micah Swimmer, another EBCI member and driving force behind Honoring Long Man Day, seconded Wilson's message. In coming together to "clean up our rivers," observed Swimmer, "it is also important, as Cherokee people, to remember the respect we have for the water. That is our medicine. Nothing survives without water."
Living Riparian History
For centuries, Cherokees have shared reverential stories about rivers and riparian landscapes. The branches and streams that flow into rivers all display unique personalities. These waterways teem with life during the day and sleep at night. The Eastern Band's ancestors followed these rivers, building impressive earthen mounds and establishing villages along fertile riverbanks.
But Cherokee ancestors didn't simply live "in" the mountains of Southern Appalachia; they lived "with" them and became part of the riparian world of Southern Appalachia.
When Europeans began invading the Cherokees' mountain homelands in the 16th century, local knowledge keepers continued to follow well-established practices of going to water to cleanse bodies and souls. Medicine people turned to nearby streams to heal the sick, and Cherokee horticulturalists carried baskets of water to irrigate crops. Most importantly, rivers were, and are, storytellers, sharing knowledge about the health of riparian ecosystems to those willing to listen.
Exploring Big Cove
This history was at the forefront of my mind on Oct. 19 as cleanup crews broke up to receive last-minute instructions and head off to the different communities on the Qualla Boundary. I joined a crew headed for Big Cove — a small, relatively isolated community, located in the northeast corner of the Qualla Boundary.
It takes about 20 minutes to drive from downtown Cherokee to Big Cove. When we arrived at our rendezvous point, I was reminded of the beauty of this part of the Boundary, and also why Cherokees fought so hard to resist removal and remain rooted to this place in the early 19th century. Soaring mountains reach toward the sky here, while streams and branches trickle and flow through the hollers before discharging into the Oconaluftee River downstream.
With fall leaves crunching under our feet, I comment on the low water levels.
"It feels like Hurricane Ian has sucked all the moisture out of this place," one crew member responded.
A quick glance at the USGS National Water Dashboard confirmed what we could see: river discharge was well below average. The low water levels revealed a riverbank in which sediment had started to conceal empty beer cans, discarded silverware snagged between rocks, and the scourge of our time — plastics — which have seemingly taken up residence under virtually every tree and fern.
This stream at Big Cove also draws our attention to this waterway's resilience. Despite pockets of trash, the ecosystem still looked healthy. Yet this narrow branch tells us something essential about our own role in preserving it. Over lunch, an elder reminded me that we "two-legged creatures" need to act with greater "care and responsibility for our water.
Identity and Interconnectedness
Chief Sneed shared a similar message with me earlier that morning.
"Days like this create opportunities when we work together," Sneed explained. "It brings us back to center, to that interconnectedness as tribal people."
Sneed evoked two principles that are fundamental to Cherokee identity: gadugi, the concept of working cooperatively together, and tohi, or health and balance. Honoring Long Man Day showcased gadugi, revealing how 21st-century Cherokees are leading a coalition of Native and non-Native people to duyuk'dv'I, "the correct way" or "right path," by caring for local waterways.
Walking on the right path is not done alone; it involves a whole of community effort. This ethos buttresses all elements of Honoring Long Man Day. "Water is life," Swimmer reminded me, "that's true. That's what we believe. All tribes believe that." In the Cherokee language, ama gvnida, "water is life," remains a fundamental tenet of Cherokee thinking.
Clement Calhoun speaks to students from New Kituwah Academy about the cultural importance of Long Man. Abby Cantrel/N.C. Arboretum photo
The Next Generation
Both Wilson and Swimmer understand this. And it is why they are passionate about sharing this message with Cherokee children.
At Oconaluftee Island Park, located in downtown Cherokee, a group of 43 students, teachers and parents from the nearby New Kituwah Academy listened to lessons about riparian ecosystems and got their hands dirty planting nine trees — a combination of white oak and hickory. These students embodied duyuk'dv'I, speaking to each other in Cherokee and working together to care for a popular picnic spot.
Watching the students from New Kituwah plant those trees, I couldn't help but feel that they were exemplars of ulisgedi detsadayelvsesdi, which calls upon us to "treat each other's existence as being sacred or important." They treated each other, those young trees and the waters of the Oconaluftee with immense care.
As the day's activities came to a close, Wilson referred to those who participated as "just a small community group" coming together to care for Cherokee rivers. Yet this "small community" is powerful. With Cherokee leadership, they are showing that movements often begin from a small group of dedicated volunteers who care for the land and water and are willing to work together. In being part of Honoring Long Man Day, I observed that something special seems to be happening in the mountains of Western North Carolina.
Gregory D. Smithers is professor of history at Virginia Commonwealth University and a British Academy Global Professor based at the University of Hull, England. He is currently writing a book about water in Cherokee history and culture. This story was originally published in New Security Beat, the blog of the Woodrow Wilson International Center for Scholars' Environmental Change and Security Program.
Volunteers pick up trash on the Qualla Boundary.Volunteers pick up trash on the Qualla Boundary. Scott Campbell/Casablanca Digital Media photo
Volunteers remove 3,380 pounds of trash from EBCI waters
More than 200 people came together to remove 3,380 from the waterways of Cherokee lands in Western North Carolina during the second annual Honoring Long Man Day Wednesday, Oct. 19. The day included a breakfast, blessing and river cleanup in recognition of the Cherokee Long Man, Ganvhidv Asgaya, whose head lay in the mountains and feet in the sea — a living river. A revered figure among the Cherokee, Long Man provided water for drinking, cleanliness, food and numerous cultural rituals tied to medicine and washing away bad thoughts and sadness.
During the inaugural event in 2021, 460 pounds of recyclables were collected in Snowbird, while 2,200 pounds were collected in the Cherokee area. This year, 206 volunteers collected 1,240 pounds of trash in Snowbird and Cherokee County plus 2,140 pounds in the Cherokee area. This volunteer force included 43 students, teachers and parents from New Kituwah Academy; 126 adults from Cherokee; and 37 volunteers in Snowbird and Cherokee County.
Members of the Mississippi Band of Choctaw and Poarch Band of Creek Indians joined in solidarity. Organizer Juanita Wilson hopes to expand that intertribal connection in 2023. Also new this year was a land stewardship component for kids that involved planting native trees such as white oak and hickory, and learning about aquatic creatures and native reptiles.
— Holly Kays, outdoors editor