Archived News
Haywood County Special Olympics receives makeover
Wednesday, November 09, 2022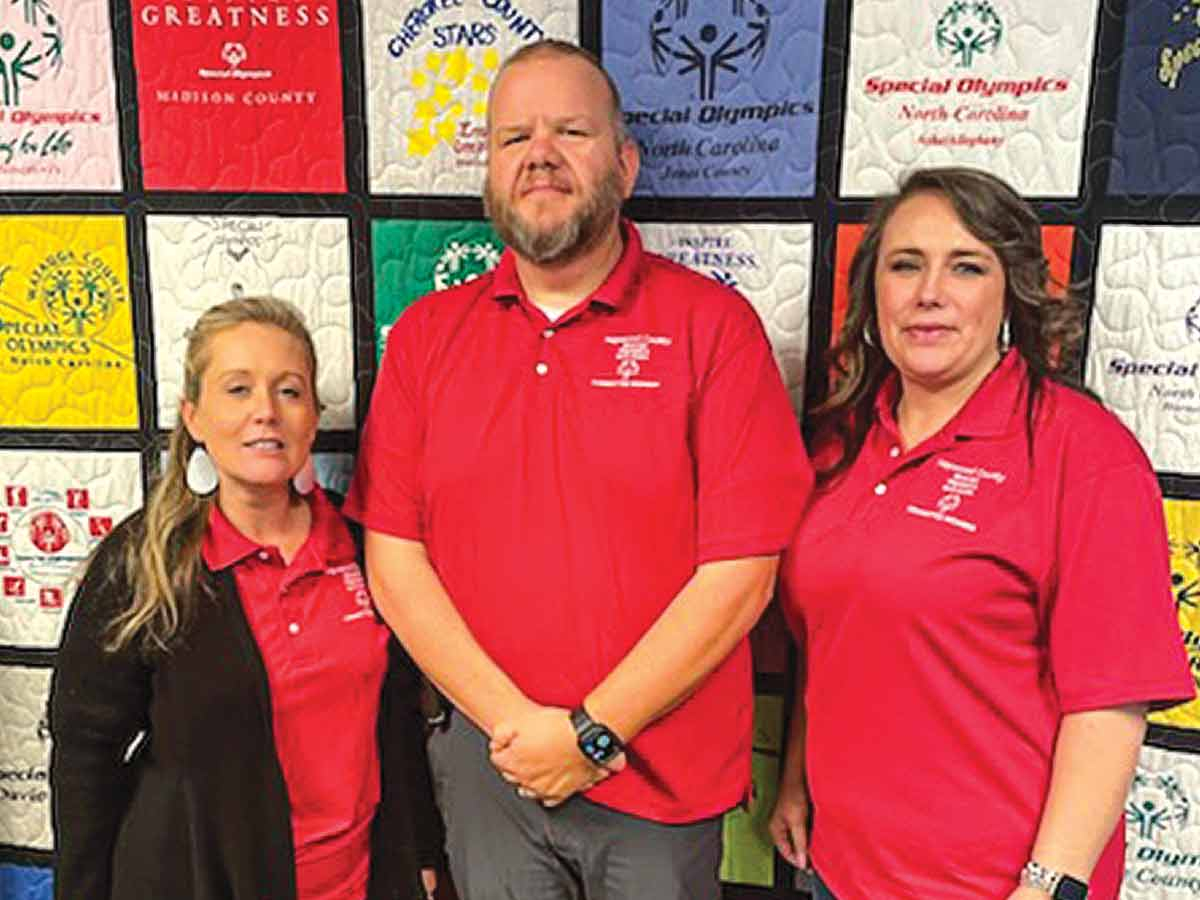 Brandi Stephenson (left), Matt Shell (center), and Brook Messer (right), have spearheaded the new efforts to improve Haywood County Special Olympics.
Haywood County residents with special needs have long treasured the Special Olympics Spring Games, but now they'll have a reason to celebrate and compete throughout the year.
The efforts being undertaken by new coordinators and board members will include some significant changes to the way Special Olympics is run in Haywood County. To begin with, the group is looking to open a new office in Waynesville, and perhaps even more importantly, they are going to offer new sports and activities for athletes to enjoy during all seasons.
Among the people spearheading the effort to broaden Haywood County Special Olympics' offerings are co-coordinators Matt Shell, Brandi Stephenson and Brook Messer. Shell, a lieutenant with Haywood County Sheriff's Office, has a special-needs son who is an athlete, and Messer has a brother who competes in Special Olympics as an adult.
Ironically, the effort to increase options for athletes was born out of the pandemic, a time when everything, including Special Olympics, was shut down.
"They didn't have Spring Games for a couple years, just because of the North Carolina office saying 'hey, you can't do that,'" Shell said. "Last year, the guy that was heading things up was at Waynesville Parks and Rec, but he left. Brandi worked really hard this year to put together as a Spring Games for our student athletes."
The jarring changes and the hard work required to pull off last year's games lit a fire under the new organizers, and that fire has spread to others involved in Haywood County Special Olympics. Now, the board includes people from all over Haywood County with diverse duties and opinions, including Daniel Blagg, who has long organized the torch run, and other representatives from relevant organizations.
"We wanted to bring community stakeholders to the table, you know, from all facets of the county, especially those that work in the special needs community," Shell said.
Having such a committed board seemed to necessitate a designated a space to do business, which led the group to search for an office in Waynesville. Not only will that office provide a good meeting spot — which can also host office hours — it gives a centralized storage location for banners, tents, backdrops and sports equipment.
While the Spring Games have long been the cornerstone of Haywood County Special Olympics, Shell pointed out that the new office and new efforts of the board will open up even more year-round opportunities.
"There are fall tournaments, there are summer games and there are USA games," he said.
And with the right volunteers, athletes can work to hone their skills any time in any number of sports.
"If somebody comes to me and says … I'm a tennis coach, and I'm willing to work with you, I'd say, 'OK, let's start a tennis program,'" Shell said. "We've talked about equestrian sports. I talked to a lady last Monday who said she owns her own place with horses. She's like, 'do you have an equestrian coach?' I said no, and she was like, 'can I be it?' And I'm like, 'OK, we get started equestrian programming.'"
Special Olympics' new endeavors will include even more "student advisors" who will work with youth athletes to learn and grow. Those student advisors will be vital in ensuring continued engagement in the new sports being offered.
"We were offering golf this fall," Shell said. "We're offering basketball. There's roller skating, bowling, and we're trying to get bocce ball going."
And the opportunities may even extend beyond Haywood's borders.
"We got to meet Buncombe County's new coordinator and Transylvania's new coordinator," Shell said. "You know, we all want to try to work together to have multi-county things go on. I mean, it's limitless what you really can do."
That said, Spring Games will still be a huge part of Haywood County Special Olympics. The next Spring Games, which will likely take place in early May 2023, will feature the beloved torch run and offer plenty of opportunities for competition, but it will also be even more of a community event that will feature a kickoff celebration — essentially a kind of pep rally to send the athletes off into competition with plenty of confidence and positive energy.
"We're going to have an Olympic Village, and we're going to bring in food trucks and vendors," Shell said. "We're maybe even going to have some live music. We want it to be a chance for everyone to recognize the special needs community."
Like with the year-round programming, Stephenson said she hopes plenty of volunteers will turn out for the new and improved Spring Games.
"We want this to be a unifying event where those folks without disabilities are helping students with disabilities or adults with disabilities to learn the game," she said.
When asked what it means to Shell that his special-needs son has something like Special Olympics in his life, it was hard for him to suppress his emotions. He quickly referred to the Special Olympics motto, which is "Let me win. But if I cannot win, let me be brave in my attempt." That, he said, is the heart of it.
"It's all he talks about," Shell said of his son. "It's a way for them to connect to other kids they don't usually get a chance to. My son, he's homebound, so he doesn't go to a school. It's kind of a rare opportunity to be with other kids and other people that have the same abilities, the same personality sometimes. So that's really cool. And I know that he loves that there's peer students that work with him and help him out. It's just a way for him to kind of experience normalcy, and I think that's the way a lot of them probably view this, and it's a way for them to be a part of something."
With all the new and exciting things going on with Haywood County Special Olympics, Stephenson highlighted that there are still plenty of needs. While adult athletes are usually kept up to speed on their opportunities through community outlets such as Arc of Haywood and other services, student athletes who aren't in the public school system can be tough to contact. This makes social media even more important.
"The word we need to spread is, number one, we're back. And we're going to offer more than we have in the past. With that, we really need coaches and volunteers," Stephenson said, adding that she encourages folks around the community, even those who don't have special needs relatives or aren't stakeholders to let others know what Haywood County Special Olympics is up to.
Special Olympics is free for all participants in Haywood County. Anyone who has any questions or is interested in donating or volunteering can contact Haywood County Special Olympics through its Facebook page or via email at This email address is being protected from spambots. You need JavaScript enabled to view it..