Archived News
Tribe partners on Kentucky horse race track
Wednesday, November 09, 2022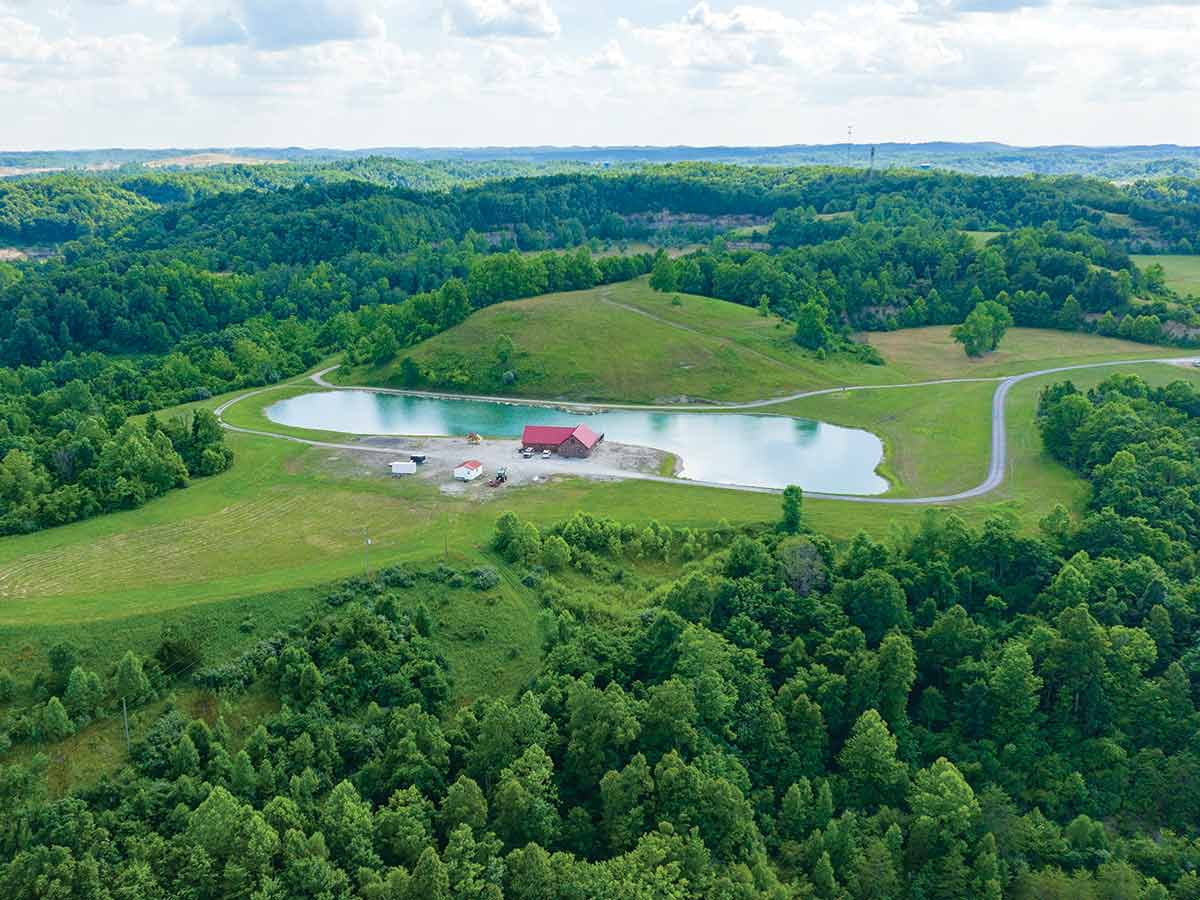 This nearly 200-acre property in Boyd County, Kentucky, is being developed as the state's first race track dedicated to quarter horse racing. Revolutionary Racing Kentucky photo
The Eastern Band of Cherokee Indians is a key partner in a $55 million effort to bring the state's first track dedicated to quarterhorse racing to a 200-acre property outside of Ashland, Kentucky, with a groundbreaking ceremony held Friday, Oct. 28.
"I give my thanks and gratitude to Tribal Council for having the foresight to support this deal and to EBCI Holdings, LLC, for bringing opportunities to the EBCI," Principal Chief Richard Sneed said in an Oct. 29 Facebook post.
According to a press release from developer Revolutionary Racing Kentucky, racing at the new facility will start in 2024. Designed by Populous in consultation with the Kentucky Quarter Horse Racing Association, it will be Kentucky's first track dedicated to quarter horses and will also feature an equestrian center and entertainment complex. The racetrack will feature a 660-yard sprint track and daily purses of $500,000, and the facility will support 200 "good-paying" full-time jobs and provide nearly $1 million annually in new tax revenues..
While racing will serve as its centerpiece, plans call for year-round use for quarter horse shows and competitions, as well as an adjacent entertainment complex. Those investments are expected to generate nearly $1 million in new local tax revenues each year.
The project is a "game-changing milestone," Kentucky Gov. Andy Beshear said.
"This is a historic day for the thousands of quarter horse owners who call Kentucky home," said Kentucky Quarter Horse Racing Association President Richard Connelley. "For decades, we've had to travel to other states to race, so we are ready to welcome our friends from across the country to come here and add to the legacy and tradition that is Kentucky horse racing."
During a special-called meeting Monday, Oct. 31, the Kentucky Horse Racing Commission approved a change in control for Revolutionary Racing Kentucky that gives the EBCI an influential role. Previously, the company had been owned by Prentice Salter and the Lucas Family Trust. Now RRKY Acquisition, LLC — a wholly owned subsidiary of EBCI Holdings, LLC, which is owned by the EBCI — owns 49% of the company. The majority 51% share is owned by a different LLC, ELS-RRKY Holdings LLC, which is a wholly owned subsidiary of ELS Gaming, LLC — an affiliate of the previous owners of Revolutionary Racing Kentucky.
The Commission had previously approved Revolutionary Racing Kentucky's racing license during a July 26 meeting. In a unanimous vote, it granted the company the state's ninth and final horse racing license, approving it to conduct live horse racing, simulcasting and pari-mutuel wagering starting in 2023.
The $55 million facility under construction in Ashland will not be complete when the license takes effect in 2023. The six race dates approved for 2023 will instead take place at Red Mile in Lexington, the Commission decided.
The racetrack is the project in Kentucky Tribal Council approved in a special-called meeting April 13 under the code name " Project Thoroughbred." The vote gave EBCI Holdings the green light to bid on two gaming projects that would allow the LLC to expand into a new jurisdiction. Tribal Council's vote allowed EBCI Holdings to make a deposit of $2.5 million and, if selected, receive an additional $25 million from the tribe to invest for an equity stake of 44%, and to obtain debt financing for an additional $62 million.
During that meeting, Secretary of Finance Cory Blankenship said that 75% of the profits would flow back to the tribe, with EBCI Holdings retaining 25% to run the administrative side of its operations. Tribal Council will determine how the profits are to be spent through a revenue allocation plan to be considered at some point in the future.
The $55 million racetrack project is one of many eight- and nine-figure investments the tribe has approved over the last couple years. In August, ground broke on a $650 million casino development project in Danville, Virginia, in which EBCI Holdings has a 49.5% stake. The LLC has also purchased casino operations at Caesars Southern Indiana through a $280 million approval from Tribal Council.
During an Oct. 24 session, Tribal Council approved $324 million for Kituwah LLC to purchase a sports-related brand and develop associated resort projects, also approving $55 million earlier in the same meeting for various other Kituwah LLC investments. Those votes brought the tribe's total investment in Kituwah LLC over the last two years up to $504 million, of which $110 million is dedicated to development efforts at a 200-acre property off Interstate 40 in Sevier County.
The tribe has approved a $275 million expansion to the Valley River Casino in Murphy, a 30% stake in a $54.5 million hotel project in Pigeon Forge and $39 million for the new hotel at the Sequoyah National Golf Club.