Archived News
WCU alumnus providing leadership gifts
Wednesday, November 09, 2022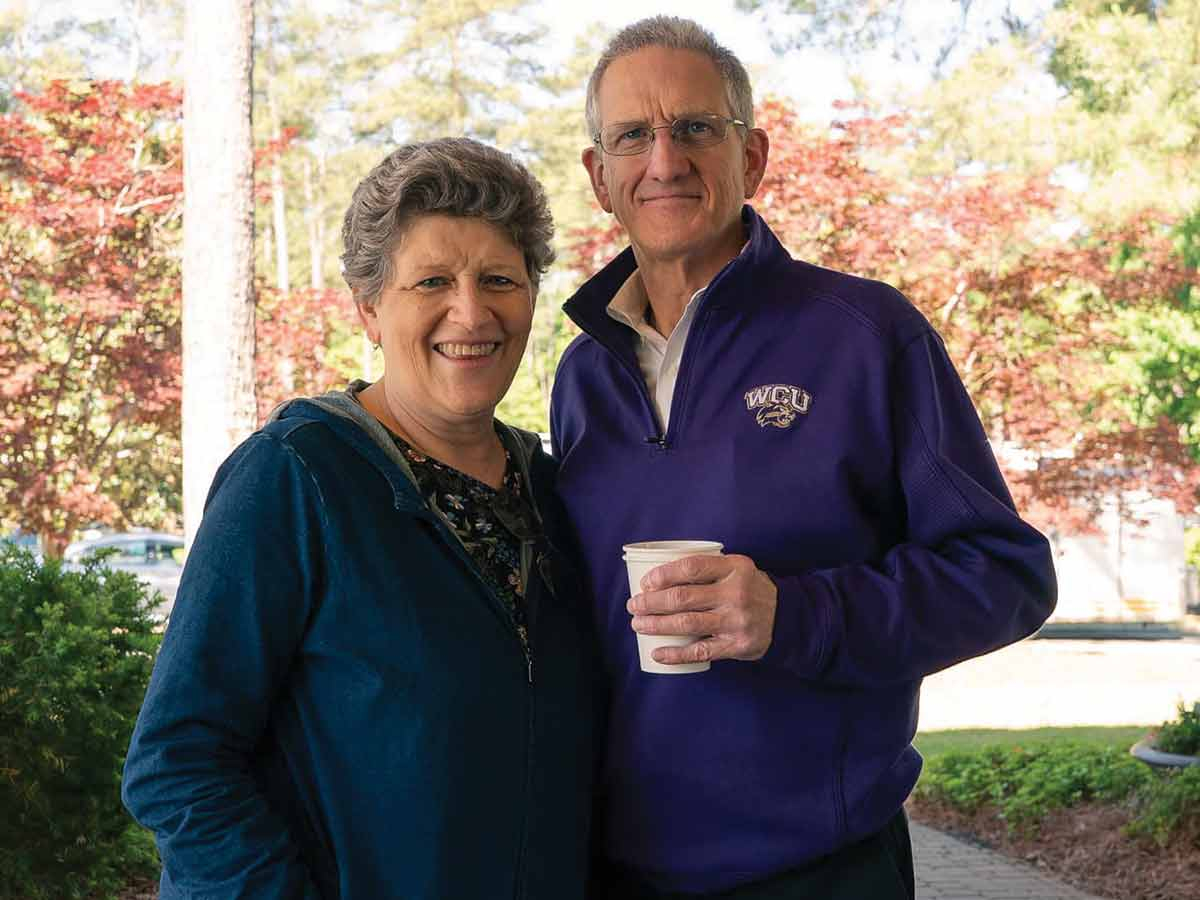 Janice Couch Thompson shares a moment with her brother, Steve Couch.
Steve Couch, a 1985 graduate of WCU with a degree in industrial technology, is having a major impact on the lives of current students and student-athletes.
Twenty-six students in WCU's College of Engineering and Technology have received financial assistance through the Carlton O. and Margaret W. Couch Scholarship Fund initially established through a gift of $25,000 from Couch in 2010. That endowed fund now stands at the $150,000 mark after additional contributions made over the years and will reach $500,000 through a planned estate gift pledge made in 2018.
The most recent example of Couch's legacy of giving is a June 2022 pledge totaling $250,000 over the next five years to benefit the Catamount athletics program. The gift commitment includes $75,000 for the Catamount Club, $25,000 for the men's basketball program and $150,000 toward athletics facility renovations.
"Steve is enhancing the lives of so many Western Carolina University students and Catamount student-athletes through his ongoing acts of generosity, while honoring his family and leaving a legacy of his own," said Jamie T. Raynor, vice chancellor for advancement. "The university depends upon loyal and consistent donors such as Steve to help us provide the transformative power of higher education to our students and to enhance their academic and extracurricular experiences during their time with us."
Shortly after endowing the scholarship fund in his parents' memory, Couch was invited by then-Chancellor John W. Bardo to return to Cullowhee to tell his story at the university's annual scholarship luncheon, which pairs donors with the students who benefit from their gifts.
"I just about got kicked out of Western my second year because my grades were so bad. I had a professor who also was my adviser, and he sat me down and set me straight. He said, 'Your parents are paying for you to be here to get a college education, so you better straighten up or just go on home.' He may have officially been teaching me Economics 203, but what he really taught me was Life 101," Couch said.
After that academic intervention, Couch began hitting the books in earnest, improving his grades to the point where he made the dean's list his final two semesters.
His sister, Janice Couch Thompson, is a retired guidance counselor in Durham County Schools who volunteers as coordinator of the Couch Oil Cares Scholarship Program, which is affiliated with the Durham Bulls Minor League Baseball team. Six high school seniors are awarded $1,000 each during a Bulls baseball game each July, with 42 students receiving awards totaling $42,000 over the eight years since the program was created in 2015.
Couch called it a highlight of his life to be back involved with his alma mater.
"Full circle, and it's really the way it's meant to be for alumni – giving back to the organization so they can continue to have a positive impact on current students."
Although Couch did not participate in intercollegiate athletics as a student-athlete during his time at WCU, he said he has been a loyal fan of the Catamounts since he first set foot on campus and noted that improvements to athletics facilities are an important part of the school's future.
For more information on creating an endowed fund or supporting funds for immediate use to help students pursue their higher education goals, contact the WCU Division of Advancement at 828.227.7124 or This email address is being protected from spambots. You need JavaScript enabled to view it., or visit the website give.wcu.edu.