Archived Arts & Entertainment
I am one of you forever: A conversation with Fred Chappell
Tuesday, November 08, 2022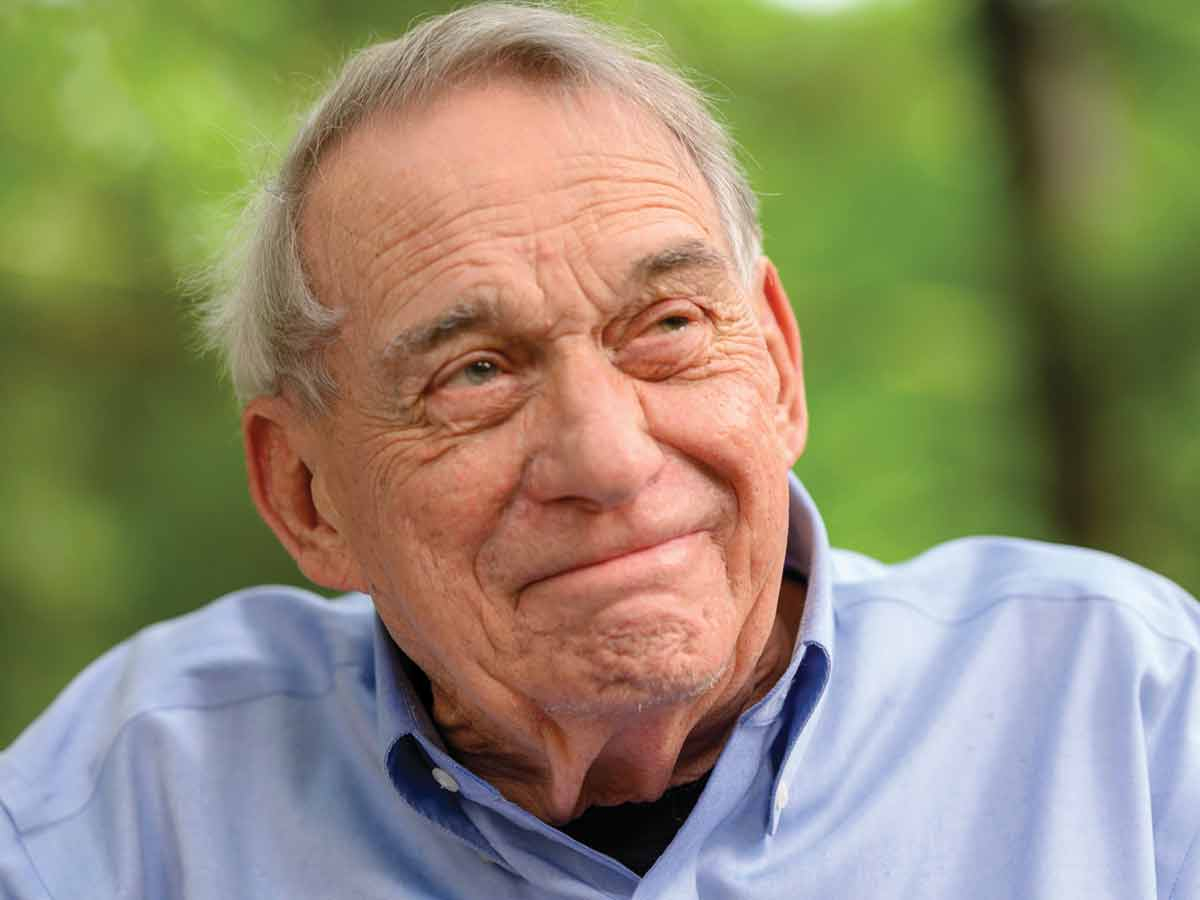 At 86 years old, acclaimed writer and Haywood County native Fred Chappell has a new documentary out about his life and career. (File photo)
In conversation, Fred Chappell is a man of few words and sentiments. Perhaps that's because he uses all of his vocabulary and emotions to spill across the blank page.
As one of the most beloved and acclaimed writers in North Carolina and greater Southern Appalachia, Chappell, a Haywood County native, has accumulated a vast catalog of work, dozens of books poetry and prose — covering the vast unknowns and intricate beauty of the world around us, many through the lens of the mountains of his youth.
Throughout his 86 years on this earth, Chappell has received an array of honors, including the Bollingen Prize, the T. S. Eliot Award and the Thomas Wolfe Prize. From 1997 to 2002, he was the poet laureate of North Carolina.
Recently, Chappell has become the subject of a new documentary about his life and career. Titled, "I Am One of You Forever," the film, directed by Michael Frierson, takes an in-depth look at one of the most important literary voices to ever emerge from the Tar Heel State.
The documentary rolls through Chappell's early years in Haywood County, the evolution of his craft, and his decades-long tenure as a professor at the University of North Carolina at Greensboro.
But, at its core, the film puts a spotlight on a writer and educator whose words are eternally etched in the hearts and minds of those lucky enough to crack open one of his books — a timeless literary voice of reason amid uncertain times.
Smoky Mountain News: What's it been like to have a documentary made about your life?
Fred Chappell: Embarrassing. It's too much. You know, I just did what I had to do, and I didn't expect people to pay much attention to it. So, it's kind of extravagant.
SMN: But, at same time, it's interesting to look back at the journey from there to here.
FC: Yeah. Of course, that's always interesting. It's like reading an old diary or something like that. But, what's most interesting is watching Michael Frierson put it together, photograph it and put it in continuity. He's a very interesting filmmaker — I admire him.
[The film title] is a title of a novel [of mine]. It's probably the best-known novel I've written, and the novel ends with a question — are you with us or not? Are you one of us or not? And, when you close the book, the title answers the question, and that was kind of fun to do.
SMN: Your roots are in Haywood County. What's your relationship with Western North Carolina at this chapter in your life?
FC: Well, I'm not very mobile these days. At 86, you don't travel around very much, but I still have ties up there. My sister, of course, who is very dear to me, she lives in Asheville. So, that's the way I keep up with what's going in that part of the world [by] talking to my sister.
SMN: What really sticks out about those early years of you roaming around Haywood County?
FC: Well, I didn't roam around Haywood County very much. I was a farm boy, which means you start work at 5:30 in the morning and you go to bed at 8:30 [at night]. So, I didn't roam around very much, but my friends did. And, every once in a while, I'd get to go with them. I remember Haywood County very vividly, and with a variety of emotions.
SMN: What about the mountains themselves? What is it that makes them so magical to you?
FC: Same as everybody else. The way they look. The way they smell. The way they are profiled against the sky. All that stuff — just take a picture and you got it.
SMN: Part of the documentary talks about the 40 years you taught at UNCG. Was teaching always something that you wanted to get into, or is that just how the story of your life unfolded?
FC: That's what I wanted to do was teach college. That was always my goal. That was my mission in life, to teach school, and that's what I did. So, I was mostly very happy with it. I enjoyed my colleagues, enjoyed my students. I wasn't always crazy about the administration, but nobody ever is.
SMN: What were some of the core values for you as a writer and an educator that you put across with teaching the craft of writing?
FC: Well, the craft of writing depends upon the same thing as a craft of teaching — just shut up and listen.
SMN: What's your productivity these days, in terms of writing?
FC: Very little. It's time for me to shut up. I don't think the world needs to hear any more from me. But, I write on request, private poems and so forth. But, I have no ambition [anymore]. [However], I do have a new book [of poetry] coming out in 2024.
SMN: What is it about poetry? Why was that always the medium of the written word that worked for you, that spoke to you the most?
FC: It seems to me, [poetry is] the most natural kind of a speech there is. It's the most natural, the most elevated, and the most fun — poetry is always attractive. Everybody is immersed in poetry, whether they know it or not.
SMN: What has the culmination of your life — as a writer, educator, and so on — taught you about what it means to be a human being?
FC: It's taught me that I didn't deserve what happened to me — I was too lucky for my own good.
Leave a comment
3

comments
Thank you, Garret, for this wonderful interview. Sure hope lots of Haywood County residents, and former residents, watch this documentary. Fred is considered by many, many other writers to be the best one to ever come out of NC, and Canton, to boot!

Sunday, 11/13/2022

Thank you, Garret, for this wonderful interview. Sure hope lots of Haywood County residents, and former residents, watch this documentary. Fred is considered by many, many other writers to be the best one to ever come out of NC, and Canton, to boot!

Sunday, 11/13/2022

Thank you for this interview with one of my favorite writers.

Thursday, 11/10/2022