Archived Outdoors
Notes from a plant nerd: Witch-hazel
Wednesday, November 02, 2022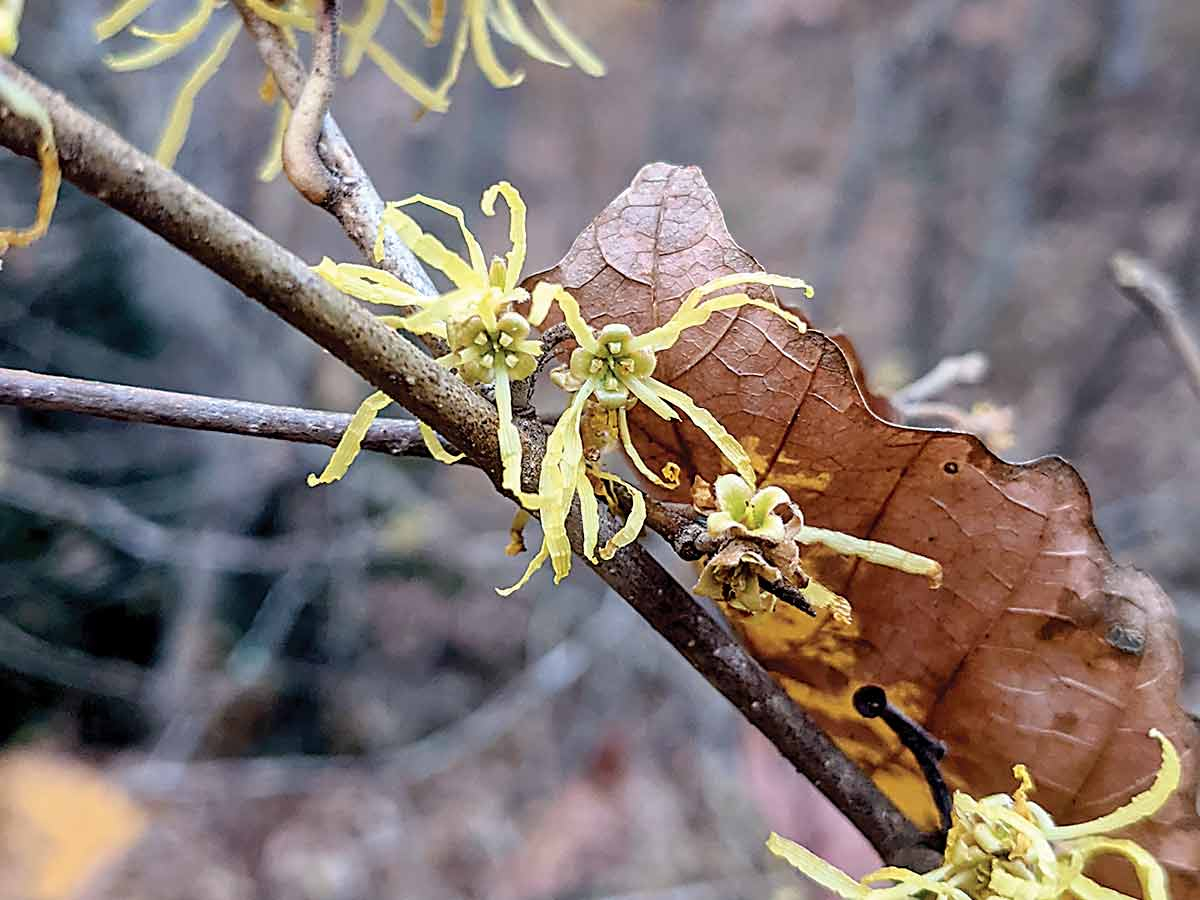 Witch-hazel flowers are most visible in the late fall and early winter, when the rest of the plant world is done for the season. Adam Bigelow photo
Just as most of the other plants, shrubs and trees in the woods are shutting down and preparing to go dormant for the winter, here comes witch-hazel (Hamamelis virginiana) just beginning to flower for the year. Many will not see their blooms, if they notice them at all, until the leaves are gone. But they begin blooming just in time for Halloween, like any good witch would.
You may not notice the small, yellow, ribbon-like flowers at first because witch-hazel also has yellow fall leaf color, and the flowers blend in amongst the leaves. Once the leaves fall off (or are they pushed?) the yellow flowers of witch-hazel stand out from the branching stems and are more easily noticed. Which is why witch-hazels are known as winter flowering plants — their flowers tend to continue to bloom into early winter.
Witch-hazel flowers are pollinated by moths, flies and small native bees. Once pollinated, their seeds take most of a year to ripen before they are ready to be dispersed. And boy, do they disperse. Over the year of ripening, the seed pods build up intense pressure. Once ripe and viable, they are launched out of the pods at speeds approaching 30 miles per hour. This technique is called ballistic seed dispersal, and witch-hazel is not the only plant around us that does this. Others include sour-grass (Oxalis stricta) and jewelweed (Impatiens spp.), but witch-hazel may be the fastest.
I know three different, competing and equally true stories for how witch-hazel got its name. The first comes from its use in dowsing, the mystical science of using one's intuition to help find things, especially when looking for a good location to dig a well. Dowsing is also known as "witching" for water, which traces its roots back to the Old English word "wych" that means having bendable or pliant branches and may have come from the Germanic word "wik," which means to bend. The forked branches of the witch-hazel were commonly used to dowse, or witch for water, and you know you've found underground water when the branches bend toward the ground.
Another story for the origin of the name witch-hazel comes from the odd growths, or galls, that often occur on top of the leaves in summer. A gall is a term for an abnormal tissue growth in plants, just as a cancer is an abnormal tissue growth in animals. Both can have different causes, and plant galls can be caused by physical damage, fungus or insects. In the case of the witch-hazel they are caused by an aphid that makes the leaves grow a home for themselves and their offspring. These cone-shaped galls are said to look like witch's hats.
The third equally true, yet different story for the name witch-hazel was taught to me by my friend and teacher Dr. David Cozzo, an ethnobotanist with a focus on Cherokee plants. According to Dr. Cozzo, since witch-hazel blooms in the winter, when other plants are dormant or "asleep," there must be some witchcraft involved in that. David also taught me that, in addition to its commonly known use as a skin toner, the leaves were harvested and sent to vineyards in France. If a wine being produced did not have the tannic quality sought, wine makers could add the tannin-rich leaves of witch-hazel to the wine to improve its flavor.
Regardless of the name origins, witch-hazel flowers are a beautiful and welcome sight at the end of the year. Their yellow, ribbon-like blooms look like streamers at a party celebrating the turning of the season. Carrying that metaphor further then, the seeds being launched are like a cannon's salute. Often, when walking among witch-hazel, you can hear the pops of the seed heads exploding and the sound of the seeds whizzing by. But you'll never hear the one that gets you. So be careful.
(Adam Bigelow lives in Cullowhee and leads weekly wildflower walks and ecotours through Bigelow's Botanical Excursions. This email address is being protected from spambots. You need JavaScript enabled to view it.)