Archived News
Election deniers are targeting North Carolina elections
Wednesday, November 02, 2022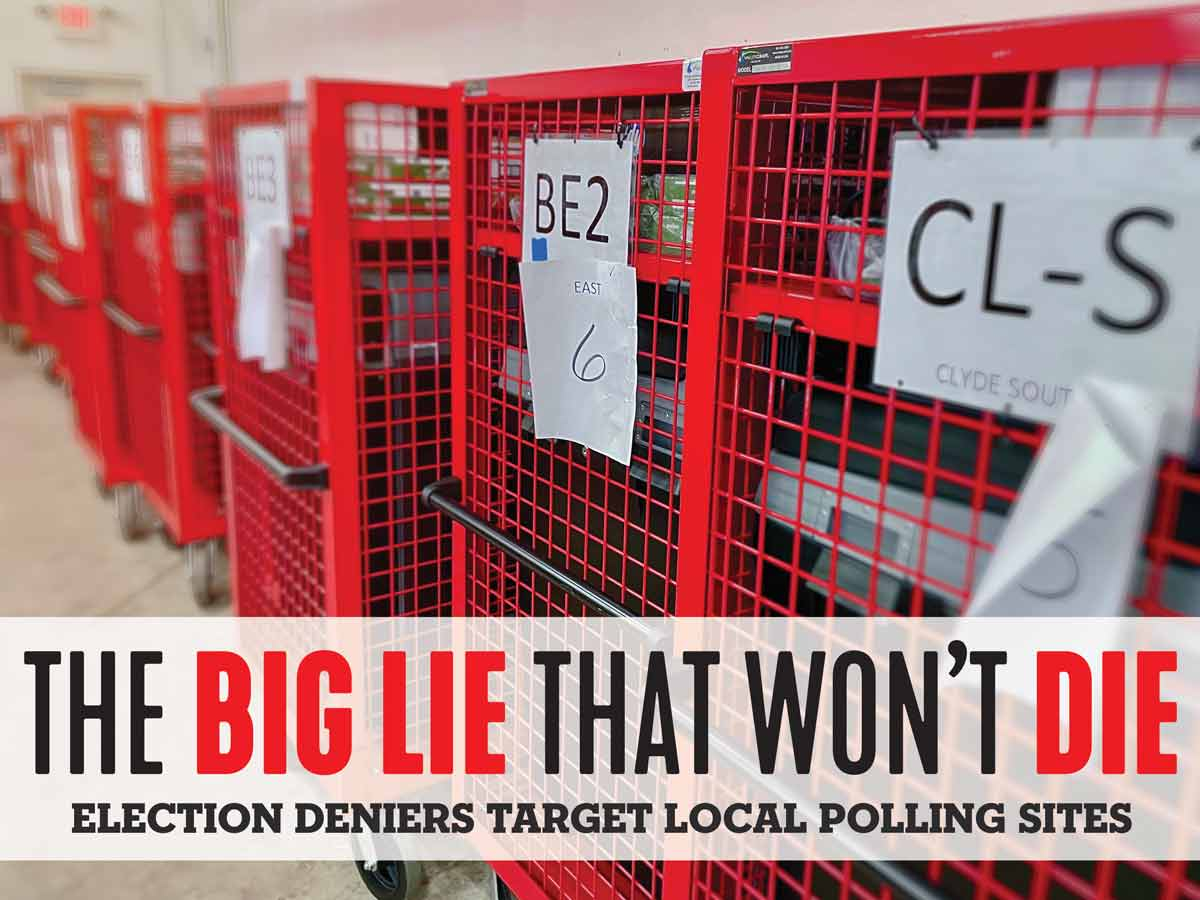 With dozens of debunked allegations surrounding a "rigged" 2020 election still fresh on the minds of right-wing conspiracy theorists, Western North Carolina's election administrators are welcoming unprecedented levels of scrutiny in advance of the 2022 General Election.
But they may not be fully aware of who, exactly, they're welcoming — a modest confederacy of self-appointed partisan "observers" consisting of election deniers, anti-vaxxers and people who have made racist statements, all hell-bent on gumming up the works so as to cast doubt on election results, no matter what they may turn out to be.
"It's not just a local organized effort, it's actually a national event, but as a state, there's significant recruitment of people to serve as observers for the political parties," said Robbie Inman, Haywood County's elections director for the past 16 years.
Inman told The Smoky Mountain News on Oct. 26 that nearly one week into North Carolina's in-person early voting period, things have gone off without a hitch despite substantial early voter turnout. His confidence in a free and fair General Election is 100%.
In the past, Inman said, the focus was on cyber security, ensuring that votes couldn't be changed electronically from inside voting machines or from Italian satellites operating in outer space on behalf of the Vatican, as former NC-11 Republican Rep. Mark Meadows has repeatedly advanced without evidence.
Haywood County recently switched to paper ballots, which should alleviate much of the concern over fantastical hypotheses such as Meadows'.
Now, the focus has shifted to physical security — the physical security of voters and poll workers. On Sept. 2, the North Carolina State board of Election issued a press release calling attention to voter intimidation.
"… we at the State Board will do everything we can to ensure that the county boards of elections and county poll workers understand their authority and procedures to maintain an orderly and safe voting environment for all voters," it reads in part.
The release also referred to "disruptive behaviors by some poll observers" that were noted during the May 17 Primary Election.
On Oct. 12, NCSBE issued a 12-page guide with the intent of ensuring that both voters and election workers "can carry out their duties free from harassment, intimidation and interference."
"The thing that I think all of us have to truly admit to ourselves, a concern that we must at least admit that's out there, is the threats from the inside, the person or persons who wish to participate and actually turn into bad actors at a particular site, or at a particular time or day, such as Election Day, and their intent is not honorable," Inman said.
Indeed, Inman said that he's seen a substantial uptick in the number of public records requests received by his office.
"By hundreds of percent," he said.
Haywood County Board of Elections Director Robbie Inman says that thus far through early voting, there haven't yet been any problems with poll observers. Cory Vaillancourt photo
In North Carolina, most documents received or produced by public bodies such as county commissions, city councils, appointed boards or local government departments like boards of election are public records. Anyone may request them and can be charged a nominal fee, but they're often delivered for free. Public bodies like Inman's are obligated to furnish the records in a timely fashion, with certain exceptions for individual privacy.
Because of that obligation, public records requests can used as a sort of cudgel, bogging down staffers who have plenty of other work to do.
"Most of them are template-driven," Inman said. "What you're referring to is what we refer to as 'denial of service,' when you get to a point in any organization, but especially ours, where we have to spend so much of our human resource time with very limited staff to do the retrieval of some of this information."
In essence, requestors sometimes create a self-fulfilling prophecy by requesting prohibited information and then using the denial to bolster unsubstantiated assertions of some nefarious plot, like former President Donald Trump's bogus claims of "suitcases full of illegal ballots" being counted in Georgia in 2020.
"Most of [the requests] are cast vote records, which is not a public document, but they're being instructed to ask, for whatever particular reason, in such a way to where when I have to tell you that that is not a public record and in the state of North Carolina I cannot reveal those records to you, they become a little angry and hostile and believe that somebody's withholding information that proves a certain theory correct or incorrect," Inman said. "Nothing can be further from the case. It's just, that's the law."
Melanie Thibault, elections director in Macon County, said she's seeing the same things as Inman.
"I'm getting probably two to three a week. Some of that information is public and some of it's not. It's a lot of redacting for us. It's a lot of work on us on top of everything else that we have to accomplish during the day," Thibault said. "It puts things off. If these records requests continue the way they are, we're going to have to hire another person in our office just to keep up with it."
Thibault said that most of the requests she's getting are for poll tapes — transactional voting records printed on receipt-like rolls of paper, dozens and dozens of feet long. Although portions of the tapes are public record, personal identifying information inked on them is not, nor are machine serial numbers.
"These requests are some of the most troubling because the redaction of certain information is extremely time consuming even with the most advanced software. That's how you copy these tapes to where that they're legible but at the same time do not reveal active serial numbers of the equipment that we have," Inman said. "That may prevent someone that is of questionable intent to do research and import these numbers into particular places and spaces that are out there in the real technical world. It is not allowed, and we must protect those numbers and information."
DC roots, local fruits
At least some of those requests are coming from a group that calls itself the "North Carolina Elections Integrity Team," or NCEIT, which recently held a training on poll tapes — how to get them, and what to do if your board of elections says no.
Laura Lee and Jordan Wilkie, investigative journalists writing for The Assembly, detailed the origins of NCEIT in a story published several weeks ago.
In the story, Wilkie and Lee chronicle the efforts of disgraced Trump lawyer Cleta Mitchell, a Republican and a pivotal figure in Trump's efforts to overturn an election he lost.
Mitchell, along with Meadows, leads a group called the Conservative Partnership Institute. For well over a year, the CPI has been engaged in efforts to use the Big Lie "to recruit conservatives as poll workers for the November elections," according to a June story in the New Republic.
In January 2021, Mitchell convened a conference in Virginia "to teach people how to legally challenge election legitimacy in real time — giving a veneer of legitimacy to a mission built on conspiratorial beliefs about the 2020 election," according to Lee and Wilkie's reporting.
Mitchell's group reached out to a number of right-wing North Carolina groups, including the Conservative Coalition of NC, Liberty First Grassroots, Asheville TEA Party, Yadkin Valley TEA Party and others to create NCEIT.
In attendance at the Virginia conference was Jim Womack, chairman of the Republican Party in Lee County, North Carolina.
Not long after the Virginia conference, in April 2021, Womack held a "voter integrity boot camp" at the Smoky Mountain Event Center in Haywood County. The so-called boot camp promised to teach attendees how to expose voter fraud. When this reporter registered for the boot camp and paid $15 to attend, he was refunded and turned away.
"My apologies for the confusion, but we were snowed with reservations the last day or so and Anedot [an online fundraising platform] did not cut off the reservation limits we had imposed before we shut down the link this afternoon," Womack wrote on April 21, 2021. "Based on reported capacity, reserved headcount and safe distancing requirements, we had to refund those who exceeded the limits this afternoon."
That may not exactly be true, says Myrna Campbell, chair of the Haywood County Democratic Party.
"I did drive up to the event center that day, and the parking lot on the side of the building was full; however, that shouldn't constitute a sellout. You know how big that building is? It can easily hold 200-plus people," Campbell said. "I'd estimate that parking lot doesn't have more than 30 parking spaces, if that many."
The ES&S DS450, a mid-range digital scan ballot tabulator designed for use as a central count scanner by medium-size jurisdictions, awaits action in Haywood County on Election Day. Cory Vaillancourt photo
Regardless, the group's lack of transparency is directly at odds with the stated goal of hosting an educational training seminar that purports to espouse transparency in the elections process.
That lack of transparency again manifested itself when NCEIT held an Oct. 17 poll observer training seminar on popular online conferencing platform Zoom.
When this reporter showed up to the event, which was publicly advertised by NCEIT, he was kicked out after just a few minutes. Upon rejoining the meeting, this reporter watched as meeting hosts struggled for nearly 10 minutes to figure out how to remove him again.
They weren't successful. During the three-hour meeting, host Jane Bilello referred to this reporter as a "creep," a "creep-and-a-half," a "yellow journalist from Mountain Xpress," and a "jackass" who wasn't welcome.
Bilello also belittled Wilkie, claiming that Mitchell had "mopped the floor with him" during a recent call.
Bilello is probably best known to readers of The Smoky Mountain News as the person behind a failed effort to pass off "official conservative ballot" handouts at polls during the 2020 Primary Election. The sham ballots, which were also photographed in the Haywood County Republican Party headquarters, endorsed Maggie Valley realtor Lynda Bennett in the crowded 11th Congressional District Republican Primary Election. The problem is, the organization issuing the endorsement, "The Official Conservative Ballot Committee of NC," was only two days old.
Veteran GOP political operatives from across the region told The Smoky Mountain News they'd never heard of it.
When reached for comment, Bilello insisted the group was legitimate, and that it had thoroughly vetted candidates.
"The candidates have been questioned, they have been interviewed and they have passed the smell test," she said on Feb. 14, 2020.
Then-candidates Joey Osborne and Madison Cawthorn, along with a spokesperson from the Sen. Jim Davis campaign, all said they'd not been given a chance to interview for the endorsement.
"I don't know what the big brew-ha-ha is," Bilello responded, "other than the fact that some of these candidates are annoyed because their guy is not on the ticket, not on the list."
Interestingly, the ballot didn't endorse Republican incumbent Sen. Thom Tillis. Bilello told volunteers handing out the ballots to suggest "anybody but Tillis!"
Even Aubrey Woodard, then-chair of the NCGOP's 11th Congressional District and current campaign manager for NC-11 GOP nominee Chuck Edwards, told SMN that Bilello's efforts should cease.
"These are transgressions of the rules we should all be following," Woodard said at the time. "There was no reason for this, and there's no reason for it to continue."
Ultimately, an SMN investigation revealed that the ballots were created by a consulting firm with strong ties — roughly $40,000 — to Bennett's campaign, and that Bilello had taken charge of distributing the ballots to volunteers, and that Bilello was on Bennett's payroll. An ethics complaint was subsequently filed against Bennett's campaign. According to public records, the Trump-endorsed Bennett was defended in that claim by none other than Cleta Mitchell.
The complaint doesn't appear to have gone anywhere after Bennett's spectacular 2-to-1 runoff loss to Madison Cawthorn, who went on to win the seat.
Less than a year later, Mitchell resigned from her firm, Foley & Lardner, after the firm said it was "concerned" about her presence on the infamous Jan. 2, 2021, Trump phone call to Georgia election officials. During the call, Trump asked Georgia Secretary of State Brad Raffensperger, a Republican, to find him just 11,780 votes.
Mitchell has since been subpoenaed by the House Jan. 6 committee and a Fulton County grand jury. Atlanta is in Georgia's Fulton County.
The sham endorsements weren't the beginning or the end of Bilello's dishonest elections-related behavior.
Her LinkedIn profile says she's chaired the Asheville TEA Party since its 2009 inception. Over those 13 years, the party's affiliated PAC has been warned of improper activity by the North Carolina State Board of Elections almost half a dozen times.
In 2010 and 2011, the group failed to file required financial reports by the appropriate deadlines, earning it a $500 fine in 2011. The group was again fined $450 in 2015 for the same thing. In 2019, an NCSBE audit found that the group had incorrectly reported cash contributions. The same thing happened again in October 2021, resulting in the group forfeiting $190.
Currently, the Asheville TEA PAC's website shows a number of "news" posts that cling to discredited theories about the integrity of the 2020 election, including that 19,000 invalid ballots were counted in Arizona (they weren't) and that pillow salesman Mike Lindell has "absolute proof" that the election was stolen (it wasn't, and he doesn't).
Most recently, Bilello's been active on Facebook, spreading falsehoods about the 2020 election, lashing out at Democrats, RINOs and "fake media."
On Jan. 6, 2021, as insurrectionists ransacked the Capitol and smeared feces on the walls, Bilello said that Vice President Mike Pence had a constitutional duty to "send this fraudulent election back to the states." The election wasn't fraudulent, and even Pence admitted that no vice president had the power to unilaterally accept or reject electoral votes.
A post by Bilello on Inauguration Day, January 20, 2021, incorrectly states that Democrat Joe Biden was not elected by Americans, but was rather an "illegitimate fascist bought and paid for by the Chinese Communist Party."
Precinct-specific election administrations laptops are readied for their Election Day use in the Haywood County Board of Elections office. Cory Vaillancourt photo
This past April, Bilello promoted a screening of "2,000 Mules," a documentary by "highly respected" conservative commentator Dinesh D'Souza, who in 2014 was convicted on campaign finance fraud charges. D'Souza's film alleges "ballot stuffing" by Democrats in swing states during the 2020 election, without proof. The film's companion book was abruptly recalled by publishers in September.
Bilello's history of deception and her demonstrated unwillingness to entertain facts that differ from her own fanciful version of reality make her an interesting choice as the person chosen to put "integrity" into the "North Carolina Elections Integrity Team," but she's not alone in that regard.
During Bilello's three-hour NCEIT seminar — Haywood GOP Chair Kay Miller was also present — Bilello repeatedly mentioned the group's efforts to train and mobilize poll observers to file reports of alleged election impropriety through an online app so that their "evidence" can be turned over to the North Carolina General Assembly.
So far, the group has leaders in about 25 North Carolina counties who are charged with coordinating local staffing and reporting efforts.
Bilello, an unaffiliated voter who has pulled only Republican ballots since at least 2008, leads NCEIT efforts in Buncombe and Henderson counties and says the group is non-partisan.
Miller has signed up to serve as an at-large early voting observer, per Haywood BOE records.
Miller also filed a public records request on Sept. 1 on behalf of the Haywood GOP, asking the Haywood BOE for cast ballot records. The request was not fulfilled, because cast ballot records are not public records under North Carolina law.
LeRoy Cossette, a Haywood County Republican who Inman said identifies as an NCEIT member, filed the exact same request as Miller, and has also signed up to be an at-large early voting observer.
Guy R. Smith, a registered Republican and resident of Shelby, is Cleveland County's NCEIT coordinator and as such will be in position to observe reports of interactions with voters.
In an Oct. 16 Facebook post, Smith calls one of NASCAR's few Black drivers, Bubba Wallace, a "house n-word" and "ghetto scumbag."
Cleveland County is 21% Black.
Bobbi Foley is Halifax County's NCEIT coordinator. Foley believes that it's legal to kill a baby in California up to 28 days after birth. Foley's voter registration could not be located.
Barry Peppers, a registered Republican, is Haywood County's NCEIT coordinator. Peppers presented misinformation to Haywood County commissioners earlier this year, incorrectly stating that Haywood ranks first in the state in violent crime, that the county emptied its jails during COVID and that 87,000 armed IRS agents are about to be hired.
Linda Harper, a registered Republican, is Wayne County's NCEIT coordinator. Wayne has posted information labeled false by fact checkers regarding "rigged" voting machines in Georgia.
June Reeves, a registered Republican, is Iredell County's NCEIT coordinator. Reeves has promoted election conspiracy events hosted by Mike Lindell, who is currently defending himself against a $1.6 billion defamation lawsuit from a voting machine company.
Even the extreme right-wing "news" channel OAN refused to screen Lindell's conspiratorial documentary without first prefacing it with a "hilariously massive" disclaimer.
Reeves has also made posts falsely impugning the legitimacy of the COVID-19 vaccine.
While North Carolina residents have the right to apply to be partisan poll observers, the troubling public statements made by some members of the NCEIT raise legitimate concerns over their ability to remain objective while carrying out their duties.
Democrats, on the other hand, don't have plans to spend time or resources on poll observers — at least in Haywood County.
"There's no interest within our executive committee to work as an observer," Campbell said. "I had one observer who worked at the Senior Center during the May Primary Election and she regretted it — said she'd never do it again — and that it was boring and totally unnecessary. What she observed is how well the voting assistants work together even though they're from different political parties and how much pride they take in their work. She said that it's a ridiculous waste of time, and it sends the wrong message to the poll workers, which is, Republicans don't trust anyone, not even their own."
SMN News Editor Kyle Perrotti contributed reporting to this story.
Leave a comment
15

comments
Your headline is utterly idiotic. I know you leftists have a real problem with reality, but no one denies there was an election in 2020. The problem was it was not clean election.

You idiots deny the rampant fraud that characterized the election. Denial of the fraud is the only denial going on, and the radical left is the faction denying it.

Wednesday, 11/09/2022

I am grateful for all those who work as election judges at our polling places during early voting and on election day. I am grateful for our county election boards and our State Board of Elections, all who work diligently to ensure free and fair elections.

Monday, 11/07/2022

Excellent report.

Monday, 11/07/2022

You libs have a lot gall throwing around the charge "election denier." Democrats have a long history of not accepting the legitimacy of presidential elections they lose and in fact, one must go back to the last century for the last time they accepted the results of the Electoral College in favor of Republicans. In 2000, 2004, and 2016 Congressional Democrats objected, spoke out of order, obstructed, delayed, and disrupted the certification process without grounds, but its always something…false claims of "voter suppression," "Russian hacking," "dark money," "ballot confusion," or "gerrymandering." Did Trump win the 2016 election fair and square? Ask Hillary Clinton who has repeatedly said that Trump was an "illegitimate president." She has claimed the 2016 election was "stolen," and "not on the level." By your own established definition, Hillary Clinton along with the whole Democratic Party establishment and their media auxiliaries are "election deniers."

Hillary Clinton orchestrated the single greatest "assault on Democracy" since Watergate when she hired a foreign spy and illegally paid him to interfere in the 2016 presidential campaign. The result was the discredited Steele Dossier, used to manipulate the FBI into investigating the Trump campaign on false pretenses. No one has been held accountable for the meddling or the subversion and damage that did to "democracy," and Hillary denies the results of the 2016 election to this day.

If being concerned with the integrity flaws in current mail-in ballot systems make me an "election denier," then sobeit. Voters should be able to question the legitimacy of elections if they believe laws have been unjust, broken, or cheating has occurred. This too is a right afforded by Democracy. In pre-pandemic 2016, 2.1 million mail-in ballots were cast and the error rejection rate was between 3 and 4 percent. In 2020, about 61 million mail-in ballots were cast, but the error rejection rate fell to .03 percent. In 2020, mail-in ballots that should not have been counted were, in contravention of state election laws. The laws were conveniently ignored or were challenged in favorable courts to get them overturned, and because sensible conservatives question this, they are called "election deniers." I'm not talking about the kind of people who believe a child porn ring was being run out of a DC pizzeria.

Add Mr. Vaillancort's muckraking to media's parade of cynical articles laying the groundwork to challenge the legitimacy of the next election. How ironic, you would think they would be talking about Stacy Abrams. Funny how only conservatives are called "election deniers."

Sunday, 11/06/2022

Thank you for this report. Obviously, the election deniers are going to puff up like blowfish, and, their feelings are going to be touched. Sometimes, the truth causes some folks angst.

Friday, 11/04/2022

Excellent reporting, Cory. Thank you for the thorough research. One can't be impartial when it's painfully obvious that the traitors who support Traitor-in-Chief Trump want to overturn free and fair elections because, boo-hoo, their cult hero is a loser. They are mad, I get it. But they are mad at the wrong people. They should be mad because got used, and are continuing to be used, by the biggest con artist of all time, Trump.

Friday, 11/04/2022

Here is my problem with Cory and with SMN.
"Support local, independent journalism
The Smoky Mountain News remains committed to its mission of producing free, in-depth, independent reporting for Western North Carolina. Your contributions help us pay the reporters, designers, marketing representatives, and others — your neighbors — who make up our dedicated team."

All one has to do is read this article to know that this has no relationship to being independent. You need to change the by-line to read SMN is committed to supporting left leaning democrat candidates and their ideas. Obviously, there's nothing dirty on democrats to report. You won't find it here. I can recommend a place to start. How about those who take an oath to support the constituion then promote the idea of doing away with certain tenets without following the amendment process while claiming the other side is a threat to democracy.

Friday, 11/04/2022

Quartermaster, like so many blind sheep, believes everything he hears on that "State-Run TV" channel. It's full of infotainment, if that's your thing, but unfortunately, it's not full of facts.

Friday, 11/04/2022

Quartermaster, like so many blind sheep, believes everything he hears on that "State-Run TV" channel. It's full of infotainment, if that's your thing, but unfortunately, it's not full of facts.

Friday, 11/04/2022

It's so sad that there are members of our community that have so little regard for their neighbors, that they cannot trust them to do their job in an honest manner. That local citizens pay for advertising to promote the fear that teachers are brainwashing their children is what should be concerning. And the advancement of the idea that voters who do not align with their conservative beliefs are in league with Chinese Communists is another symptom of the lack of trust in their fellow humans. Ronald Reagan introduced the notion of "trust but verify" to the American people. Some people are so concerned with verifying that they have lost the ability to trust.

Thursday, 11/03/2022

Excellent reporting. Thank you.

Thursday, 11/03/2022

Dear "Quartermaster",
You make the point in this article very well. You present no facts while using the word Fact:" before each sentence. Trump's campaign manager, Bill Stepien, his AG Bill Barr, his White House lawyer Eric Herschmann, his acting AG Richard Donoghue and many others have all testified under oath that they told Trump that after exhaustive investigations about the claims of fraud, they found none. Even his attorney Sidney Powell admitted under oath that she knew her claims of fraudulent voting machines was a lie. Under oath, Trump's inner circle testified that plans to call the election stolen were in place well before the election if Trump lost.

Wednesday, 11/02/2022

Thank you for this excellent article.
Republican state officials, some of them trump-appointed officials around the US certified the 2020 election as accurate. Trump-appointed judges threw out nearly two dozen challenges by MAGA zealots.
The notions of such people despite the obvious truth is frightening because they incite others to commit violence against public officials, or they're commit violence themselves. Well over 400 MAGA cultuists--and counting-have pleaded guilty or been found guilty of crimes during their January 6, 2021 attempted coup at the US Capitol building.
Such "deniers" are not only mentally unbalanced, they are anarchists: they believe in no government authority, and they resort to violence against the rule of law that is the foundation of government. Their cult leaders is the ultimate anarchist: a narcissistic sociopath who lies to them about paying their legal fees, a man who will lie about anything to get notoriety and power.

Wednesday, 11/02/2022

There was no widespread fraud in 2020, just as there has really never been much widespread election fraud in my lifetime in the United States. There are concerted efforts from some quarters to deny citizens their Constitutional right to vote. There are concerted efforts from some quarters to deny large groups of citizens their right of representation in the legislature, described in the Declaration of Independence as "inestimable to the people." There are even concerted efforts from some quarters to ignore the will of the electorate in free and fair elections through what's called the "independent state legislature" doctrine, despite our own State Constitution declaring The People as the ultimate sovereign.

So vote. Insist on your constitutional right to vote. Hold those who would deny the right to vote accountable. Hold those who would ignore the will of the people accountable.

That is the only salvation for our Constitutional democratic republic.

Wednesday, 11/02/2022

"election deniers, anti-vaxxers"

yeah, your boogie men are too much for you to handle. Fact: There was election fraud in all 50 states, including NC. You are denying the facts, not the false labeled "election deniers." Fact: the Covid vaccines are not safe or effective. The more data that comes in, the more it is realized how dangerous they are.

The basic problem is that you are pushing lies, just like every other radical leftist.

Wednesday, 11/02/2022