Archived News
Waynesville housing development makes quick progress
Wednesday, November 02, 2022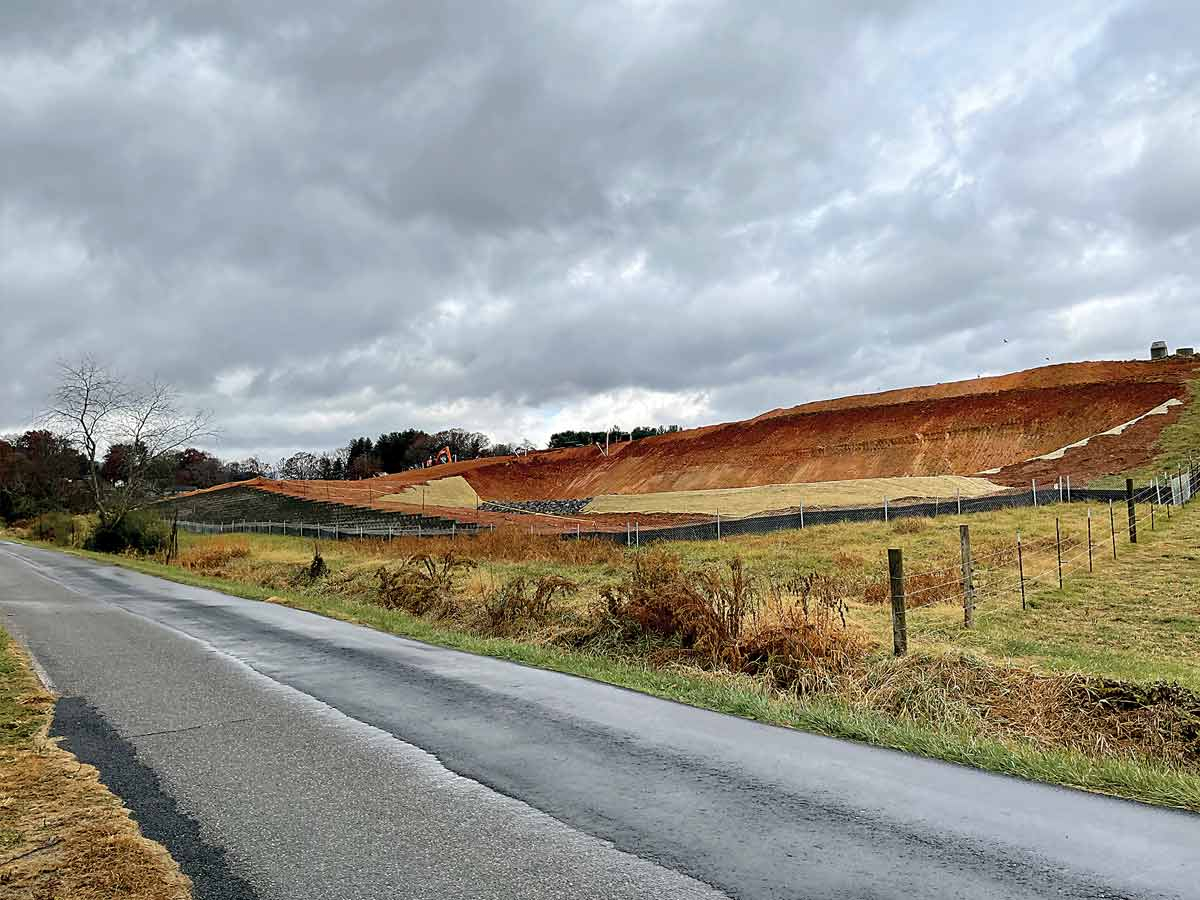 A large retaining wall has gone up along Sunnyside Street.
Construction on one of Waynesville's largest ever single-family home development hasn't been underway for long, and it's already transformed the previously pastoral landscape known for years as Queen Farm.
The 32.67-acre property is the town's first subdivision since the adoption of its land use plan. In addition, due to state law changing, the subdivision was the first to go through administrative review rather than a quasi-judicial hearing. Basically, the planning board was directed to simply consider whether the plan was compliant with the town's litany of development standards.
The plan is to put 115 home sites, which even factoring in the area taken up by infrastructure and civic/recreational space will easily satisfy the town ordinance that stipulates the minimum lot size one-sixth of an acre; there will be around four houses per acre. Home prices are expected to be between $300,000 and $400,000
The project was discussed in detail on Sept. 20, 2021. Meeting minutes indicate that while the plat met the town's standards for density and dimensional requirements, staff noted some considerations. For example, Town Planner Elizabeth Teague told the board that access to Sunnyside Street is narrow and requires an NCDOT Driveway Permit and recommended putting in a turning lane. She also mentioned that a secondary driveway should be added so emergency vehicles could have two entrances. At that time, it was also noted that a compliant stormwater plan must be provided.
Engineer Patrick Bradshaw of Civil Design Concepts indicated at that meeting that he understood Teague's concerns at the time and noted that he was already working on some of those items.
During that meeting, 10 members of the public, most nearby residents, expressed different levels of criticism for the project, expressing concerns ranging from its location to its density to traffic impacts to simply the fact that after such a rich history of being used as farmland, the large tract was going to turn into a housing development.
Residents in areas near the former Queen Farm may have noticed that the initial focus of the development, along with moving dirt (known as rebalancing) to level the land, has been digging extensive drainage, including sediment retention ponds.
"As the project is built, there's a stormwater management plan that has a required maintenance agreement from that point forward," said Teague.
The stormwater management plan is engineered to capture and treat a "two-year, 24-hour" storm.
"There's going to be a whole drainage system that goes along with the roadways," Teague said. "And there are designated stormwater areas that will capture and treat that runoff."
Teague discussed the details of the development, noting that the erosion control efforts, particularly the sediment retention ponds, should prevent any mud from entering nearby Raccoon Creek.
"If someone sees that, they can call the state or call us," Teague said. "We can make sure a state inspector comes out."
Teague admitted that she has mixed feelings about large developments like the one going up alongside Sunnyside Street, considering neighbors frequently express during public comments how much such land has meant to them. Beyond some properties' long agricultural histories, people simply love to look out over rolling pastureland with the mountains as a backdrop more than they do rows and rows of houses.
Some who grew up around Queen Farm have families that go back generations.
"There's no way to talk your way out of that," Teague said. "It's just heart wrenching. It truly is. At the same time, there's all these other parts of the equation. We really don't have a lot of housing; our housing inventory is low; the town hasn't kept up with our beyond-normal level of growth through the years; not a lot of single-family housing had been produced, either in Waynesville, or nationally, since 2008."
Teague talked a bit more about concerns she had with Sunnyside Street, a narrow almost half-mile stretch of road that features some hills and curves. Teague said she tried to see if NCDOT would consider that turn lane she'd mentioned during last year's meeting.
"Specifically, I was thinking, wouldn't it be helpful to at least require maybe a turn lane, one widening the road into the land, in order to be able to accommodate the traffic?" Teague asked rhetorically. "But the DOT have their formulas for their roadways, and when they make those kinds of requirements. They didn't feel like this rose to that level."
While Teague said DOT determined through data and its own policies that a turn lane wasn't warranted, the developer did agree to build a wider entrance to the area that could be more easily navigable by school buses and fire trucks. The other thing the town was adamant about was the secondary entrance that could tie back to another part of Sunnyside to use as secondary entrance and egress — particularly for emergency vehicles — should the other entrance get blocked.
Going forward, Teague said that the next step is to finish rebalancing the site and continue with sediment and erosion control, which may take a few more months. At that point, construction will begin on infrastructure, including water, sewer, utilities and roadbeds.
"I imagine by the summer or fall, they're going to start pulling the building permits," she said. "And we have talked to them about doing it kind of in clusters. Each lot will have a unique building permit. They will probably pull building permits for groups of lots at a time, which helps us because we want to be able to effectively monitor their building. And we only have the four building inspectors that we have, so we want to be able to stay on top of it, and to do it in a way that's efficient and effective with them."
"We have other developments we have to monitor, too," Teague added. "But I imagine about a year from now, you'll start seeing houses getting built."
Leave a comment
3

comments
Build the homes half underground with vegetation roofs. Heating and cooling problem solved. Runoff temp and amount solved. Large building and eyesore solved. The small stream below cannot handle the heat and runoff from the added roof and asphalt, temperature and amount. Regardless of sediment ponds that require constant maintenance. If it's a trout stream, it's a requirement to have tanks underground to help change the temperature of before going into the creek. Needs some form of a canopy that nature does naturally. Someone needs to tell "teague" that.

Friday, 01/06/2023

With a global shortage of Transformers and that subdivision needing atleast 35 with a two year backlog get ready to hear the generators running all day long. It is also intetesting that with a Waste water treatment plant with broken systems and in dire need of upgrades that Waynesville is able to approve new subdivisions that will further task that system

Friday, 11/04/2022

so much for affordable housing!!!!!!
i am beginning to think that haywood county doesn't
want those of us who make way less than these offerings!

Thursday, 11/03/2022