Archived Arts & Entertainment
That's the only way we get it right: A conversation with Chris Staples
Wednesday, October 26, 2022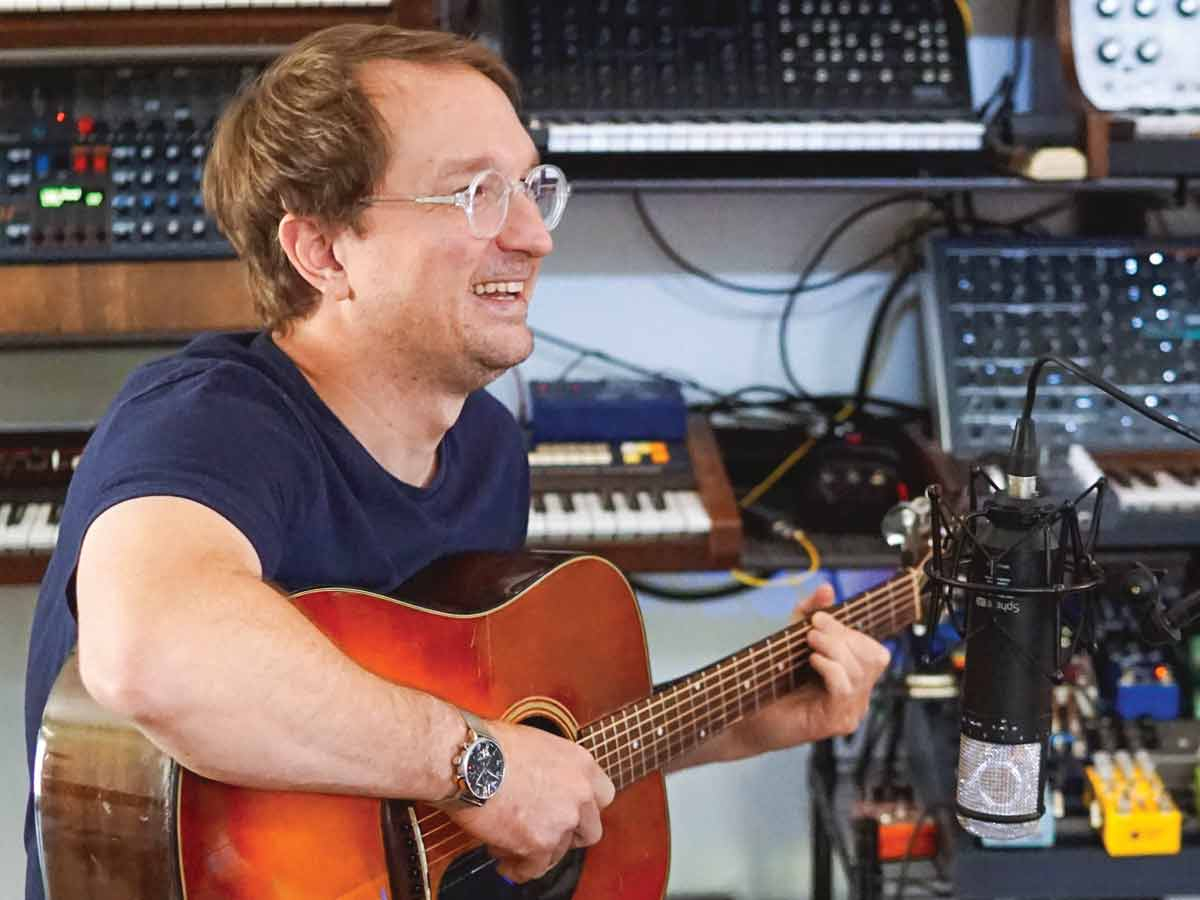 Chris Staples. (Courtesy of Chris Staples)
Sliding into a chair at a table in Orchard Coffee, in the heart of downtown Waynesville, singer-songwriter Chris Staples lets a slight sigh out into the late night — one of appreciation for the moment that just flew by.
Earlier that evening, Staples, in front of a sold-out audience, held court, his trusty guitar and soothing vocal presence swirling around the cozy, intimate coffee shop. The room is filled with Staples aficionados and the curious alike, both segments mesmerized by the indie/folk shoegaze, carefree melodic attitude conjured and put forth by Staples.
Based out of Richmond, Virginia, these days, Staples was born and raised in Florida, with other stints around America, including most recently in Seattle, Washington. Away from the stage, Staples is a calming, peaceful entity, where responses to questions and thoughts pondered are precise and well-crafted — traits of his character that shine brightly within his musical creativity.
Smoky Mountain News: You've said that you constantly wrestle with being a musician. Why is that?
Chris Staples: Well, I've been on the fence about music since I was 16. You constantly wrestle with it. I did this morning, actually. [Laughs]. You find yourself wondering if it's worth it. If I had some other calling, I'd go and do that. If I was really good at brain surgery, I would do that. But, the only thing I'm good at is writing music.
SMN: Well, you're clearly good at it, because the show tonight was fantastic.
CS: I know that people care, and I don't second guess that. But, sometimes I think about the cost — the mental cost, the physical cost — of being away from family and friends for long periods of time. It can be exhausting, and there's a financial risk involved. But, the sacrifice and the reward to be able to do this for a living is worth it to me.
I've recently been going through this writing exercise, where I'm to figure out what my spiritual values are — what am I trying to achieve? I'm thinking about music, and what I'm doing from a philosophical perspective.
SMN: You're learning to be present, to be "in the now."
CS: Yeah. I mean, in some ways I've learned that the grind isn't where I'm going, because I don't where I'm going. Like tonight, I'm just enjoying the process every day. I've definitely spent time in my younger years just really focused on where I was going, and I was pretty miserable in "the moment." And I don't feel that anymore. I'm actually enjoying this a lot, and I have a lot of good days.
SMN: So, what that says to me is that you've transcended into gratitude.
CS: Absolutely. That's been a big theme and conversation that I've had with my partner about life — to transform your thinking into just being grateful.
SMN: You're actively putting gratitude out into the universe.
CS: This writing project, where I've been trying to figure out what I'm doing. Well, I figured it out. When I was a kid, I didn't go to college. I didn't know what I was doing, and I didn't have any opportunities. So, I started playing music and I met people in my town [through music]. Then, [through music], I met people from the next town, and the next town after that.
It was all about making a connection. And there's nothing like [music], where I've never experienced that kind of connection to so many people before. Underneath it all was the connection. Music has been the other thing that's ever given me that kind of access to meet people and make that connection.
I want my music to be kind of like that person in your life, that friend you know who is funny, but also going through real-life experiences, where they aren't a one-dimensional human being. I don't want my music to be one-sided. I want it to encompass my whole personality — silly and serious, but also real and aiming to make that connection.
SMN: What is the role of the songwriter in the 21st century?
CS: I've thought about that a good little bit. But, I also think about comedians. It sounds like I'm veering off-topic, but I'm not. Comedians work in this realm of stigma and work in taboo subjects. And I think there's some correlation between songwriters and comedians in that way.
People are very cautious about revealing [their true feelings and needs], and can't talk about things like depression with their friends or whatever. And I feel like there's this connection sometimes for people to listen to songs about all those feelings — a sad song doesn't make a person sad; it makes people feel less alone.
Want to go?
Acclaimed singer-songwriter Chris Staples will perform at 8 p.m. Friday, Nov. 4, at Orchard Coffee in downtown Waynesville.
Cabell Tice will open the performance. Admission is $20 per person. Tickets are only available for purchase at Orchard Coffee. For more on Chris Staples, click on chrisstaplesmusic.com.