Archived News
Council approves $55 million for Kituwah LLC investments
Wednesday, October 26, 2022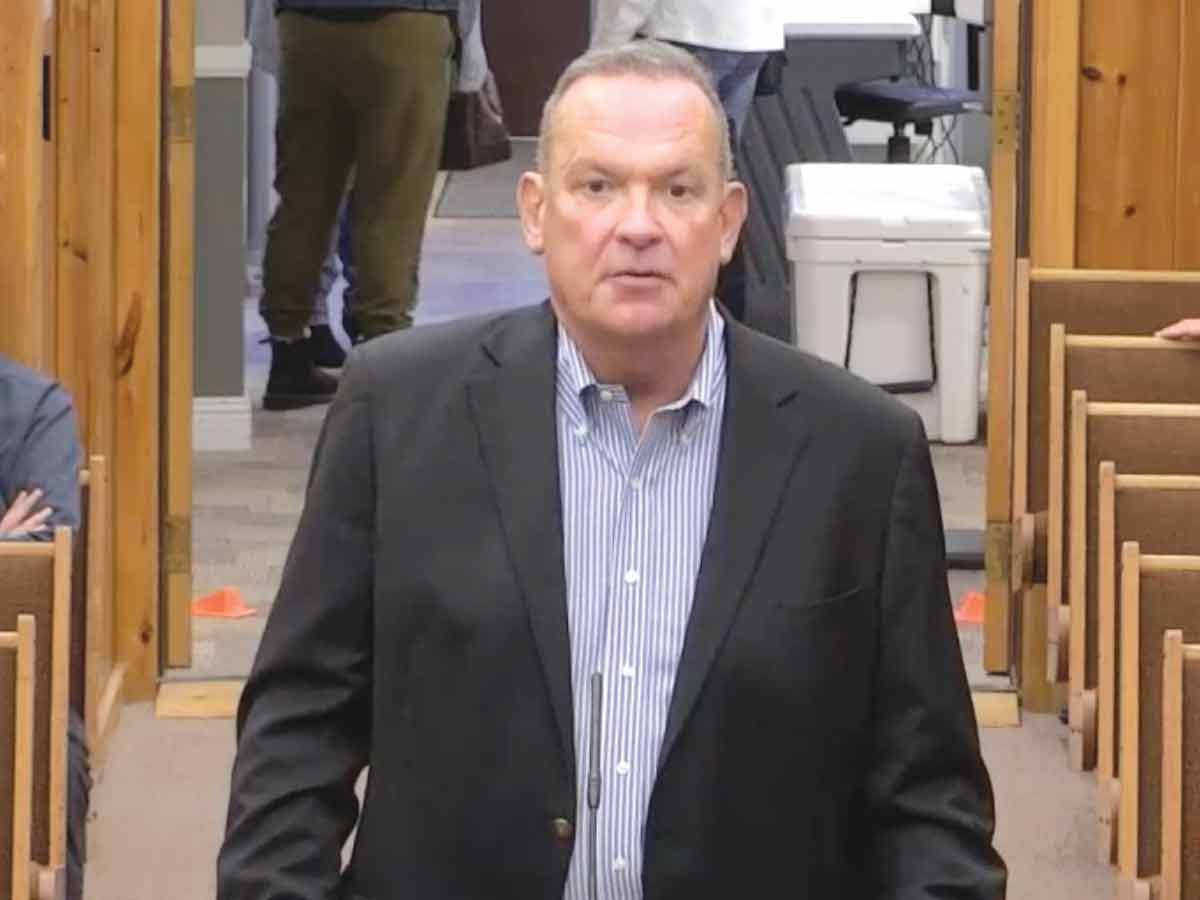 Kituwah LLC CEO Mark Hubble discusses his board's funding request with Tribal Council Oct. 24. EBCI photo
Following a 90-minute closed session discussion Monday, Oct. 24, the Cherokee Tribal Council voted to allocate an additional $55 million to Kituwah LLC for projects that CEO Mark Hubble promised would yield an immediate return.
"We have projects that we do not have allocations for that will pay immediately in the 10 to 12/13% range," Hubble said. "These are not backend loaded. These are frontend loaded. A lot of the things that the tribe has been doing are very backend loaded. They're adding value, but they're not creating immediate dividends back to the tribe."
By contrast, Hubble said, the proposed projects would yield immediate dividends, with Kituwah LLC paying the tribe back about 8%, or $4.125 million, the day it receives the funds. Any additional profits would be reinvested into other projects, and the additional $4.125 million would be paid out annually thereafter.
The Kituwah Economic Development Board submitted a resolution requesting that the $55 million be allocated in a lump sum, but Tribal Council balked at that request. Yellowhill Rep. David Wolfe started the conversation by asking his colleagues to table the resolution.
"I think we need to pace ourselves and spend wisely," he said. "I know this is going to be an investment, but I think we still have to be aware of everything we've already passed."
Wolfe wanted to table the resolution until Tribal Council could meet with Finance Secretary Cory Blankenship to discuss the big picture of the tribe's finances and current projects. Blankenship had asked to schedule such a meeting in August when the tribe was debating approval of an expanded budget request for the hotel project at the Sequoyah National Golf Course. The budget increase was approved absent such a meeting. Tribal Council still hasn't had that conversation, Wolfe said.
In the past two years, Tribal Council has allocated $125 million to Kituwah LLC, with $110 million of that dedicated to development efforts at a 200-acre property off Interstate 40 in Sevier County. The tribe has approved many other investments as well, including a $275 million expansion to the Valley River Casino in Murphy, $250 million to purchase casino operations at Caesars Southern Indiana; a 30% stake in a $54.5 million hotel project in Pigeon Forge; a 49.5% stake for business arm EBCI Holdings LLC in a $650 million casino development project in Danville, Virginia; and $39 million for the new hotel at the Sequoyah National Golf Club.
Yellowhill Rep. T.W. Saunooke asked whether these investment opportunities were time-sensitive, or if they could wait for the outcome of the financial meeting. Hubble said that the projects were time-sensitive but that he couldn't discuss specifics in open session. That led to Chairman Richard French clearing the chamber for a 90-minute closed session.
Coming out of closed session, Wolfe immediately repeated his move to table the legislation, but Hubble suggested amending the resolution to provide an initial allocation of $15 million with the remainder of the $55 million split over the next 18-24 months. Big Cove Rep. Teresa McCoy agreed with Hubble's suggestion. Tribal Council approved her amendment to provide the initial $15 million, with Kituwah LLC allowed to draw up to $10 million quarterly thereafter for a total of $55 million.
The amended resolution passed overwhelmingly, with only Wolfe and Snowbird/Cherokee County Rep. Bucky Brown opposed.