Archived Outdoors
Our air, our water: Science program blends indigenous and western methods
Wednesday, October 19, 2022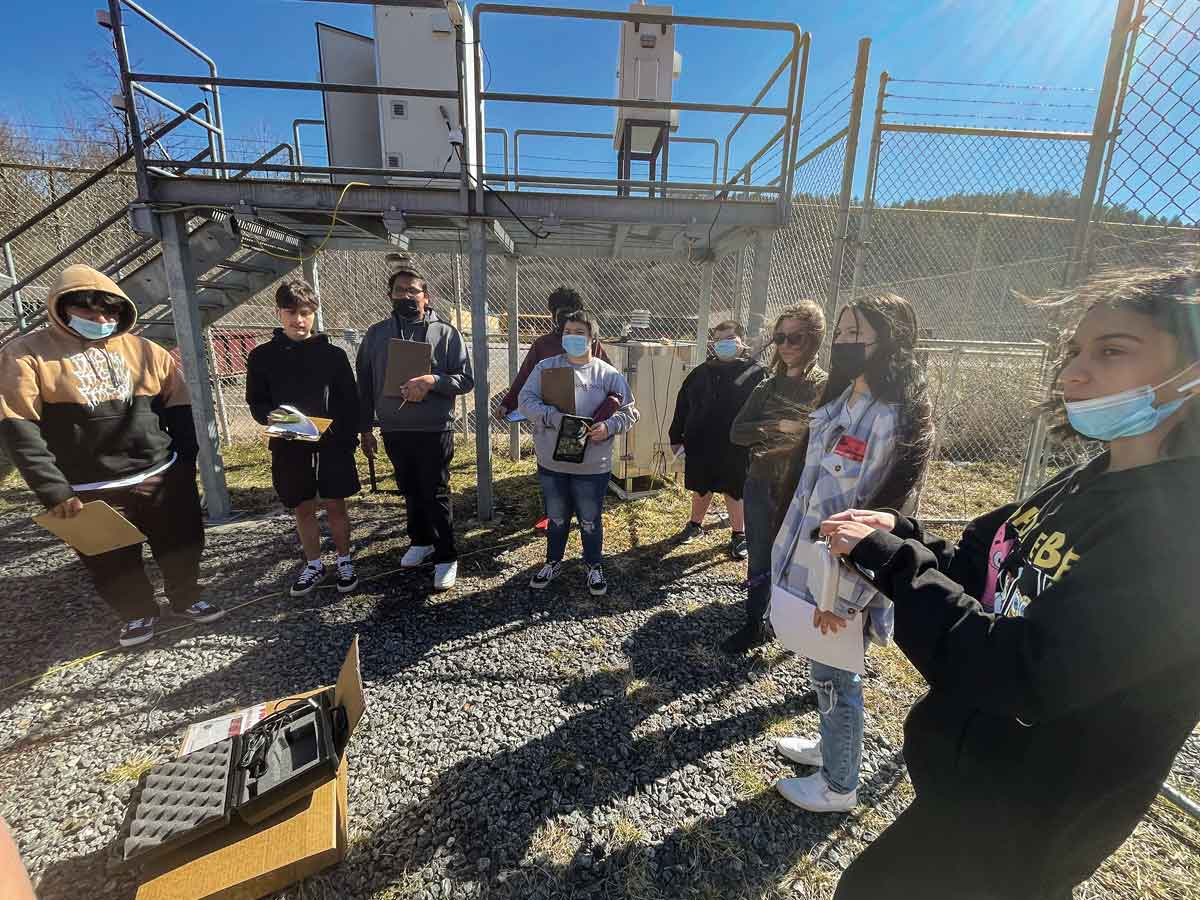 Students visit an air quality monitoring site managed by the EBCI Air Quality Office during a February field trip. Donated photo
In January 2020, Sara Duncan was less than a year into her role as an assistant professor at Western Carolina University's School of Health Sciences when she started talking to Lisa Lefler, director of WCU's Culturally Based Native Health Program, about opportunities for kids to get involved in Cherokee science.
Lefler mentioned that youth on the Qualla Boundary experience higher asthma rates than the general population. Duncan — who studies air quality — was intrigued, because about 40% of asthma cases can be attributed to air quality issues. The conversation inspired her to create the Our Air program, a pilot project involving partnerships between multiple departments at WCU, Cherokee Central Schools and the Eastern Band of Cherokee Indians Department of Natural Resources to engage students in a semester-long project focused on air quality.
"Our approach is working with kids, impacting kids," Duncan told Tribal Council's Timber Committee during an Aug. 17 presentation on the program's first year. "We know that students learn better from inquiry-based learning, getting out into the field, taking their own measurements, talking to people — and they also learn better when they feel connected to what they're learning."
The program aimed to engage students at the intersection of science and culture, using both western science and culturally based methods to learn more about air quality on the Qualla Boundary.
After a long pandemic delay, the project, supported by a grant from the Cherokee Preservation Foundation, launched in spring 2022 with 12 students in a ninth-grade class taught by Ronda Denton.
It started out with classroom instruction about air quality, after which the students used a low-cost air monitor called AirBeam to measure the air quality of various areas around campus.
"I liked this project because we got to go outside and interact with our other classmates, and we got to get the fresh air," Lupita Toineeta, one of the students in the class, told the Timber Committee.
Next, the students learned a set of Cherokee words related to air quality from Catuce Tiger, the Cherokee language teacher at CHS, and used the words to make posters describing both good and bad air quality. Sara Snyder, assistant professor of sociology and anthropology at WCU, helped with translations.
Students then went on a field trip with Katie Tiger, air quality program supervisor for EBCI Natural Resources, to check out the air monitors tribal government had set up around town. They compared readings from these more expensive monitors with those from their own AirBeam monitors.
Cherokee High School students visit a science lab at WCU during a campus tour after their Sept. 30 conference presentation. Sara Duncan photo
Afterward, the students took the monitors home overnight, keeping an activity log to correlate varying measurements with changes to the environment.
The project also included a cultural knowledge component, with students choosing a tribal elder to interview about their memories and knowledge surrounding air quality. Andrew Bobilya, director of WCU's Experiential and Outdoor Education Program and a qualitative storyteller, worked with students to develop the set of questions they used for the interviews.
"What we realized from this project, because this was the first year, we unfortunately were not able to gather enough data to have enough statistical power to be able to show exposure to air pollution caused asthma," Duncan told Timber Committee. "What we were able to show is that students learned things."
Assessments given at the beginning and end of the project clearly show that students shot from a low level of understanding about air quality issues to a much stronger one, Duncan said. Students also learned to relate their new understanding for an audience, giving a presentation at WCU's Rooted in the Mountains conference Sept. 30 in addition to their August Timber Committee presentation.
Duncan considers the project a success, and a $11,352 award from the Cherokee Preservation Foundation will allow it to grow even further. The interdisciplinary team receiving the award includes Duncan, Bobilya and Frank Forcino, director of WCU's Science Education Program. They'll be working in collaboration with EBCI Natural Resources, Cherokee Central Schools and Swain County High School.
This school year, the program will see significant changes from its pilot year. While "Our Air" originally began with the idea of using students' observations to correlate asthma and air quality, it ended up focusing more on environmental education and the intersection of western science and indigenous knowledge. This year's project will look at water quality, with students taking samples from the Oconaluftee River as it runs past the school. In the future, Duncan hopes to take students out to more remote sites, which would involve hiking and time out in nature.
The spring pilot project involved only 12 students from CHS, but this year that impact will multiply. Instead of a semester-long project, this year's program is designed as a two-week intensive unit, the first week of which is happening now. In the second portion of the program, Duncan hopes to bring Cherokee elders into the classroom so students can interview them there about their environmental knowledge relating to air and water quality.
This fall, about 40 CHS students will participate in the program, with even more in the spring. The program will also make its debut at Swain County High School, with a small program offered there this fall to be followed by a beefed-up version in the spring.
"What we're trying to accomplish is really focusing on the kids and their education, and their connection to their own environment," Duncan said. "We're working on a new title because 'Our Air' doesn't work anymore. But helping students understand our relationship with our environment and how our environment impacts us and how we impact the environment — I would say that is the ultimate goal at this point."