Archived Outdoors
Notes from a plant nerd: The leaves don't just fall, y'all. They're pushed
Wednesday, October 19, 2022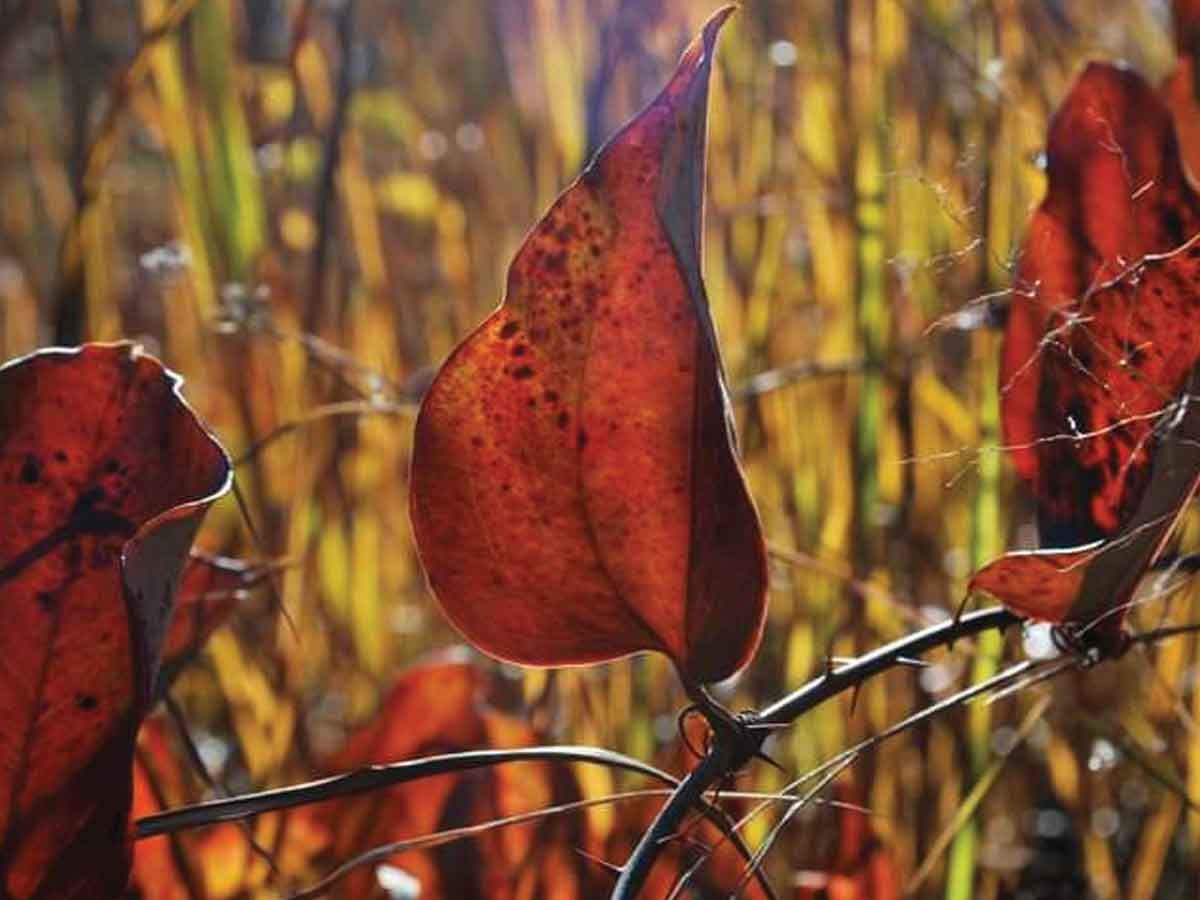 A catbrier vine shows off its fall color. Adam Bigelow photo
We have a tendency in our modern culture of celebrating only the young, youthful and new parts of our world, and not enjoying the old, aging and dying parts. We tend to fear death and growing old. Throughout the world, indigenous traditional cultures celebrate and venerate older members of their people as the carriers and imparters of wisdom, knowledge and how to live well on the earth.
But not in this modern culture we live in. No, we send our old people off to live in homes, isolating them and separating them from the rest of the world. Culturally, we try to look and feel younger. As if there is no beauty in being old. No beauty to be found in dying.
And yet, every fall people flock to the Southern Appalachia Mountains to come watch the leaves as they die. Because they are so beautiful. Their colors sing out brightly in many different shades of reds, yellows, oranges and browns. They call to us, like a siren's song, leading hapless tourists to cast off what they are doing and travel to the mountains to answer their call. And answer they do. Our regional economy depends on it. The colorful leaves and mountainsides are a major economic driver of the tourism-related money that dominates our local economy, and the many different businesses those tourism dollars support. My own, included.
And they are shining such colorful brilliance because they are dying. The leaves are aging and turning vivid in one last flush of beauty before their work is done for the year and they fall to the forest floor to return their nutrients to the system that produced them in the first place. All season long they have been green with chlorophyll, eating sunlight and turning it into sugar and carbohydrates. This is how solar energy moves through the ecosystem. Plants "eat" sunlight, insects (mostly caterpillars of moths and butterflies) then eat the plant leaves, and other critters eat those insects. This is the foundation of the food web.
Chlorophyll is a difficult and expensive chemical for trees to produce, and they can't afford to just toss it onto the ground and waste it. So, they pull this green-colored chemical back into the tree and store it in the roots for the long winter, reusing it in the spring to make new leaves. This allows the other chemicals that the plant's leaves contain — and their resulting colors — their chance to shine. Anthocyanins give us the reds and purples of sourwood, viburnums and oaks (Oxydendron arboretum, Viburnum spp, and Quercus spp., respectively) while carotenoids provide the orange in sassafras, serviceberry and some maples (Sassafras albidum, Amelanchier spp. and Acer spp. respectively). Yellow leaf color is produced in part by xanthophylls found in yellow buckeye, ash and tulip-poplar, which is also called yellow-poplar (Aesculus flava, Fraxinus heterophyllus and Liriodendron tulipifera, respectively.)
And, while the colors red and orange dominate the fall forest of the eastern United States, it wasn't always that way. Many researchers say the functionally extinct American chestnut tree (Castanea dentata) made up more than 20% of the eastern forest — and more than 70% in some Southern Appalachian locations — before the chestnut blight decimated it in the early part of the twentieth century. And as chestnut trees have yellow leaves in the fall, much more of the fall forest used to be bright yellow at this time of year, resembling the Colorado Rockies or the Pacific Northwest more than what we see today here in Western North Carolina.
So, let us learn to celebrate the beauty of old things, of aging, death and dying once again. Celebrate them just as we do youth, birth and growth. And may we recognize that these cycles of our lives can be just as beautiful as the mountainsides in the fall. And can shine just as brightly, even as they fade.
(Adam Bigelow lives in Cullowhee and leads weekly wildflower walks and ecotours through Bigelow's Botanical Excursions. This email address is being protected from spambots. You need JavaScript enabled to view it..)
Leave a comment
2

comments
Love this

Tuesday, 10/25/2022

Love the way you compared the changing of leaves to people aging. I'm definitely going to use all of this while talking to my granddaughters. They are 9 & 6 years old and know me as "the gardening grandma". I love incorporating science in nature. This is a great read.

Tuesday, 10/25/2022