Archived News
Officials break ground on Corridor K project
Wednesday, October 05, 2022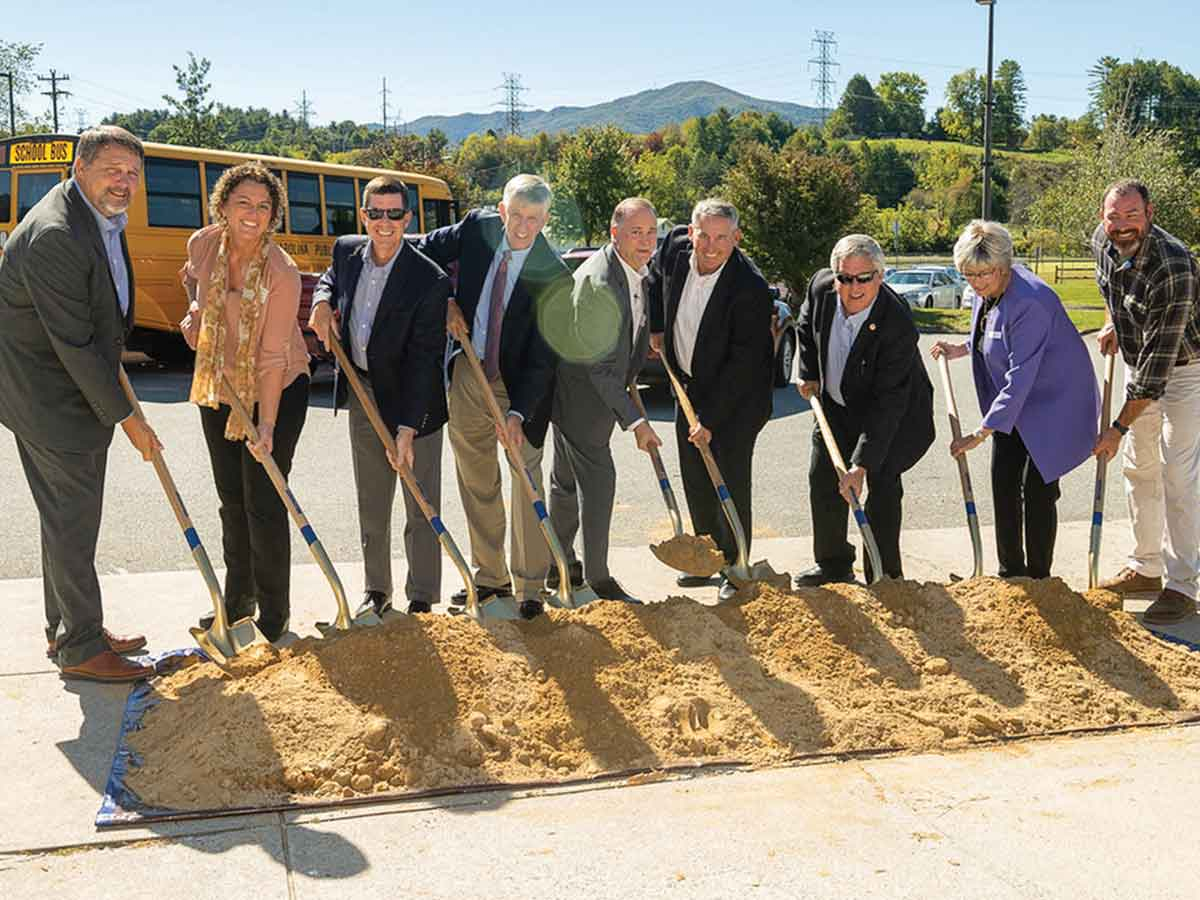 State, local, and environmental officials participated in a groundbreaking ceremony for Corridor K on Monday. NCDOT photo
State and local officials celebrated a groundbreaking ceremony Monday for Corridor K, a project that will improve mobility in Western North Carolina and create a unique land bridge over a highway so hikers and wildlife can safely travel the area.
"This gives us the opportunity to enhance lives in Graham County and opportunities for health care and education and it opens doors for economic development," said Eric Boyette, secretary of the N.C. Department of Transportation. "It will increase options on how to get to Graham County while still maintaining the beauty of this area."
Boyette, a variety of state and local officials, plus students from Robbinsville High School participated in the groundbreaking ceremony for Corridor K, which has been five decades of planning in its developmental history. The ceremony was held at the Robbinsville High School.
"We're excited to get started and that's big news today," Boyette said. "It's here. Let's celebrate the day."
Boyette's trip to the area held its own excitement. The plane carrying Boyette and his traveling companions had to be redirected to Knoxville — nearly two hours away — due to fog. Part of the celebration continued in their absence with high school students in attendance.
Division 14 Engineer Wanda Austin, Division 14 Board of Transportation member Dirk Cody and Graham County Board of Commissioners Chair Connie Orr delivered remarks, and participated in a question-and-answer session.
The ceremony continued after students returned to class and state officials arrived. Orr orated a long history of the project dated back to the creation of Appalachian Regional Commission in 1965.
"Corridor K may be the most studied highway in North Carolina history," Orr said. "The highway will enhance the beloved characteristics of our spectacular mountains, lakes, streams, waterfalls, and promote Graham County's No. 1 sustainable industry — travel and tourism."
The Corridor K project will realign U.S. 129, N.C. 143 and N.C. 28 between U.S. 129 near Robbinsville and the existing four-lane section of N.C. 28 in Stecoah. The entire 12-mile project will be lined with wider shoulders, passing and climbing lanes. It also includes a 10-foot multiuse path from Stecoah Road to Hyde Town Road, sidewalks beside N.C. 143 from the high school to the intersection of U.S. 129 and Five Point Road, plus the massive land bridge that will carry the Appalachian Trail.
Austin, part of the development team for much of her NCDOT career, praised the local, state, federal and conservation partners who collaborated to reach the historic groundbreaking ceremony. She also highlighted one of the project's most publicized features — a land bridge officials will construct over N.C. 143 to provide safe passage for animals and Appalachian Trail hikers along a 220-foot wide bridge.
"Corridor K is several decades in the making, and we certainly have faced and overcome many challenges to get where we are today," Austin said. "Thanks to collaboration, we were all able to come together and find solutions that will better serve our community and the state."
A contract for the first section — from the intersection of U.S. 129 Five Point Road to the intersection of N.C. 143 and Beech Creek Road — has been awarded to Watson Contracting in Franklin for $46.6 million. Construction activities may begin as early as next week. The section, from Beech Creek Road to Stecoah Gap has been awarded to Charles Blalock & Sons Inc. for $116.4 million. The final section will be awarded at a later date.
"Thank you to all of our partners — from the planning organizations to Graham County to the Eastern Band of Cherokee Indians, the many local, state and federal partners and all the citizens and other stakeholders who helped make this project happen," Boyette said. "We can't wait to get started."