Archived News
As NC Republicans eye supermajority for abortion 
restrictions, Edwards calls pro-choice voters 'evil'
Wednesday, October 05, 2022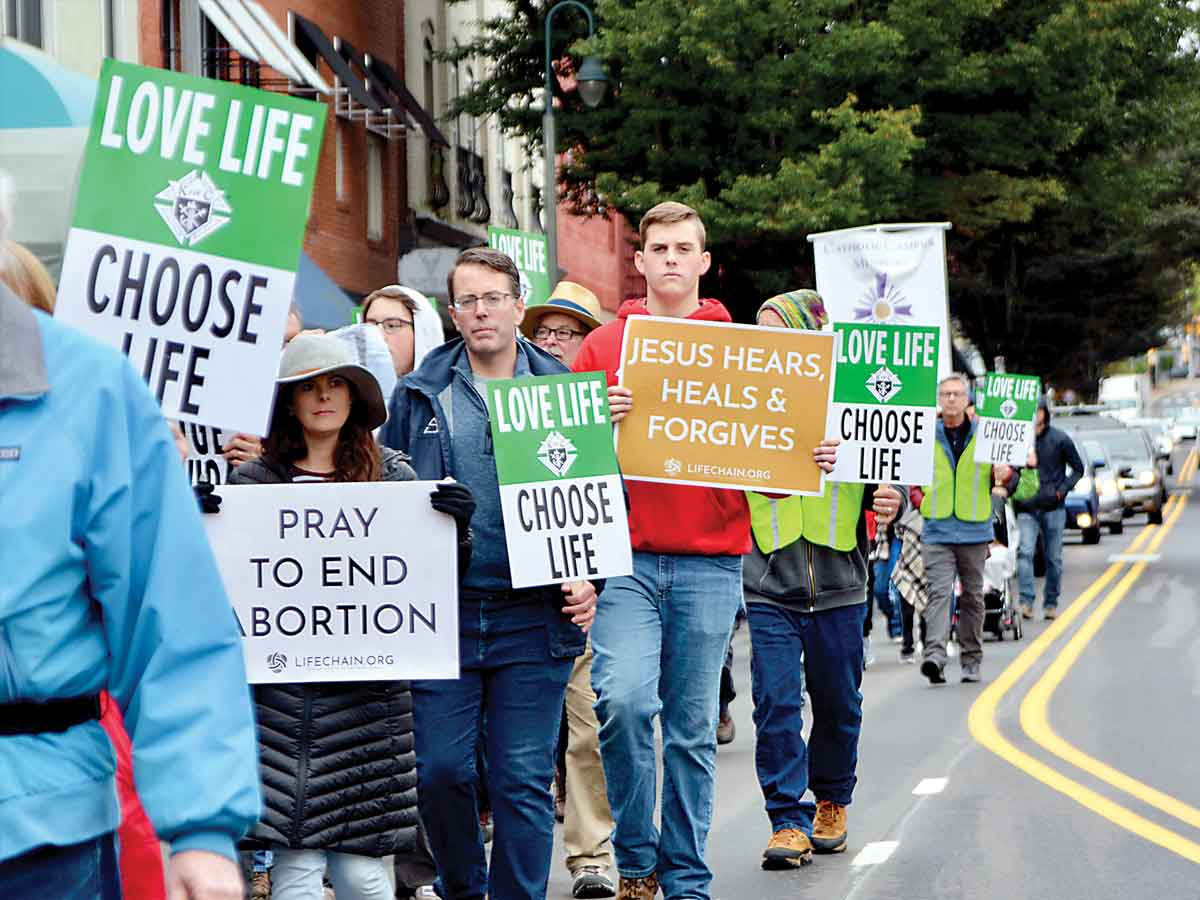 More than 100 people took to the streets of Waynesville on Saturday, Oct. 1. Cory Vaillancourt photo
The debate over abortion rights now moves to the General Assembly — and therefore, the ballot box — but both sides have stepped up the name-calling and dehumanization, foreshadowing a bitter fight that's becoming less about the actual issue and more about political demagoguery.
Since 1973, the Supreme Court's Roe v. Wade decision had ensured the constitutional right to an abortion. Now, states have the sole power to regulate the procedure within their own borders.
A pre-existing North Carolina law triggered by the Roe decision allows the procedure to be performed at up to 20 weeks into a pregnancy.
Pro-choice advocates want to preserve that right, and have pledged to show up at the polls. Pro-life advocates say they'll do the same, to elect legislators who will pledge to restrict or eliminate that right.
"With the overturning of Roe v. Wade on a national level, it becomes a grassroots localized issue to the state," said Mark Zaffrann, a Haywood County resident who also serves as the past Grand Knight and Trustee of the Waynesville Council of the Knights of Columbus.
Zaffrann, along with others from the Knights and from St. John's Catholic Church, gathered on Oct. 1 to march through Waynesville, holding signs and banners supporting the pro-life point of view. Among them was Dr. Bill Pincus, current president of a statewide group called North Carolina Right to Life.
Pincus agrees that this coming November, life is metaphorically on the ballot.
"At some point we would like to change enough hearts and minds to make that reality, to make abortion unthinkable," he said. "Because in every abortion, a baby dies."
In 1977, Candler resident Gloria Anderson was just 15 years old, and was also 11 weeks pregnant. While speaking to the marchers after their arrival at the Historic Haywood Courthouse, she said she had an abortion she quickly came to regret.
"It was hard to get past, because I kept picturing, like teenagers do — I was 15 and so I just kept picturing what my belly would look like," Anderson later told The Smoky Mountain News. "I remember standing in front of the mirror and I'd put a pillow under my belly, and when I would see babies, then I would think, 'Well, I'm supposed to have one that size.'"
Anderson says she sees the issue from a Biblical worldview.
"If we choose to continue to condone the killing of innocent life, God will bring judgement on our nation," she said. "So I think this election is important. Either we're going to choose the way of God or we're going to choose the way of the world, but we can't straddle the fence anymore. It's going to be one way or the other, I believe."
But the practical realities of General Assembly action on the issue depend heavily on the ability of Republicans to post a net gain of five seats — three in the House, and two in the Senate.
Doing so would give the GOP what's called a "veto-proof supermajority" like it had as recently as 2018.
While Republicans boast solid majorities in both chambers with 69 of 120 reps and 28 of 50 senators, Democratic Gov. Roy Cooper's stated opposition to the Supreme Court decision overturning Roe means he'd likely veto any reduction in reproductive rights made by the General Assembly.
That's where the veto-proof supermajority comes in; as evidenced by the name, it would ensure that Republicans, at least in theory, would have enough votes to override Cooper's veto.
Dr. Chris Cooper, political science professor at Western Carolina University, said he thinks the chances of Republicans achieving that goal are good, but not above 50%.
"I think the most likely outcome is something that looks a lot like what we have right now, which is strong majority, but not a supermajority," Cooper said.
If the General Assembly takes up the issue of abortion after the election, it's likely to become even more bitter and divisive than it already is.
When pro-choice demonstrators held an event at the courthouse after Roe v. Wade was overturned this past June, some decried their loss of rights by calling Republicans "Taliban."
After Anderson shared her story in the same place last Saturday, Republican congressional candidate Chuck Edwards called reproductive rights advocates "evil."
"I can assure you that there is evil lurking and [it] is getting very activated and getting folks to the polls that are against this movement," Edwards, currently a state senator, told a crowd of more than a hundred people. "We can't let that evil win out. We've got to vote for the pro-life movement at every level."
Cast your vote
Absentee balloting for the Nov. 8 General Election in North Carolina has already begun. In-person early voting starts Oct. 20.
Leave a comment
2

comments
Abortion is not a right. Gun ownership is an inalienable right as set by the Creator and beautifully written in the 2nd Amendment of our Constitution.. Stop being so Liberal and emotional Mr. Robinson.

Thursday, 10/06/2022

They can think whatever they damn well please but they cannot tell my family what we can do. Yes these folks cry for the unborn but have no compunction about allowing people to have rapid fire guns and slaughter our children. They do nothing to stop the violence. Vote for Jasmine not the taliban leader also called Chuck Edwards and his second in command Corbin.

Wednesday, 10/05/2022