Archived News
WCU student worker fired following union creation
Wednesday, September 28, 2022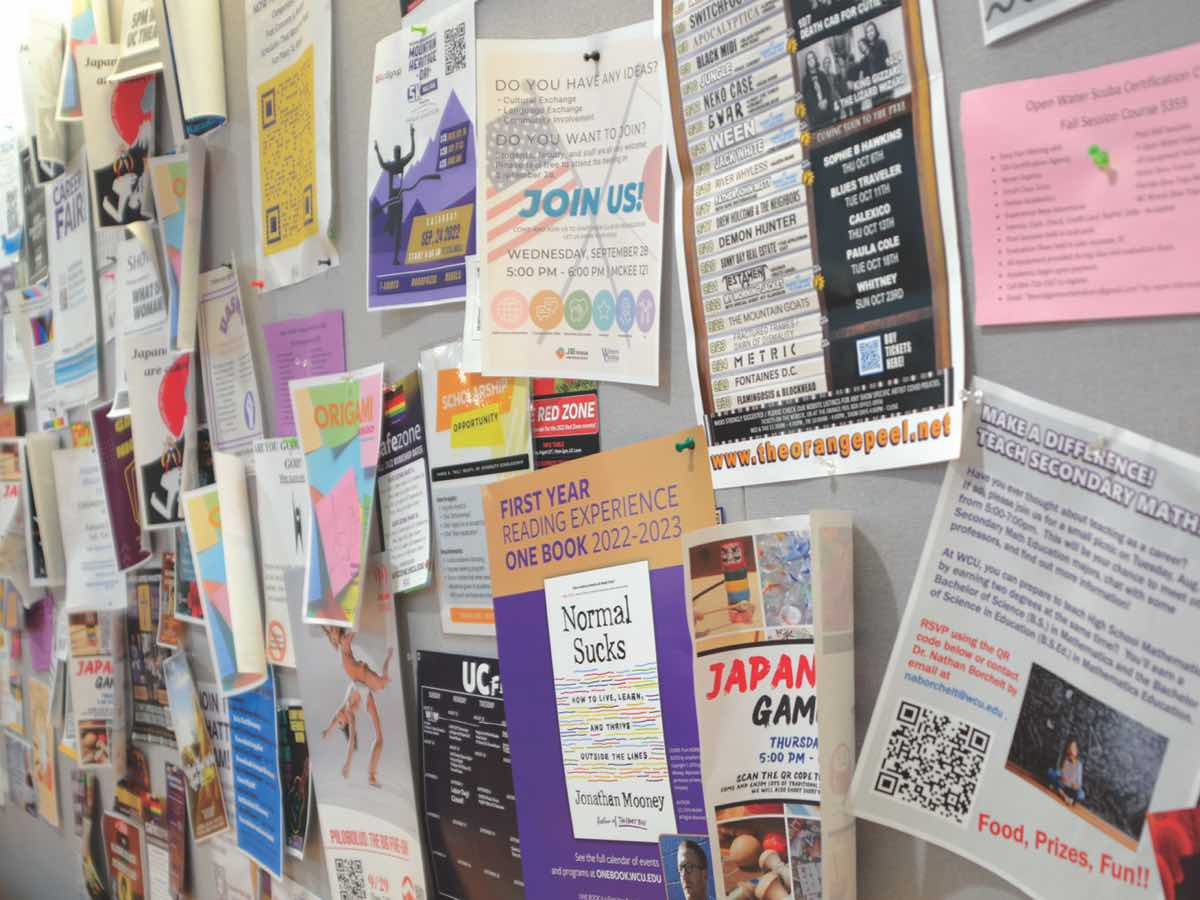 Flyers for all manner of student activities cover a bulletin board at the A.K. Hinds University Center. Holly Kays photo
Aiás Magitas, a 20-year-old forensic anthropology student from Charlotte, had been working the guest services desk at Western Carolina University's A.K. Hinds University Center for nearly two years when he got a "vague" text from his boss around 10:30 a.m. Tuesday, Aug. 30. He wanted Magitas to come in and talk, and Magitas was pretty sure he knew what it was about.
"I knew I was gonna get fired," he said.
Magitas said he was shown to an interior office and told that "the department is going in a different direction and is no longer in need of your services."
Later, when he met with Nancy Ford, the university's director of employee relations, he was given three specific reasons for his termination, apparently gleaned from security footage of his shift the previous Saturday: sitting on the couch in the office suite during a slow part of the day, hanging out with his partner while on shift, and allowing his partner, who had brought him food, to sit behind the desk with him while he ate it. Interestingly, Magitas said, he had overslept his alarm that day and failed to show up for his scheduled shift at 9 a.m., but that mistake was not among the reasons given for termination.
Due to state laws preventing disclosure of most personnel records, WCU could not comment on the veracity of Magitas' account. But Magitas is convinced none of the above is the real reason he lost his job.
"I got fired because I was pro-union," he said.
Magitas' last night at work
Magitas, whose story was first reported by the student newspaper The Western Carolinian, said he'd become increasingly frustrated with his job over the prior spring semester. Pay was too low, and due to an overlap between spring semester workers and summer hires, there was a shortage of available hours.
"If someone was like, 'Can someone cover my shift?' you'd immediately get five texts that come in," he said.
Magitas said he and his co-workers voiced their complaints last spring, but those complaints "weren't really heard." So over the summer, he began organizing his thoughts, creating visuals and infographics. He sent an email to about 50 student workers, but not many people saw it due to the university's spam filter.
WCU employs more than 2,000 students each year in a variety of on-campus jobs. The university sets wages and descriptions for these jobs, which are subject to the federal Fair Labor Standards Act. The university also contracts with Aramark, which hires students for campus dining jobs, and participates in the Federal Work Study Program, which provides students with part-time jobs as part of their financial aid package.
When school started up in August, Magitas decided to try again. On Sunday, Aug. 28, he was working the closing shift solo. He brought with him 40 flyers bearing the headline, "Feeling underappreciated? Overworked? Student workers are the backbone of this university — we have the right to unionize!" The poster assured students that "there is power in numbers" and offered contact information for those interested in "joining the fight for better hours and better pay." A pair of QR codes point to articles from NPR and Jacobin about increased unionization efforts among undergraduate workers.
Before leaving for the night, Magitas scattered the 40 flyers among the building's many bulletin boards and tables set aside for that purpose and left a copy of the email he'd sent over the summer on the Guest Services desk where he worked.
Unions in a right-to-work state
Under North Carolina law employers can fire employees for any or no reason outside of unlawful discrimination.
Jeff Hughes, who as director of campus activities oversees the department Magitas worked for, said in response to emailed questions that student workers for the Department of Campus Activities "are expected to perform the functions of their job duties. If the DCA student worker fails this expectation, they may be separated from the position."
When asked if union activity would be considered an acceptable reason for terminating a student worker, Hughes responded that, "Our expectation is that DCA student workers follow departmental guidelines, such as but not limited to, attend and complete training, be on time for work, dress appropriately, perform assigned tasks as directed, complete assigned tasks in a timely manner, have a customer service attitude and ask questions about assigned tasks."
Hughes said it would be "inappropriate" to comment on Magitas' specific case, and Ford said the law prohibits such discussion. When asked whether the law permits student workers to unionize, Ford said that WCU "takes no position regarding student interest in forming, joining or recognizing a union."
Because WCU is a public university, employee rights are governed by state law. While unions are allowed in North Carolina, its right-to-work law limits their power by preventing union membership from being a condition of employment and prohibiting government institutions like WCU from making agreements or contracts with labor unions. However, the law also states that an employee can't be required to abstain from union membership to keep or gain employment.
While union participation is far from being a tradition among student workers, such organizations have been popping up across the state in recent years. Graduate student workers at Duke University, a private institution, and N.C. State, a public one, have organized unions at their respective institutions.
According to a report from NPR's "All Things Considered," unionization is catching on among undergraduate campus workers. Campus union leaders in Grinnell College in Iowa began organizing in 2018 and are now holding trainings to teach other student activists how to unionize. As of June, students from at least 25 different schools had attended these trainings, NPR reported.
Purpose of the campus job
Magitas' complaints about pay and hours echo those of countless other workers in countless other industries. But it's important to remember that campus jobs have a unique mission, Ford said.
"They're established basically to provide supplemental income to students where the primary focus is a student's academic success," Ford said. "That's our mission, is that we provide an education for our students."
To qualify for a campus job, students must be enrolled in at least six credit hours and maintain a 2.0 minimum GPA. Hours are capped at 25 per week.
"It's a supplement," Ford said. "It is not meant to be the sole financial support for students."
That's not how Magitas saw his job.
"I think what the university believes is going on with the student population is we all have our parents financially supporting us on the side and we're well-off or something," he said. "A lot of us are all on our own. I'm all on my own. All of my income comes from me working."
WCU is unique among UNC institutions in that it is not anchored within an existing municipality. Though there is a smattering of private businesses at the outskirts of campus, most off-campus jobs would require traveling west into Sylva. University transit doesn't run any daily routes out that way, so holding such a job would require a car. Magitas hasn't had any luck finding another campus job after being fired from A.K. Hinds, and because he doesn't have a car he can't look for one off-campus.
At the time of his termination, Magitas was making $9.75 an hour. That's substantially above the minimum wage of $7.25 per hour but below the university's average rate for student workers, which is currently $10.15. Some student jobs requiring advanced skill pay as much as $28 per hour based on job responsibilities and experience.
"Some of our lower paid positions are sitting at a desk, and all they do is answer the phone," Ford said. "They can do their homework while they're there."
Ford said she talks with students who work off-campus jobs to get an idea of what those employers are offering. She said she's spoken with several who are making $15 an hour — though, unlike at campus jobs, FICA and Medicare taxes are deducted from those paychecks.
"It is definitely a job seeker's market right now," she said. More than a month into the semester, the university is still advertising to fill 69 non-work study student jobs.
While pay may remain lower than what some off-campus employers offer, the university has increased student wages at a rate even higher than that granted to its full-time faculty and staff. The $10.15 average rate is 7% higher than the $9.47 average last spring, Ford said. Meanwhile, full-time employees have seen their pay rise only 6% between November 2021 and July 2022 — itself a historically large pay hike that doesn't fully counteract inflation.
"Our students have increased much faster than our employees have," Ford said.
Magitas wants to see that increase accelerate. He has applied for the union, which he named the Undergraduate Alliance for Student Worker Success, to receive club status and start holding weekly meetings to discuss concerns and learn about worker rights.
"We are making the university run, because everybody who is being fed on this campus is being fed by a student worker," Magitas said. "Whoever wants to use this building on the weekends, or after hours when the staff isn't here, we are here."
Leave a comment
1

comment
If he does not like working on campus there are a lot of jobs available in the community

Sunday, 10/02/2022