Archived Outdoors
Notes from a plant nerd: Ad astera! To the stars! (Asters Part 2)
Wednesday, September 21, 2022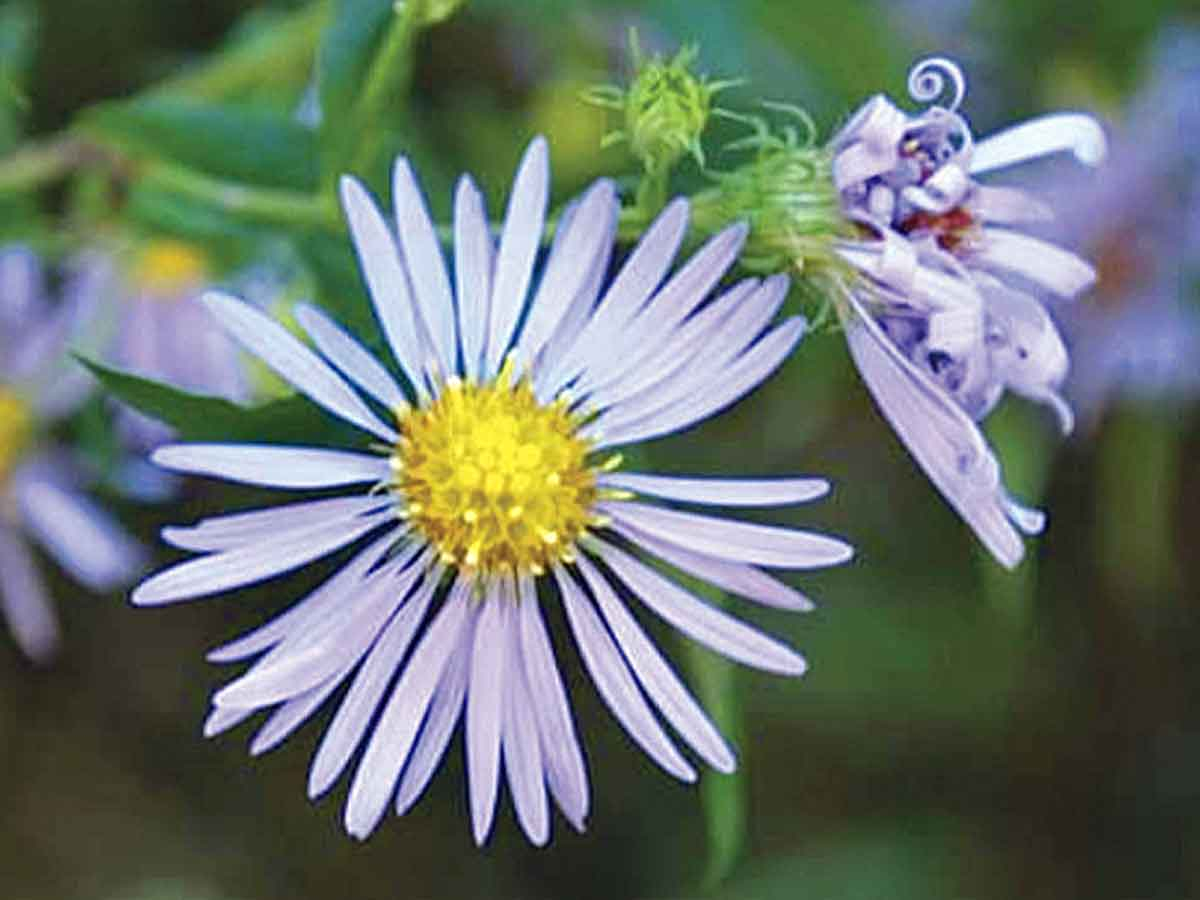 An aster flower displays the species' classic gold-and-purple color combination. Adam Bigelow photo
Very soon, my guided wildflower walks will mostly consist of me walking along a trail and saying, "That's an aster, that's a goldenrod. There's another aster. And this is a different goldenrod."
There are many different types of asters that grow in the woods, roadsides and mountaintops around us here in Southern Appalachia, and many of them can be very difficult to tell apart. One thing they all have in common is that they are composite flowers, consisting of ray and disc flowers. I detailed this type of flower in a previous column (Aster family plants, the stars of summer!, published Aug. 10). Imagine a kid's drawing of the sun. The rays of the sun are like the ray flowers, and disc flowers are where you'd draw the smiley face.
Another characteristic most asters share is when they bloom. If you're like me and you enjoy working crossword puzzles, then you'll know that if you see a five-letter word with the clue of "fall flower" the answer will be "aster." Aster flowers dominate the fall landscape in the Southeastern U.S., and it is good that they do so. Asters are very important sources of pollen and nectar for native insects like bees, wasps, flies, moths, and butterflies who are frantically preparing to go dormant for the winter and need a lot of energy to get ready to do so.
Another important role of fall asters is that they are a major nectar source for migrating monarch butterflies, Danaus plexippus, who are making their way from the northern parts of North America to their overwintering grounds in the mountains outside of Mexico City. Every year, the monarch butterflies make one of the most amazing animal migrations known to science. In the springtime they are dependent on milkweed plants in the genus Asclepias, which serve as their host plants, or food for their caterpillar babies. This is because their journey north requires three successive generations of butterflies to make it from their winter to their summer grounds.
But in the fall they are travelling all the way from Canada to Mexico in one generation. This amazing 3,000-mile journey south requires a lot of energy to complete, and that energy comes from nectar. Along with other fall blooming plants like queen-of-the-meadow (Eutrochium spp.) ironweed (Vernonia spp.) and goldenrod (Solidago spp.) asters provide that late-summer to fall source of high-quality nectar for migrating monarchs. However, many asters fall victim to weedeaters or herbicide spraying long before their beautiful blooms redeem their general, green-leaf weedy nature seen most of the year.
Asters often have blue to purple ray flowers, with golden yellow centers. This purple and gold combination is very common with fall blooming plants, helping to increase the visibility of the flowers to the insects seeking a meal. But some asters have white ray flowers and purple centers. Some are large, and some are small. Some thrive in the full sun, and some require deep shade.
Asters can be found in almost every corner of North America. There's even one species of aster that has been recorded in every state in the continental U.S., and that's the panicled aster, Symphiotrichum lanceolatum. But there's one aster that only grows in Clay County and nowhere else in the world, and that is the Rhiannon's aster, Symphyotrichum Rhiannon, which was discovered and named by Alan Weekly, the head of the University of North Carolina Herbarium who named this special flower after his daughter.
The word "aster" comes from the ancient Greek and means "star." Very soon, the fields and meadows will light up with a billion aster flowers, forming unnamed constellations. And maybe one day I'll get good at identifying their differences. Then, I'll be a botanical star. Until then, I'm just going to call them all asters, and walk away.
(Adam Bigelow lives in Cullowhee and leads weekly wildflower walks and ecotours through Bigelow's Botanical Excursions. This email address is being protected from spambots. You need JavaScript enabled to view it.)
Leave a comment
1

comment
Thank you so much for the informative wildflower walks, I can't wait for next summer!!

Saturday, 10/01/2022