Archived Reading Room
Annus horribilis: A review of Taylor Downing's '1942'
Wednesday, September 21, 2022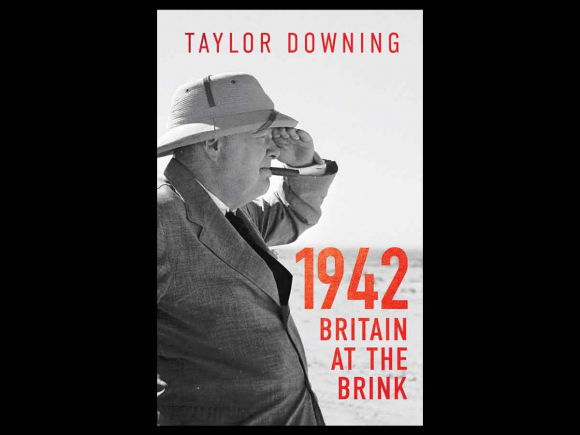 Annus horribilis is Latin for a horrible year, a time of disaster, and aptly applies to the first months of 1942. On all fronts the Allied Forces — Great Britain, the Soviet Union and the United States after the attack on Pearl Harbor — suffered defeat after defeat.
In the Pacific the Japanese took Singapore in one of the greatest defeats of British forces, attacked and seized the Philippines, marched into Malaysia, and threatened both Australia and India. German forces were pounding the Russians and in North Africa dominating the Brits, advancing across the desert and coming close to an invasion of Egypt, which would have meant the loss of the Suez Canal and possibly Middle Eastern oil fields.
"In 1942: Winston Churchill and Britain's Darkest Hour" (Pegasus Books Ltd., 2022, 432 pages), Taylor Downing, writer and historian, sweeps us back into that bleak year. The title of his history is a bit misleading in its restrictions, for while he primarily focuses on Churchill, who came under heavy political fire as prime minister for the string of British defeats, he also fleshes out, among other topics, German and Japanese strategy, the strategies of the war in Russia and the importance of oil and industrialization to war efforts in all these countries.
Downing's accounts of life on the British home front are particularly intriguing. In every area of life, from foodstuffs to the manufacture of clothing, cutbacks and rationing were the order of the day. The government, for instance, encouraged citizens to wear older clothing, and adults were given clothing coupons, limiting their choices and their purchases. Of these coupons, "a man's suit needed twenty-five, a shirt five, trousers eight," and so on.
The government also took an intense interest in British morale. Mass Observation reports, which were notes on the spirit of the British public recorded by bureaucrats and citizens alike, served as a means of keeping track of the pulse of enthusiasm among civilians. Some men and women were given Mass Observation diaries or encouraged to keep them, writing personal observations about the state of the country and Churchill's speeches, material that Downing uses throughout his book.
A Ministry of Information, founded before the war commenced, got off to a shaky start, mostly because of weak and out-of-touch leadership, but eventually it sprang into action, waging an effective campaign to inspire the people through radio, film, ubiquitous posters and slogans. The government wisely realized that if the war was lost on the home front, then it was lost altogether.
Downing's account of the war's battlefronts unveils a different picture, an ongoing, bloody inventory of aircraft destroyed and ships lost at sea, and a butcher's bill of casualty lists. In some ways, readers may become numb to this destruction as Downing read of the horrendous losses among the North Atlantic convoys, the huge number of aircraft shot down from the skies over Midway and the Mediterranean, and the armies of Russians and Germans sent to their graves in the East.
Meanwhile, Downing gives us excellent portraits of leaders like Franklin Roosevelt, Joseph Stalin, and of course, Winston Churchill, all of whom directed these battles of blood and steel. Though the prime minister made every effort to appear in public as indefatigable and optimistic, during this year of seemingly endless disasters Churchill often justifiably felt the presence of what he sometimes called his "black dog," his name for the depression that seized him from time to time throughout his life.
One incident from this book involving Churchill and Stalin will stay with me. On his one visit to Moscow during the war, Churchill attends a banquet, and later a more private supper, at Stalin's behest. While thousands of Russian soldiers are dying every day, and while civilians undergo hunger and homelessness, "Uncle Joe" serves up a variety of hors d'oeuvres and platters of fish and meat, including on both occasions suckling pig, to his guests. The river of vodka that flowed through the banquet left several of these officials dead drunk. Like some leaders around the world today, this disgusting party went on in the midst of death and dire privation.
Downing's take on Churchill during this year of catastrophes is realistic. Churchill, he concludes, "was a flawed leader. He did not manage people well, especially those he relied on most. He did not always pick his best lieutenants." Yet he also recognizes the single greatest attribute of Churchill: "But although he stared into the abyss of defeat, he had the determination to keep fighting. The demoralized British people had nearly lost confidence in him and the country's ability to fight on. But he survived, and Britain could hold its head high."
To all fans of Winston Churchill, to those seeking greater insight into the history of the Second World War, and to those wishing to take a first step into that history, I highly recommend Downing's "1942."
And this year seems the perfect time to read this history, as 2022 brings the 80th anniversary of those momentous months when victory against fascism seemed to hang in the balance. In our own present age of discontent, the struggles and appalling violence of those dismal days put into perspective our own troubles. Moreover, Downing's "1942" reminds us that "It is always darkest before the dawn."
(Jeff Minick reviews books and has written four of his own: two novels, "Amanda Bell" and "Dust On Their Wings," and two works of nonfiction, "Learning As I Go" and "Movies Make the Man." This email address is being protected from spambots. You need JavaScript enabled to view it.)