Archived News
Maggie Valley officer recognized for life-saving courage
Wednesday, September 21, 2022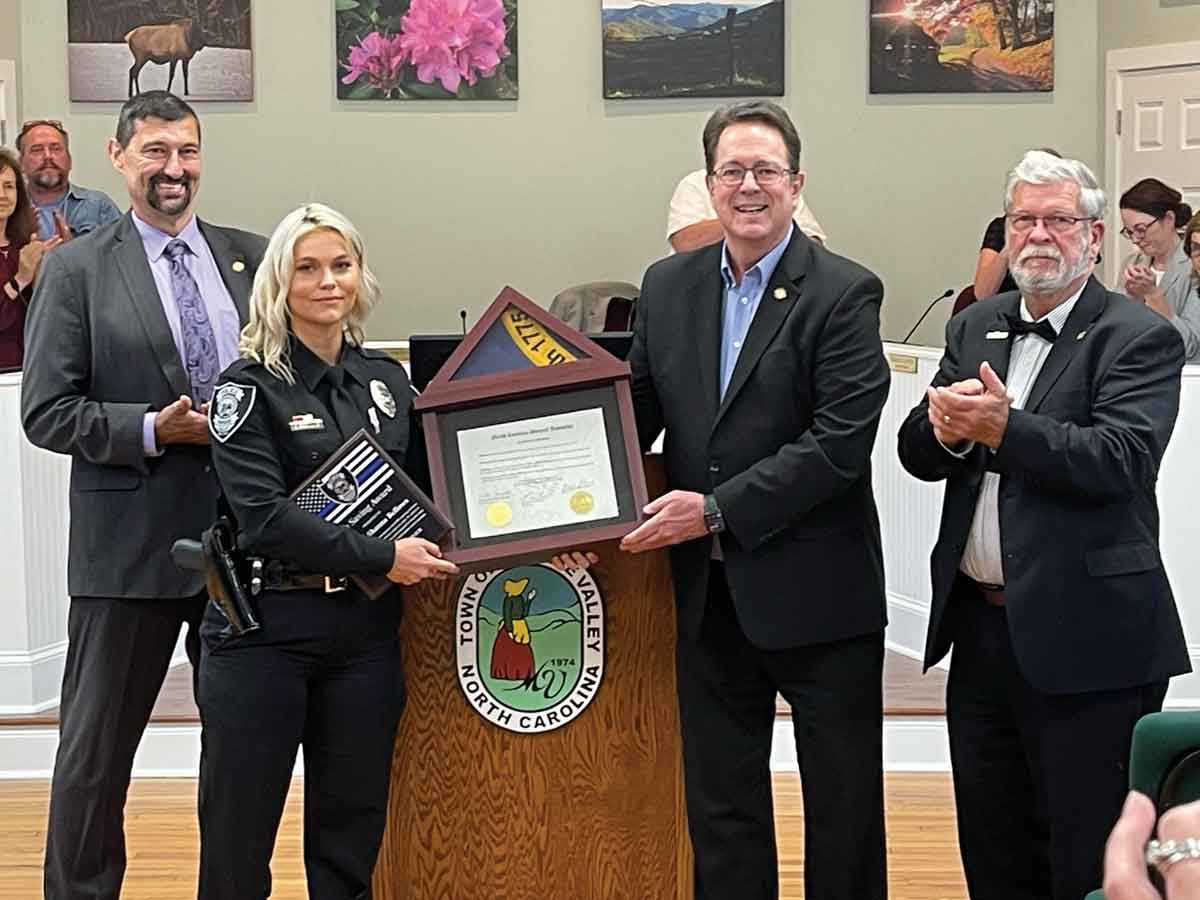 Bellows receives recognition (from left) from Rep. Mark Pless, Bellows, Sen. Kevin Corbin and Rep. Mike Clampitt. Kyle Perrotti photo
An officer who risked her own safety to save the lives of others was hailed as a hero last week as she received honors from both the Maggie Valley Police Department and the region's representatives in Raleigh.
While presenting the award from the police department, Chief Russ Gilliland described the actions Shanna Bellows, a canine officer who's been on the force just over three years, took on July 18 in the heat of an intense situation with the highest of consequences.
"She placed herself in harm's way to assist her fellow man," Gilliland said. "Because of her actions, lives were saved that day."
Off duty and traveling on I-40 near Canton headed east, Bellows witnessed what Gilliland called a "horrific" crash that quickly led to an 18-wheeler exploding, sending debris in all directions as others needed immediate extrication and medical aid, even as the intense heat from the fire bore down on her.
Despite the dangerous nature of the scene and the poor condition of the injured motorists she encountered, Bellows did what she had to do to get those folks out of danger.
Ultimately, Gilliland gave her an award on behalf of the police department for her heroic actions, and she was met with a standing ovation from the residents who created a packed house at the Maggie Valley Town Hall, many of whom were there solely to see her receive the award.
Next, Rep. Mark Pless (R-Haywood), Rep. Mike Clampitt (R-Swain) and Sen. Kevin Corbin (R-Macon) joined her in front of the crowd. Pless and Clampitt, both of whom have worked as first responders in the past, spoke first.
"It opens a pocket in your heart," Pless said. "It makes you care more about others than yourself. After what we've heard, that's what you did that day. We need more people like you out here."
Wrapping things up before presenting the award — which again drew a standing ovation — was Corbin. He commended her bravery on behalf of the state.
"So often bravery is not something that's planned," he said. "It's not something we budget for or think about. I think God puts us in the right place to serve the best we can."
"I hope I'm never in a horrific accident," he added. "But if I am, I hope you're close by."
Leave a comment
1

comment
All heroes don't wear capes! An incredible, shining example to others.

Monday, 09/26/2022