Archived Outdoors
Among the apples: For Canton couple, farming is a retirement dream come true
Wednesday, September 14, 2022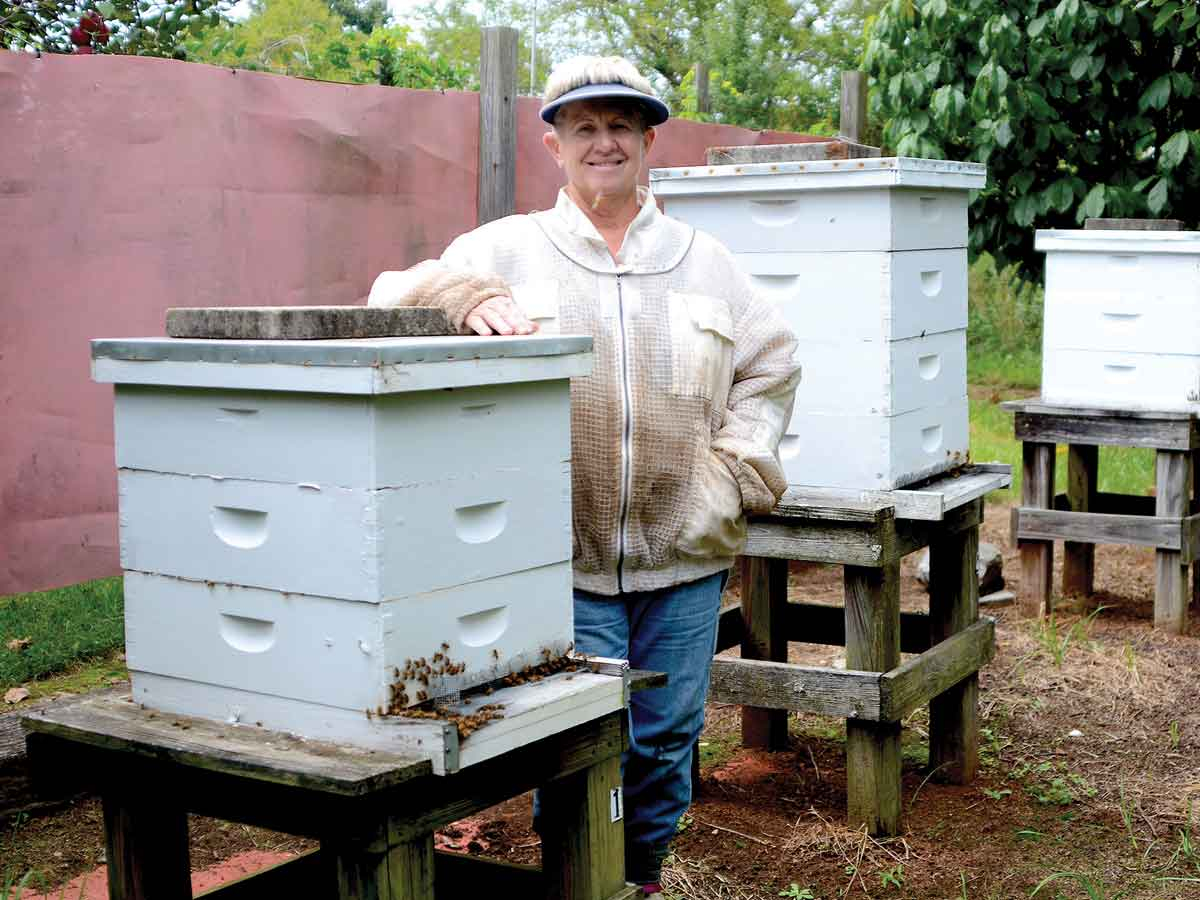 Kathy "KT" Taylor stands with her bees, which provide critical pollination during apple blossom season. Holly Kays photo
A car rolls up the gravel driveway to the barn that serves as the main headquarters for KT's Orchard and Apiary in Canton, and Kathy Taylor — better known by her initials, KT — drops what she's doing to greet the new visitor.
"Hey how are you doing? What can I do for you?" she asks as a blonde woman emerges from the vehicle.
"I was hoping we might could find some bee supplies," the woman says, explaining that she's looking for a gift for someone at her church, a man who's been keeping bees for about a year now.
"Yes you can!" Taylor replies. "Come on in here, you sweet thing."
She invites the woman into the barn, where shelving filled with bee supplies butts up against crates of apples, glass shelves holding farm products like jams and jellies, two giant barrels full of apple cider vinegar and a desk where Taylor holds all the office supplies she needs to make a sale. A door toward the back leads to a commercial kitchen and walk-in cooler. The scent of apples and pine wood fills the air.
"It's so nice to hear people's stories," Taylor says after she's sent the woman on her way with a pack of beehive foundations. "Think about people that you don't know about, that have no connection to you, but yet when they step onto this porch, and they walk into that barn, boom. They're your best friends. They want to talk to you. They want to tell you their secrets, their life story, their childhood, their dreams, because maybe you're living something that they wanted to live, and it makes it so cool."
'A dream come true'
From Taylor's perspective, she's living a dream come true — but it's not something she started dreaming about until later in life.
Farming is really a fourth career. Before she married her husband Howard in 1979, Taylor was in accounting. Then she stayed home to raise their two boys. In her 40s, she became a nurse and worked at Mission Hospital in Asheville, retiring this May after 23 years in the profession. Her husband, 10 years older than her, retired in 2007 and started the farm. Taylor would work three shifts each weekend at the hospital and then farm during the week.
"Somebody said, 'Why don't you take off and go on vacation?" she said. "This is my vacation. This is what I've dreamed for all my life. I didn't know it, but this is a dream. It's a dream come true."
KT's Orchard and Apiary is an 11-acre farm tucked along a gravel road just off Champion Drive, the busy artery connecting downtown Canton to Interstate 40. Face north from the road in front of the 2-acre property containing the Taylors' home, barn and upper orchard, and the purple-and-white sign for the nearby Taco Bell rises above the horizon. But turn the other way, and nothing but the hum of the highway indicates the impending meeting of rural and urban landscapes.
Howard grew up just down the road, between the 2-acre upper orchard and the 9 acres they purchased in 2011. Today they have 1,500 apple trees, 500 peach trees, pears, raspberries, blackberries, black raspberries, garlic and rhubarb — among other things. They've added some upgrades over the years, including a new barn, an apple sorter, and a walk-in refrigerator to help the apples keep longer.
Taylor helps a customer pick out a gift for a bee-loving friend. Holly Kays photo
They also have bees.
"Those little girls there, we have to have them for the apples," Taylor said as she walked up to the collection of hives in the heart of the upper orchard.
"They don't naturally want to go to an apple," she continued. "So if you have clover, or whatever, they'd rather do that than go to an apple. You have to be real careful. You have to kind of entice them to go."
When the apples are blooming, she keeps the orchard free of any other flowers. But once the apple blossoms finish, it's all fair game. This time of year, aster, goldenrod and black-eyed Susan blooms along the edges of the orchard, as laden trees and the nostalgic scent of fermenting, fallen fruit attests to a successful year.
Accepting the struggle
Taylor is a talkative person, and a joyful one too. Her hour-long narration of the farming life was full of gratitude for the life she gets to live and the job she gets to do. But her discourses on the joys of farming often bumped up against acknowledgements of its hardships.
Over the winter, she and Howard spend days huddled around a heater in the cold barn putting together bee frames. During the growing season, they're frequently working through dark. In June, two weeks after Taylor retired from nursing, Howard fell out of the top of a peach tree and had to go in for a hip replacement. Prices on all manner of farm supplies have gone up drastically, but people's willingness to pay for produce hasn't risen in equal measure.
"I think sometimes farming, what people don't understand is it's perseverance, it's endurance," she said. "It's a drive that's in yourself."
A pair of ripe apples hangs from a tree at KT's Orchard and Apiary. ASAP photo
It's been a hard year, but Taylor acknowledges that reality while in the next sentence talking about how good God is, and how blessed she and Howard are to have the life they do. She loves being her own boss, and she loves all the family members and neighbors who help make the farm happen, whether that's working a few days a week during apple season or mowing the lawn and bringing casseroles following Howard's hip surgery.
"Next year it'll be something else, and we just have to go with it, not grumble about it. You know, just accept it," she said. "That's one thing nursing taught me. Every night I went into work, things changed, you accepted it and you dealt with it. And I think that's what makes it so good for us here at this orchard. We just deal with it."
But Taylor also wants people to understand the struggles that she and other farmers go through, because their outcomes affect everybody, farmers and non-farmers alike. That's why she and Howard are opening their farm up to the public for this year's Appalachian Sustainable Agriculture Project Farm Tour Sept. 17-18. They're one of 19 farms to be included on the tour, and one of ten that have never participated before.
"I'm hoping this farm tour, that we can kind of show people some of our daily life routines. And I hope it will inspire somebody they will want to farm and want to preserve their land," she said.
Even for those who never consider farming, she hopes it helps them understand the importance of protecting rural land from development and landscaping with native plants that pollinators like her bees need to survive. And she hopes it helps them appreciate all the hard work and struggle that goes into producing a delicious fall apple.
"I think it's good that people bring their children to see that it's not all fun and games. It's not just about picking apples," she said. "You've got to care for that tree. You have to trim it, you have to mow, you have to spray, you have to take care of things."
To some people, that might sound like the opposite of a relaxing retirement, but to KT and Howard, it's the essence of life.
"It was just something about wanting to do something with your life," Taylor said. "When you come home and you come home and sit, what did you accomplish? What legacy have you gave your children? I just wanted to really change the course for our future. I just wanted my boys to know that their parents were workers. They took an endeavor on, they took a project on. They worked hard."
Tour WNC farms
From noon to 5 p.m. Sept. 17-18, 19 local farms will open their gates to the public as part of the Appalachian Sustainable Agriculture Project's annual farm tour.
Of the 19 farms, 10 are new to this year's tour, which features five geographically organized clusters:
Haywood cluster: Sustainabilities/Two Trees Farm (Canton), The Ten Acre Garden (Bethel), Smoky Mountain Mangalitsa (Ironduff), KT's Orchard and Apiary* (Canton).

Leicester cluster: Mount Gilead Farm/French Broad Creamery (Leicester), Davis Ranch* (Leicester), Addison Farms Vineyard (Leicester), Franny's Farm and the Utopian Seed Project (Leicester), Good Wheel Farm* (Leicester).

McDowell cluster: Camp Grier* (Old Fort), Crow Fly Farms* (Marion), Sweet Betsy Farm* (Marion), Lee's One Fortune Farm* (Marion).

Henderson/Transylvania cluster: Raspberry Fields (Fletcher), Creasman Farms* (Hendersonville), Bee-utiful Farmstead (Hendersonville), Holly Spring Farm (Mills River), Sideways Farm & Brewery (Etowah), Jeter Mountain Farm* (Hendersonville).
The farms showcase the diversity of agriculture in the region, with each one located within an hour of Asheville. Tourgoers will experience working farms through guided and self-guided tours, demonstrations, interactions with farm animals, u-pick produce and flowers, local food tastings and more. All ages and abilities are welcome.
More information about each farm's offerings, plus a map, driving directions and tour tips are available at asapconnections.org/farmtour. Tourgoers should expect to spend about an hour at each farm — to help decide which to visit, ASAP has created themed lists to help tailor each tour to individual interests. Themed lists include The Kids Tour, The Tasty Tour, The Farm Fresh for Health Tour and the Show Me How It's Done Tour.
Passes are $35 and good for one carload of visitors to all farms on both days. If still available, passes purchased the weekend of the tour will go for $45. Volunteers who work one day of the tour may tour for free on the other day.
Purchase passes at www.asapconnections.com or by calling 828.236.1282.