Archived News
Macon commission candidates address issues facing county
Wednesday, September 14, 2022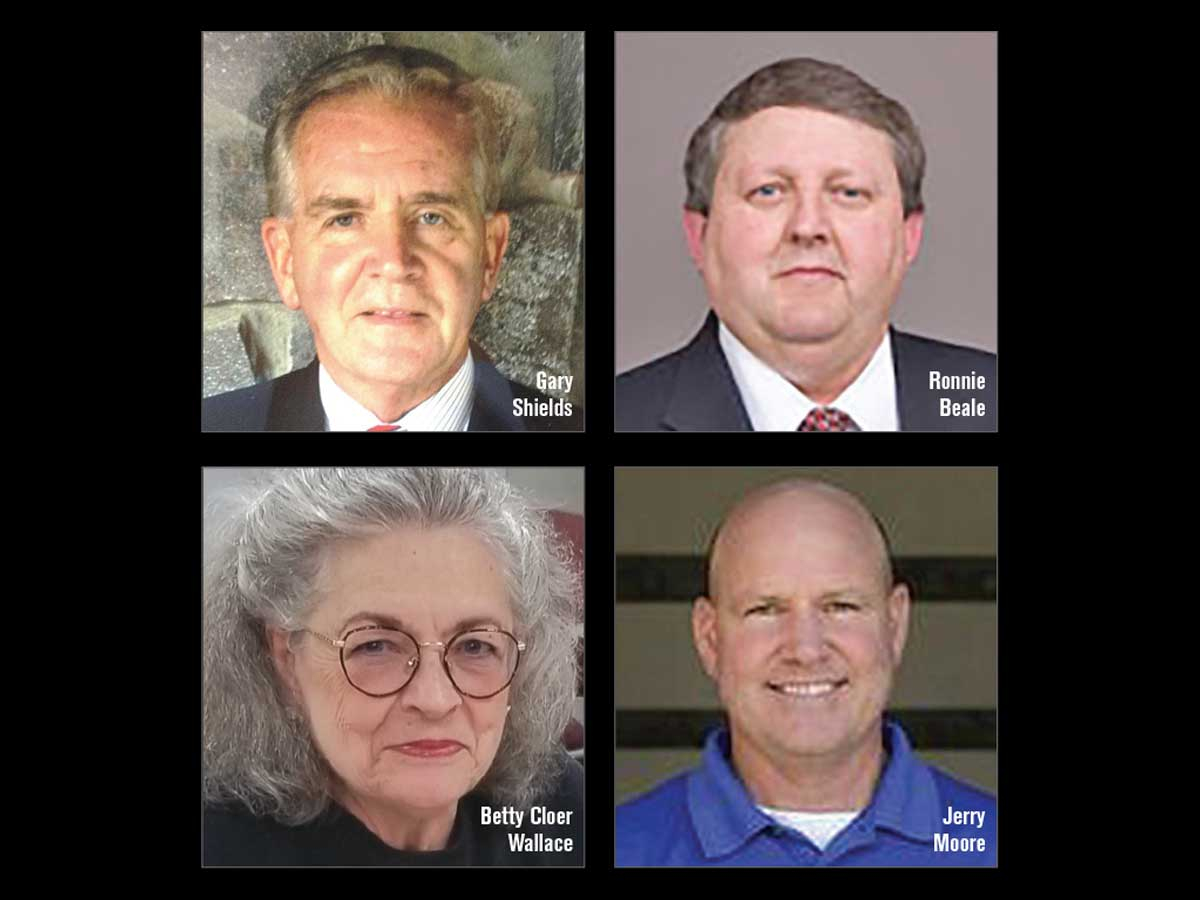 Correction: An earlier version of this article stated that John Shearl ran unopposed in his party's primary, which is not accurate. Shearl defeated fellow Republican Don Willis with 58.6% of the vote in the primary.
Macon County has three commission seats up for grabs this year, and with so many large capital projects and other challenges down the line, the outcome of the races for those seats may determine how and when resources are provided to complete those projects and meet those challenges.
Here's a look at who's running.
District I
Running to represent District I, which includes Ellijay, Highlands, Sugarfork and Flats, is Republican John Shearl, who won his party's primary against Don Willis, and independent candidate Jerry Moore. Shearl declined an interview with The Smoky Mountain News unless questions were offered in written format.
Moore, who lives in Highlands, had to get 1,089 signatures on a petition to appear on the ballot.
"I got a little over that," Moore said, adding that although some people were skeptical when signing, it was a great way to engage with voters and hear their concerns.
Moore isn't affiliated with any political parties, but said he considers himself an "independent conservative."
"I pride myself on not getting boxed in by a party," he said. "I want to be open to views form people who identify as Democrat or Republican … I love to engage with people from across the spectrum."
Moore, who owned a Kilwins Chocolates in Highlands for 12 years, now runs his own credit card processing business and also owns a couple of short-term rental units, which he manages and maintains on his own. In addition to those ventures, he does the bookkeeping for a couple of local businesses.
He said his interest in running for county commissioner was stoked when friends around the community encouraged him to get involved.
"I've always enjoyed public policy," he said. "Since we moved to Highlands in 2007, I got engaged from day one on issues affecting small business. I served on the chamber of commerce board and was chair for a year, and I've been on the TDA board twice."
Moore said that because he's plugged into the community and has a background in administration and finance that he is the right person to address issues facing Macon County in an analytical yet open-minded way.
"I understand how money works, and I understand how to balance a budget," he said. "And I think that's what we need."
District II
District II, which includes Franklin, has two incumbents running, Republican Gary Shields and Democrat Ronnie Beale. Challenging Shields and Beale are Republican Danny Antoine and Democrat Betty Cloer Wallace. The two seats up for grabs will go to the two highest vote-getters out of those four candidates.
Prior to this general election, Shields, who's already served two terms, was involved in his first-ever primary, which he called a unique challenge.
"I was taken aback on the number of people in the primary you compete against," he said. "It makes it a bit different challenge. I was impressed with the quality of people that were in the primary."
Like many around Macon County, Shields talked about the new Franklin High School project.
"I feel like education is an investment," he said. "I don't view it as an expense. I think the more educated that your community is, the less crime and the less drugs. You're more of a positive place to be."
During Moore's interview with The Smoky Mountain News, he stated he was in favor of a quarter-cent sales tax hike that will be on the ballot in the form of a referendum this November.
"That'll bring in about $2 million that county commissioners can earmark toward the school capital project," he said.
Right now, the school is just in the design phase, and the plan is to place it where the current high school sits.
Shields also talked about a couple of other capital improvement plans. Right now, the county is working toward improving the middle school athletic building. In addition, the board is considering a new senior center.
"I think we're a progressive county when it comes to our students and our seniors," Shields said, noting his favorable view of that project.
Beale was first elected to the commission in 2006 and is now running for his fifth term. He believes that over his time on the board, he's generally received good feedback from the community.
"Over my tenure of 16 years, I'm accessible to the public and pretty transparent on everything I do and we do as commissioners," he said. "I've always had a pretty good rapport with voters."
Beale is also in favor of the quarter-cent sales tax referendum and encouraged voters to pass it.
"How you're going to pay for the school is the main reason quarter-cent sales tax on referendum is important," he said. "If that passes, that tells us the community is involved and behind the construction for the new high school. That will make the decision easier for everybody. If it doesn't pass there will be some decisions to be made"
Beale talked more specifically about his concerns regarding the current high school.
"Even though we have put money into the school to make it as secure as possible, it's almost impossible to secure," he said. "The number two thing is that there's nothing on that campus that's ADA approved. We have students that should be in high school now that are at the middle school now because of these accessibility issues."
Although there have been some complaints about building the new high school on its current property, Beale believes it's the best move.
"We looked at other properties and found nothing suitable," he said.
Beale also talked about other future priorities, including a potential detention center expansion.
"We do need more space in jail, and that's not a good thing," he said. "And we're going to really have to look at our senior citizens center before long as our number of senior citizens grows. And another is a preschool in Highlands."
Beale said that as the county grows, the commission will have to allocate more funds toward some of its developing needs. However, he was also quick to say he doesn't want to spend too much taxpayer money too fast.
"That's our seed corn," he said. "If you're eating too much of your seed corn, you won't have nothing to eat before long."
This is the third time Wallace has run for a seat on the commission. In addition, she ran for U.S. Senate in the 1970s and served two terms as the secretary for the state Democratic Party.
Although Wallace, who currently owns a tree farm, is a Macon County native, she has gone to work in other areas, and she even spent eight years in the Alaskan arctic as a school district administrator. In addition, Wallace talked about her multiple college degrees, including a Doctor of Education and Public Administration from the University of Georgia.
"These jobs and my education were all geared toward economic development, recruitment and facilities planning," she said.
Wallace was critical of the county for not keeping up with "the responsibility for educational facilities." She was also critical of the current plan to build the new high school in the same spot where the current one sits, noting that the 20.4-acre property is nowhere near big enough for a proper facility.
"It's really a tragedy to build a little toy high school," she said.
Wallace added that there is also a dire need in Macon County for jobs that can provide livable wages to create an incentive for young people to stay.
"If we don't get jobs into Macon County, either grow our own or recruit them, we are losing all of our young people. For the last 15 years we have consistently annually lost 3% of our young people under 20 years old," she said. "In the age group of young families, from 20-44 years old, we've been losing 5% every year while growing 22% in people over 60. This has all kinds of meanings when it comes to healthcare, and schools and jobs."
District II candidate Danny Antoine did not respond to multiple SMN interview requests.
Leave a comment
3

comments
Danny Antoine didn't respond because he's a Christian nationalist who was radicalized by Qanon (although he's always been a religious extemist weirdo who isn't very bright or particularly well informed)

Friday, 10/07/2022

The two Incumbents have got to go. We need new people with new ideas.

Monday, 09/26/2022

I'm only voting for conservatives to keep Franklin and Macon from becoming Buncombe County. We don't need to be Trashville . Democrats lost me as a party member years ago.

Thursday, 09/15/2022