Archived Arts & Entertainment
Time don't wait on nobody: A conversation with Marty Stuart
Tuesday, September 13, 2022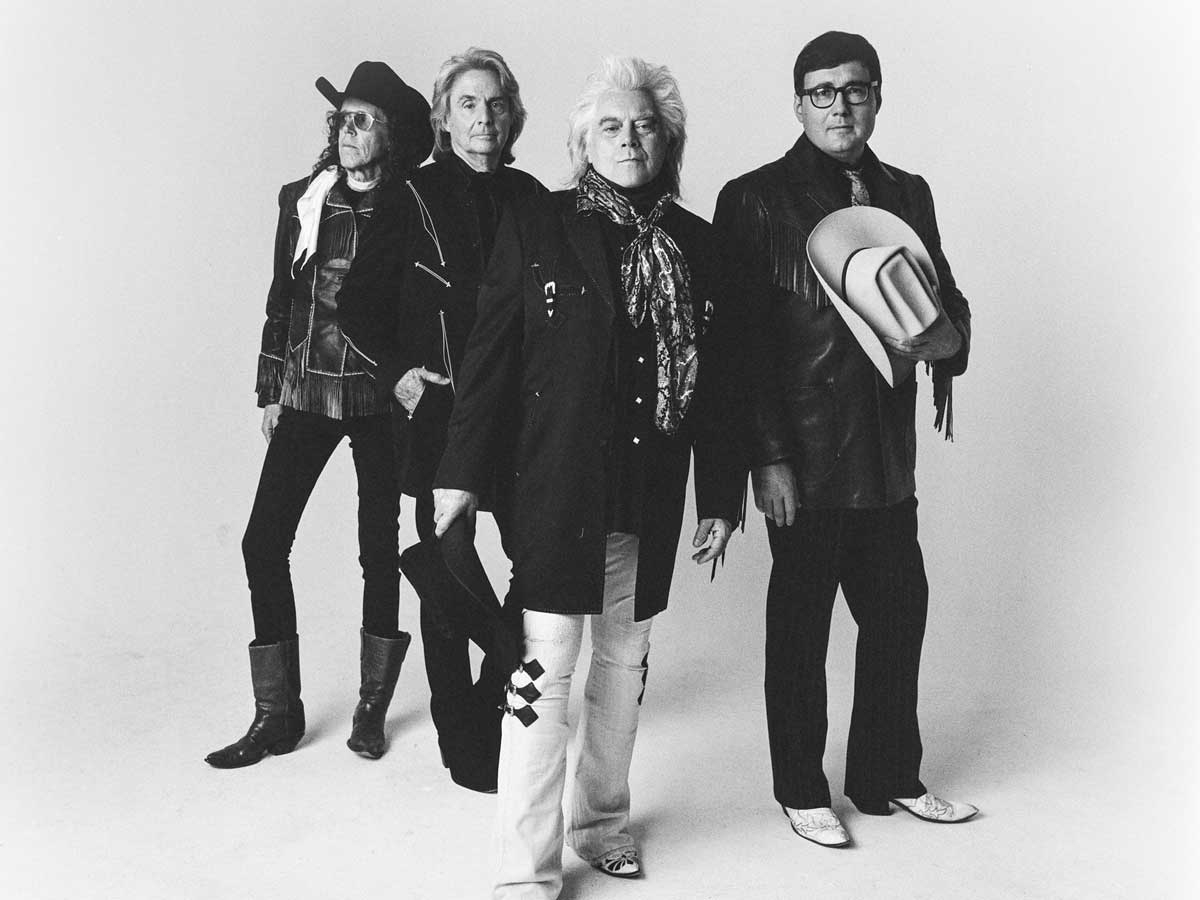 Marty Stuart & His Fabulous Superlatives. Stuart (center) will perform on Sept. 24 in Asheville. (Photo courtesy of Marty Stuart)
At age 63, singer-songwriter Marty Stuart is regarded as an American musical institution. With a core tone radiating the sounds of country and bluegrass, Stuart careens across the musical spectrum — onstage and in the studio — making additional stops in the realms of rockabilly, blues, folk, roots and soul.
A performing musician since he was just 10 years old, Stuart got his professional start as a teenager backing bluegrass icon Lester Flatt, only to then parlay that as a 20-something being hired as part of Johnny Cash's touring group during the 1980s. From there, his massively successful solo career has become the stuff of legend in Nashville, and beyond.
And it was from the genuine hearts and curious minds of those melodic giants like Flatt and Cash where Stuart absorbed the undying passion, pure intent and deep responsibility of being a performer, something of a kinship he's now offered in his ongoing mentoring of innumerable up-and-coming musicians.
Talking with The Smoky Mountain News while in Europe wrapping up a recent tour, Stuart reflected on what it means to be an artist of merit and authenticity — one whose decades-long career has only shone brighter with each show performed, song written, and serendipitous moment experienced.
Smoky Mountain News: You've always been someone who blurs the line of genres, where it's more about "serving the song," rather than trying to fit it in some specific musical box or category. How were you able to see the intrinsic, artistic beauty and authenticity in that, and from such an early age?
Marty Stuart: The watch word is "authenticity." I think if you served the heart and soul of the song as authentic as you can, the rest sorts itself out. Kenny Vaughn once made a statement, when we first put our band together, that "if we knock ourselves out, the rest is bound to follow." Taking the label from music and letting it be music, it's where it's at for me. I know I am a country music person at the end of the day, but the song is a different matter.
SMN: In the modern music world, those genre lines you've always blurred is now something being sought after by current musicians, where there's more emphasis on artistic merit and pure expression. In your eyes, what has changed in recent years?
MS: Native Americans teach that life goes in full circles. With the internet, social media, and independently-minded spirits out there, it almost feels as if we are back to the days of Sun Records and Stacks Records — those little independent companies that were fierce in their mission statement. Creativity combined with a fearless spirit usually yields awesome results — I strive to live that way.
SMN: You've been a stage performer for pretty much your entire life. As you've gotten older, and as your career has reached this incredible level of longevity and acclaim, what does the live setting still do for you — as a musician and as a human being?
MS: I love the instant gratification of it. On the heels of COVID and all other life miseries, I was reminded that we were supposed to entertain people and lift them above their troubles.
[Right now], we are in the middle of a European tour, playing places that we've never played before, in one instance in a place where country music has never been offered. With the language barrier in mind, I was reminded of what Dolly Parton once said, "if you see someone without a smile, give them yours."
A smile, a good song, a deadly band, a rhinestone suit and Fender Telecaster is like having a magic carpet under you.
SMN: Looking back at the road to the "here and now," what really sticks out about those early years as a hungry young musician wanting to make his mark? Where did that hunger come from?
MS: I think I was born with it, I was a sponge. The best part of my story, from the early years, was the access I had to the wit and wisdom of the master architects of American music. I wish every young musician could've had the musical upbringing that I had — it has served me a lifetime.
SMN: In the 21st century, an era of incessant white noise and constant distraction, what is the role of songwriter nowadays?
MS: The same as always. As songwriters, we all get up and hope today is the day we write the one song that makes all the difference in the world. Again, notes from the road, two days ago Queen Elizabeth passed away. She has been a part of all our lives for so long, the best thing I could think to do was listen to music, specifically The Beatles — their songs seem to say it all.
Want to go?
Marty Stuart & His Fabulous Superlatives will perform at 7 p.m. Saturday, Sept. 24, at Grey Eagle at The Outpost on 521 Amboy Road in Asheville.
Doors open at 5 p.m. Taylor Martin & Song Dogs will kick off the concert.
Tickets start at $36 per person, with premium seating and VIP packages available. For tickets, go to thegreyeagle.com, click on the "Calendar" tab and scroll down to the show date.