Archived News
Enrollment falls again at WCU, but freshman class size increases
Wednesday, September 07, 2022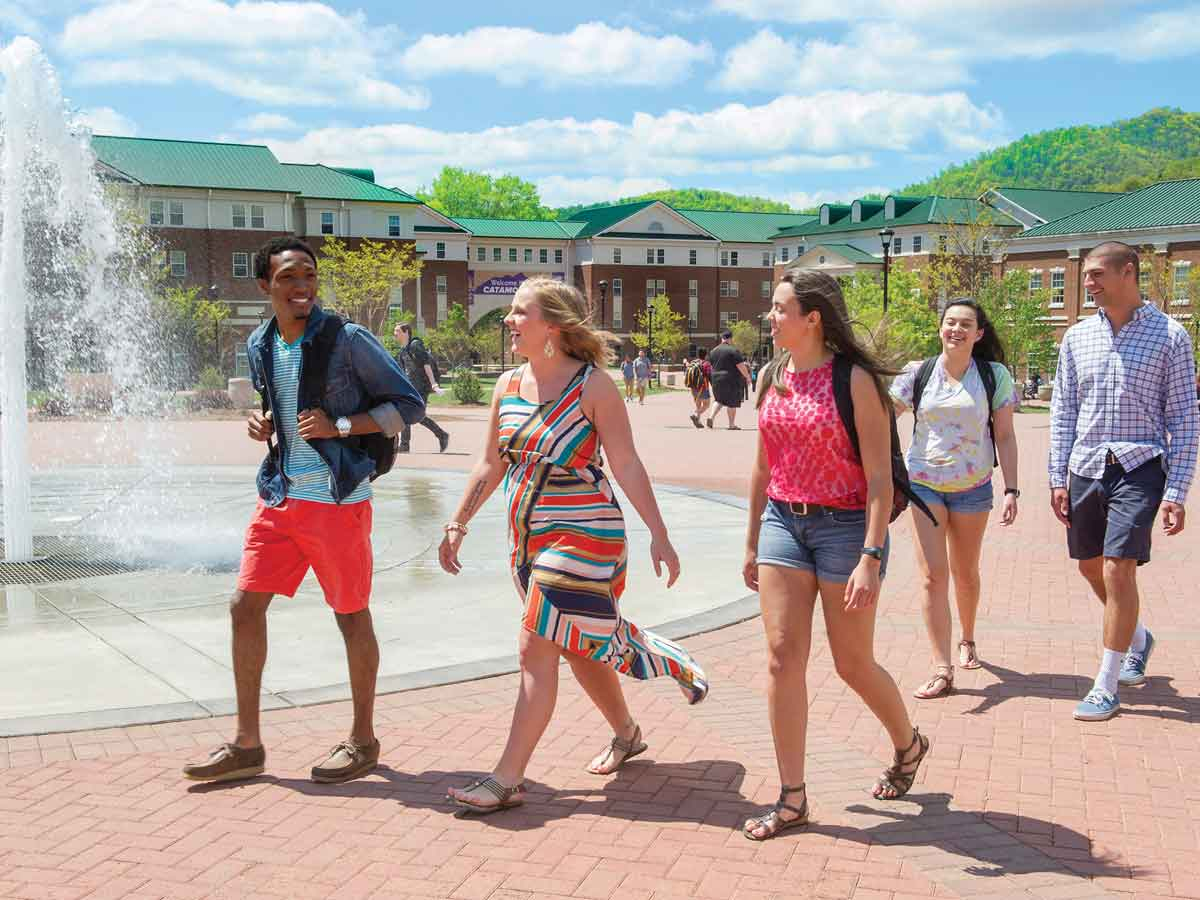 For the second year straight , enrollment is down at Western Carolina University — but an uptick in freshman class size has university officials hoping that trend will soon reverse.
Fall 2022 enrollment on "census day," the 10th day of classes, came in 2.02% less than last year at 11,637. However, that number includes 1,913 first-time, full-time freshmen, marking a 12.46% increase over the 1,701 freshmen entering in 2021.
"We're optimistic that we'll be able to start rebuilding the enrollment, overall headcount over the next couple of years with continued momentum," Vice Chancellor for Student Affairs Sam Miller told the WCU Board of Trustees' Administration, Governance and Trusteeship Committee Thursday, Sept. 1.
In May, WCU graduated its largest class in university history. The 1,968 graduates included 78 doctorates, 49 student athletes and 820 first-generation college students. While that's a milestone to celebrate, Provost Richard Starnes told the Academic Affairs and Personnel Committee, but now much of the student body is composed of the smaller cohorts who started school during more critical points of the pandemic. The 2022 freshmen class is the largest since 2019.
Prior to the pandemic's arrival in 2020, the freshman class size had been steadily increasing for years. This year's class size represents a marked improvement from the 1,701 first-time, full-time freshmen starting in 2021 but is substantially smaller than the record-setting class of 2,189 that entered in 2018 or the 2,083 freshmen in the last pre-pandemic fall semester, 2019. This year's freshman class equals the 1,913 students who entered in 2016.
Of the 11,637 students enrolled, 86.6% are undergraduates and 14.4% are graduates. There are 8,235 students learning in-person on the Cullowhee campus, 646 in-person at Biltmore Park, and 2,827 enrolled in distance learning programs.
"We've gone back above 4,000 students living on campus, so the campus feels much more active and alive than it did the last couple of years," said Miller.
While this year's enrollment numbers include positive signals for the future, freshman-to-sophomore retention came at 71.3%, the lowest it's been in more than a decade. In the last 11 years, the lowest retention rate recorded was 73.7% in 2011. Boosting retention was a priority during the administration of former Chancellor David O. Belcher, and it climbed up to 81.4% in 2019 before the pandemic gave students new reasons to shelve their studies.
"Our freshman retention rate has suffered over the last two years due to many of the mitigation steps we implemented to address the Covid pandemic," said Miller. "We're expecting to have some better returns next year with freshmen retention."
Last year, Interim Associate Vice Chancellor for Student Success Jeff Lawson led an effort to develop a new plan for improving retention and persistence, Starnes told the Academic Affairs and Personnel Committee. This year WCU will implement that plan and expects to see improved retention numbers as a result.
"One of the things that's good about Western is even as we've grown, we've kept some of our values really strong," Starnes said. "One of the most important is the connection between faculty members and students, but as we've grown, we've also placed greater strain on that as we have more students to keep track of."
The new plan will use data analytics to identify students who are at high risk of dropping out and create interventions addressing those risks. These could include enhanced tutoring, identifying "deadly course combos" — such as taking chemistry, calculus and anatomy and physiology in the same semester — and engaging faculty and staff to help students at risk.
This fall also saw continuation of an ongoing trend at WCU, the University of North Carolina System, and universities across the nation — a declining share of male students. This year, only 41.24% of WCU students are male, lower than the 41.96% last fall, which marked the first time the percentage fell below 42%. Until 2020, male students accounted for between 43% and 44% of the student body every year since 2011, and higher in prior years.
The 2022 student body includes a larger number of foreign students than 2021, at 297 comprising 2.55% compared to 1.73% last year. It shows slightly larger percentages of Black, Hispanic, native Hawaiian/Pacific Islander and mixed-race students; and slightly smaller percentages of American Indian/Alaska Native and Asian students, though these demographic groups changed less than 1% compared to 2021. White students comprise 76.52% of the student population compared to 77.67% last year.
Leave a comment
1

comment
People are wising up to the fact that these overly priced colleges and universities are brainwashing young minds with their Marxist agenda.

Monday, 09/12/2022