Archived News
Tribe swears in police chief, adds new positions 

Wednesday, September 07, 2022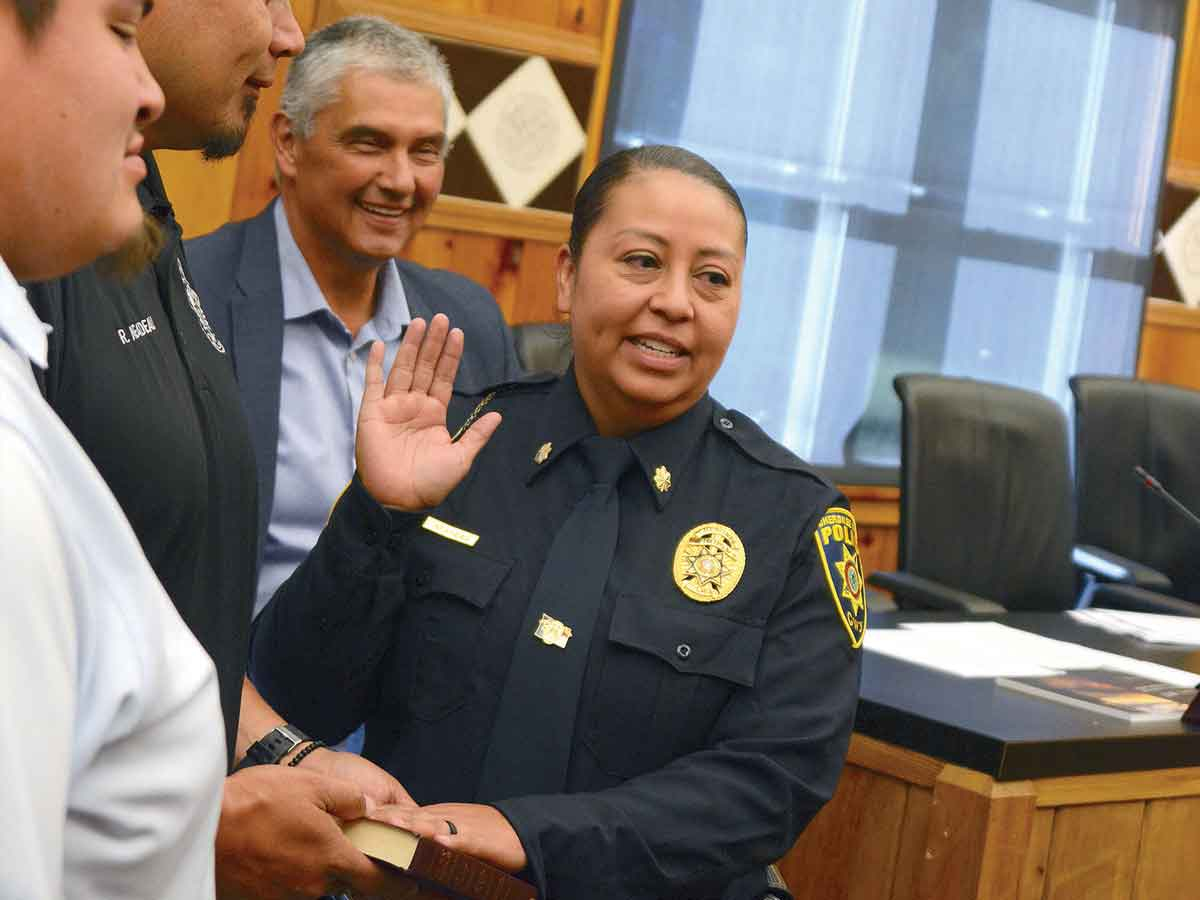 Carla Neadeau takes the oath of office to become the first female to serve as chief of the Cherokee Indian Police Department. Holly Kays photo
Less than three months after being named interim chief of police, Carla Neadeau has been sworn in as the first female chief of the Cherokee Indian Police Department.
"It requires strong leadership to have a department and a police force that understands their role," Principal Chief Richard Sneed told Tribal Council following the swearing-in Thursday, Sept. 1. "They understand that it's a huge responsibility to be in law enforcement. They have the ability to take life, to take liberty, and it requires strong leadership but it also requires even-keeled leadership."
Sneed said he's been pleased with the work Neadeau has done since being named the interim police chief, thus appointing her to the permanent position. Associate Judge Barbara "Sunshine" Parker administered the oath of office at the beginning of Tribal Council's regular meeting Sept. 1.
Neadeau was appointed to the interim role in June following the unexpected resignation of her predecessor Josh Taylor . Taylor departed June 27 after only 11 months on the job, citing the need to spend more time with his family.
Neadeau has been with the CIPD since 2009, serving as a supervisor for three years and a manager for eight years. She holds a master's degree in business administration and is three classes away from earning her second master's degree, this time in criminal law.
"I just want to thank everybody for giving me the chance to do this and lead our department," she told Tribal Council. "Our department wouldn't be where we are today if it wasn't for our officers. I can't take all the credit for that. I give my credit to my officers because they've been outstanding. Thank you and just be patient with me because I'm still in the learning process, and I'll tell you right now I don't know everything, but I'm sure to go back and find out an answer for you if I don't have it."
Following the swearing-in, the tribe's elected officials took the opportunity to express their faith that Neadeau would serve the office well.
"She's done an outstanding job," said Vice Chief Alan "B" Ensley. "Her and the former chief of police, he started us in the right direction and she's picked up in the direction he put us on and has done an excellent job."
"You're a big asset to the tribe," said Snowbird/Cherokee County Rep. Bucky Brown. "I know you have already made your mark in Snowbird. I also want to say, executive, what a good decision this was."
Following the swearing-in, Neadeau remained in the Council chambers to present a resolution seeking 16 positions for the police and corrections departments, 10 of which will be patrol officers. The hires will allow Neadeau to add two patrol officers to each shift and better cover for officers out on sick or vacation leave, heightening law enforcement presence in the community.
Additionally, a new detective will join the tribe's child victim unit to investigate crimes against children.
"They're covered up and every day we're getting more and more child cases that need to be investigated," Neadeau said.
The new positions also include a victim advocate — a position required by a victims rights law Tribal Council passed in April — and an assistant chief of police. The tribe's corrections program will hire a compliance officer and two maintenance technicians, allowing for 24/7 coverage of maintenance issues.
Snowbird/Cherokee Council Rep. Adam Wachacha wanted to know if the 10 new patrol officers would be sufficient to increase coverage on the outlying townships he represents, and Neadeau was candid with her answer.
"No," she said, adding that she's aware those communities need more coverage and is working to gather the information needed to create a staffing plan.
"That's one of my things on my agenda to do," she said.
Yellowhill Rep. David Wolfe wanted to know the price tag on the new hires, citing requests from his community that, like Neadeau's, include the total cost of execution.
"They don't mind us spending money on these new safety positions, but they want to make sure we get a bang for our buck out of the officers that are in that position and the structure for the community's safety," he said.
Neadeau said she did not have that number with her but that she would contact Wolfe with the answer. The total cost of filling the positions will vary depending on the amount of experience new employees bring to the job.
Tribal Council passed the resolution unanimously, and it now awaits signature from Principal Chief Richard Sneed.