Archived News
Forgiveness for me, but not for thee: Right wing hypocrisy on debt forgiveness reaches WNC
Wednesday, September 07, 2022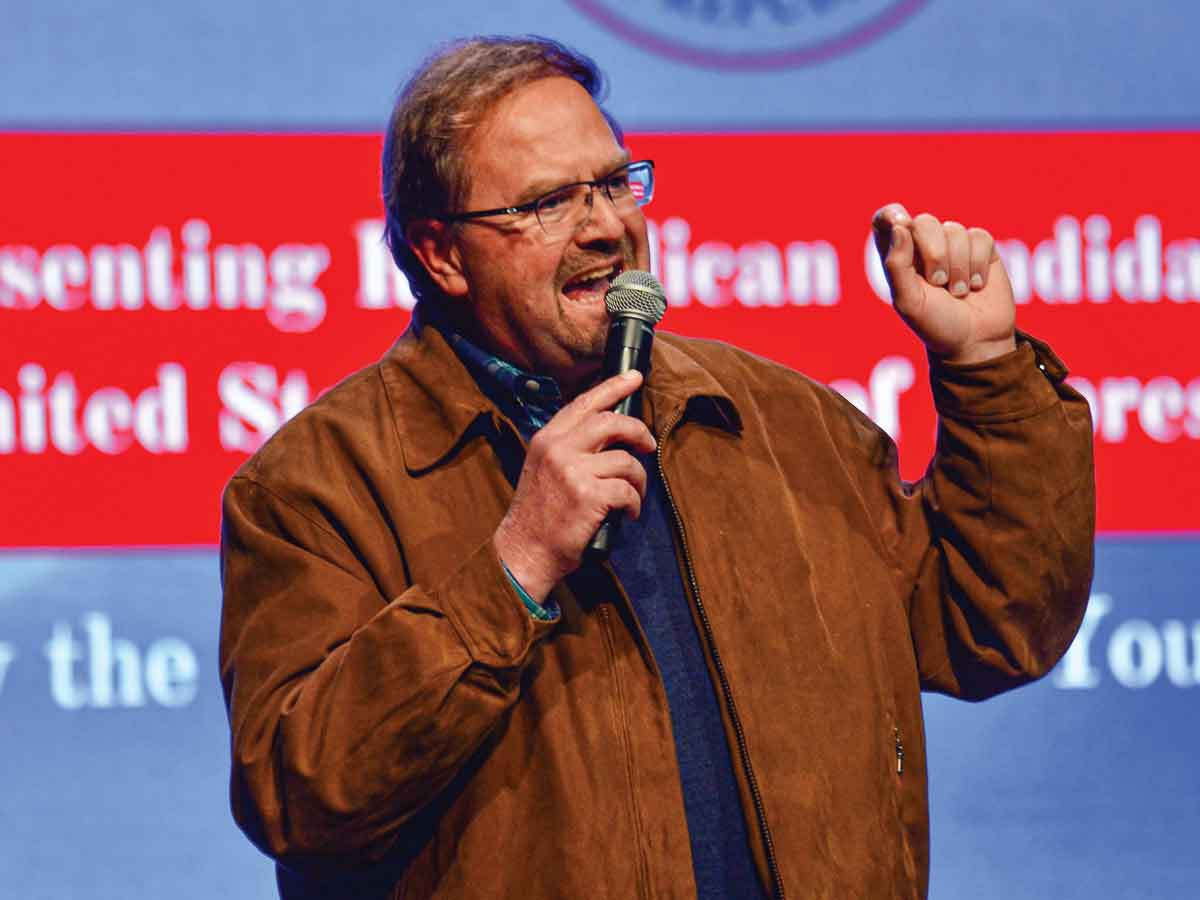 Sen. Chuck Edwards speaks at a forum in Macon County earlier this year. Cory Vaillancourt photo
Democratic President Joe Biden's student loan forgiveness plan drew its fair share of cheers and jeers, but as it turns out, many of those jeering were cheering when their own six- and seven-figure PPP loans were forgiven.
On Aug. 24, Biden announced a three-part plan providing targeted debt relief of up to $20,000 to people who make less than $125,000 a year and have outstanding principal on student loans.
The next day, the official Twitter account of the House Judiciary Committee's Republicans said, "If you take out a loan, you pay it back. Period."
Georgia Republican Congresswoman Marjorie Taylor Greene called the program "completely unfair." Pennsylvania Republican Congressman Mike Kelly called it " bad policy ," Oklahoma Republican Congressman Markwayne Mullin said it was an " undue burden " and Florida Republican Congressman Vern Buchanan called it " reckless ."
All four of them — plus other Republicans who spoke out against Biden's plan — were the beneficiaries of COVID-era Paycheck Protection Program loans that were later forgiven. Greene took more than $180,000, Kelly took just over $987,000, Mullin took $1.4 million and Buchanan took more than $2.3 million.
Add Hendersonville state senator and Republican nominee for North Carolina's 11th Congressional District Chuck Edwards to that list.
C. Edwards Group, Inc. is the operating company for several McDonald's restaurants in Western North Carolina, including four in Hendersonville, one in Brevard and two in Canton. Secretary of State records say Edwards is the president of C. Edwards Group, which reported having 261 employees.
Records also show that on April 15, 2020, C. Edwards Group was approved for a PPP loan of $1,120,000.
Edwards' loan and the accrued interest were eventually forgiven, but when Edwards was asked about Biden's plan, he wasn't as enthusiastic about debt forgiveness for students.
"This policy is unfair to the millions of Americans who have paid back their debt and to the taxpayers who will now pay the debts of those who haven't," Edwards told The Smoky Mountain News. "And it will make inflation even worse. It has to stop and when I am in Congress, I will fight to restore fiscal sanity to our nation."
Edwards went on to say that Biden and Democrats view taxpayers "only as ATM machines designed to fund the pet projects of the far-left." However, a bill shepherded by Edwards last year would have changed North Carolina's tax code to give him and other PPP loan recipients an ATM withdrawal of their own — from the state treasury.
Initially, North Carolina did not tax PPP loan proceeds as income, and likewise did not allow spent PPP funds as a business expense tax deduction.
When the General Assembly passed the 2021 Appropriations Act , the non-taxable income provision remained intact; however, both individuals and corporations were permitted to deduct the spent funds from forgiven loans as a business expense.
Proponents of the change say that it simply makes the state conform to federal tax code.
According to WBT-TV, the change would net Edwards another $40,000 to $50,000 in "free" government money.
Like House Speaker Tim Moore (R-Cleveland), Edwards brushed aside ethical concerns by telling WBT's Nick Ochsner that he "wasn't — and have not been — acting on my behalf" and that he "came here to Raleigh to represent the interests of business."
Last week, the North Carolina Department of Revenue announced that although the federal government doesn't consider Biden's student loan forgiveness as "income" for tax purposes, the North Carolina General Assembly did not take action to conform to the Internal Revenue Code on that item.
That means North Carolina residents who receive student loan forgiveness under Biden's plan will take a state tax hit for $10,000 to $20,000 of taxable income.
Edwards currently has two opponents in the race for the Western North Carolina congressional seat once held by Mark Meadows and currently occupied by Rep. Madison Cawthorn (R-Henderson).
Jasmine Beach-Ferrara and David Coatney.
Libertarian David Coatney operates a small business focusing on internet marketing . While Coatney didn't offer details on his own educational attainment or how he paid for it — like Edwards, who didn't respond to questions about his scholastic background or his possible utilization of student loans — Coatney did offer his opinion on how student loan forgiveness and PPP forgiveness are two very different things.
"I don't feel that student loans should be compared to PPP loans. For starters, higher education is a choice. The government didn't force me to go to college and enter into student debt. They did, however, force businesses to shut their doors and prevented many small business owners from earning a living," Coatney said. "The PPP loans were intended to offset the government telling many small business owners they weren't allowed to operate. That's a significant distinction."
Perhaps it is, or perhaps it's because two companies run by Coatney in two different states both benefitted from PPP loans that ended up being forgiven.
Sleek Web Marketing LLC of Springdale, Arkansas, which lists Coatney as the incorporator , received $19,361 on April 14, 2021 and reported three jobs. The corporation has since been dissolved.
Sleek Web Marketing LLC of Fletcher, which is still an active corporation, reported two jobs and received $23,232 on Jan 31, 2021. That loan was also forgiven. Coatney is listed in N.C. Secretary of State records as the president of the corporation.
Edwards' other opponent, Democrat Jasmine Beach-Ferrara, who earned a bachelor's degree in English from Brown University, an MFA in fiction from Warren Wilson College in 2001, and a master of divinity from Harvard in 2010, relied on scholarships, student loans and work study to pay for her education.
According to Campaign Manager Luke Tonat, Beach-Ferrara worked as a janitor in a dining hall for the majority of her undergrad career but still left school with nearly $70,000 of student debt.
Beach-Ferrara's debt was forgiven via the Public Service Loan Forgiveness program, which forgives student debt for those who both become employed by a federal, state or local government or a non-profit and have made 120 qualifying payments on their debt.
As of 2021, Beach-Ferrara had no student debt. Beach-Ferrara doesn't own any businesses that benefitted from PPP loans.
"I support delivering immediate relief - including student loan forgiveness for middle class families. People who earned degrees to become teachers and nurses shouldn't be held back by crippling debt," Beach-Ferrara told The Smoky Mountian News. "In contrast, my multi-millionaire, self-funding opponent Chuck Edwards had his $1.1 million PPP loan forgiven while criticizing student loan relief for working families. We have very different priorities—and it is clear why he continues to duck debates and forums to avoid talking about these clear distinctions."
Leave a comment
3

comments
Well, Lucille, who's going to pay for your beloved police to sit around and watch kids being murdered by a gunman? Who's going to pay for the military to not win wars and overthrow democracies in foreign countries? Who's going to pay for the tax cuts for supposed capitalist small business owners?

Honey, people like you are pathetic. The rich wouldn't spit on you if you were on fire, and you'll STILL support them.

PS... genius small business owners. People having student loans forgiven will have extra income to spend. And they might spend it at YOUR business. But not if you're going to antagonize us.

Sunday, 09/11/2022

Oh my, dear Lucille Josephs. Please get some rest.

Thursday, 09/08/2022

Who is going to pay for the student loan forgiveness? Who do you think? Those same middle class families you Leftist Liberal Democrats say you are looking out for. Fake, phony frauds.

Thursday, 09/08/2022