Archived Reading Room
Murder, bibliophiles, and a B&B
Wednesday, September 07, 2022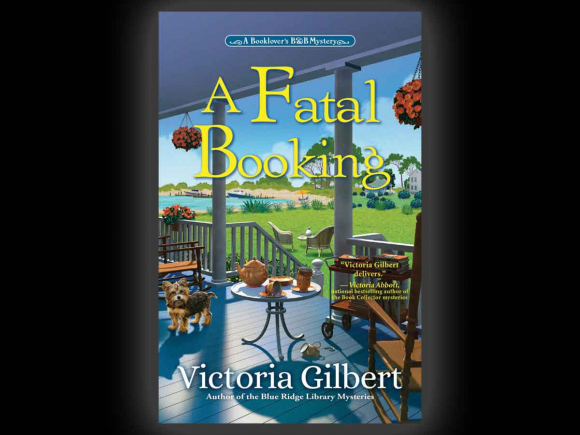 In "A Fatal Booking" (Crooked Lane Books, 2022, 304 pages), Victoria Gilbert's third novel in her series "Booklovers B&B Mysteries," we again meet Charlotte Reed, owner of Chapters Bed-and-Breakfast in Beaufort, North Carolina. Charlotte is a former school teacher and 40-something widow who has inherited this inn from her great-aunt Isabella. With a passion for books and reading, Charlotte remodels the old mansion, turning it into a literary lovers paradise.
When an old friend, Lora, arranges for her book club to spend a week there, with activities and discussions centered on children's literature and fairy tales, Charlotte does her best to accommodate the plans of these guests. Both she and Alicia, the older woman who works as a cook and housekeeper, and who knows every inch of the house, go all out to make this a special week for all concerned.
But we soon learn the members of the club are not all on good terms. They get along well enough most of the time, but are given to snarky comments and gossip about one another. One guest in particular, Stacy Wilkin, a jewelry store owner rumored to be selling some stolen merchandise, is despised by several of these people for the wrongs she has done them.
Consequently, when Stacy is poisoned and dies in the B&B's garden during a Mad Hatter Tea Party, all of the guests plus a fishing boat captain once cheated by Stacy fall under suspicion of murder.
And that's when it's time for Charlotte and her friend Ellen Montgomery, an older neighbor retired from a U.S. intelligence agency, to turn to amateur sleuthing both from natural curiosity and to lend the police a helping hand. As they follow up a dozen different leads, Charlotte's flame, Gavin, also in intelligence, returns from a long mission and joins them in tracking down the killer. The trio receive help in their investigation from the owner of the local bookstore and a few other acquaintances.
"A Fatal Booking" is a who-done-it of the old school, with the guests all remaining, at least for a time, under the same roof while the investigation proceeds. All of them have the motive and the means to fall under suspicion. Like the game of Clue, or one of those old British murder mysteries done years ago in the era of Dorothy Sayers and Agatha Christie, each is as likely as the others to have delivered Stacy Wilkin to the grave.
Gilbert spins a good tale in "A Fatal Booking," though given the murders that occurred in the previous two novels of the series — "Booked for Death" and "Reserved for Murder" — some prospective guests of the B&B might have second thoughts about staying in an establishment with such a track record for producing dead bodies. The central characters like Charlotte, Ellen, and Alicia click together, and though some may spot the killer before the mystery is solved, others will find entertainment in trying to surmise, along with Charlotte and Ellen, who bumped off Stacy Wilkin and why. In addition, "A Fatal Book" should please those who enjoy stories set on North Carolina's coast or which focus on female friendships, and mystery fans who prefer intrigue to car crashes, casual obscenities and shoot-'em-ups.
These qualifications, however, were not what snagged my attention. No — it was the literary theme of Gilbert's mystery that prompted me to carry the book to the library's checkout desk and then home. A bed-and-breakfast for bibliophiles, scenes in the local bookshop, the discussions of writers and reading: this is the sort of fiction, and nonfiction as well, for that matter, that I most enjoy. Literature about literature casts its spell, and I am all too willingly entranced.
Recently, for example, a friend recommended I read Stella Gibbons' "Cold Comfort Farm," a classic of comic fiction first published in 1932 in Great Britain. It is, as my friend promised, funny, this tale of a young woman, Flora Poste, intelligent and sophisticated beyond her years, who sets out to bring order to a chaotic family on a broken-down farm, but I have especially enjoyed Flora's witty and sometimes biting asides on books and writers. Anthony Burgess's "Earthly Powers," Dodie Smith's "I Capture the Castle," and John Gardner's Mickelsson's "Ghosts" are only three of the many novels I've relished over the last 40 years, in part because their authors shine an occasional light on books, reading and literature in general.
And I'm not alone, I think, in this particular preference. On the "new arrivals" shelves of the public library there are always several novels — mysteries, fantasies, romances, main-stream stories — featuring librarians, writers, or booksellers as their main characters, or manuscripts and books that are key to the plot. The authors of these novels are clearly lovers of literature and are aware that many readers fit that category as well.
A final note: if you prefer vacationing in the cooler air and greenery of the mountains to the sun, sand, and surf of the coast, you might pay a visit to Victoria Gilbert's "Blue Ridge Library Series," which is set in the hills of Virginia and features librarian Amy Webber as the local Sherlock Holmes.
Enjoy!
(Jeff Minick reviews books and has written four of his own: two novels, "Amanda Bell" and "Dust On Their Wings," and two works of nonfiction, "Learning As I Go" and "Movies Make the Man." This email address is being protected from spambots. You need JavaScript enabled to view it..)