Archived Arts & Entertainment
This must be the place: Well, I love home, but the road's got all I need
Tuesday, September 06, 2022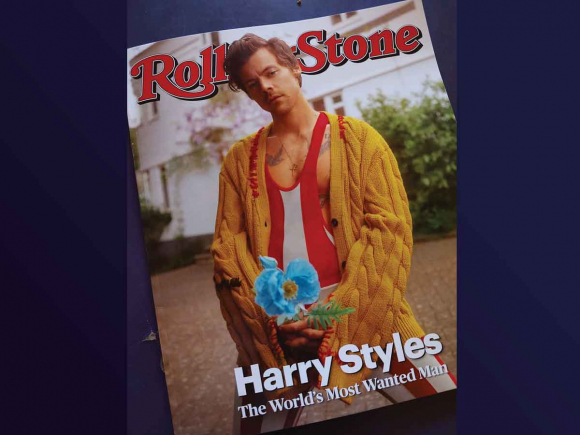 The alarm on the smart phone shook me out of some foggy, odd dream. Par for the course, in terms of the subconscious realm. Lots on the mind lately, whether near or far from my inner thoughts and emotions. Turn off the alarm and emerge from one's slumber.
Upstairs in the back of my parents' farmhouse, tucked away just off Route 22, not far from the city limits of Plattsburgh, New York. It's 8 a.m. Tuesday morning. With this week's issue of The Smoky Mountain News going through final edits before being kicked out of the door to the printer later this afternoon, I still had to find a couple cups of strong coffee to write this here column.
But, more importantly — more so, urgently — I had to throw on my shoes and thick flannel long-sleeve and motor along Route 22 into downtown Plattsburgh. I had an 8:30 a.m. rendezvous with an old friend who had a very important gift for me.
You see, this week marked my first physical appearance in Rolling Stone magazine. But, with international pop star Harry Styles on the cover, it's been pretty hard to track down an actual copy and see the words on the page for myself. Copies were flying off newsstands around the globe, the magazine headline stating, "Harry Styles: The World's Most Wanted Man."
That, and my native Plattsburgh has become sort of a new desert for magazines, periodicals, etc. Another one of those "Rust Belt" cities of Upstate New York and the greater northeast, sadly. If anything, I'd have to jump in the truck and take the ferry across Lake Champlain to the Barnes & Noble in Burlington, Vermont.
To which, I spent an entire afternoon this past weekend cruising around Plattsburgh in search of a Rolling Stone. Drug stores. Grocery stores. Walmart. Nothing. The local library did have a subscription, but someone had already stolen the issue, presumably a Styles fanatic.
Just when seemingly all hope was lost, at least for the time being, I received a random message via Instagram. It was an old friend from the North Country, one who has called the Midwest home for the last 22 years. Coincidentally, he was flying back to visit some mutual friends and would bring me a Rolling Stone if he came across one in his travels.
And there we sat Tuesday morning at the Koffee Kat in downtown Plattsburgh. Sipping on our caffeine refreshments, he placed a Barnes & Noble bag on the table and proceeded to pull out a few copies of the latest Rolling Stone, Harry Styles plastered across the cover.
It was a surreal thing to hold the issue in my hands, all of these years in the making of getting to this point, this moment in time. Flip to page 44 and there it was, a two-page spread on the Whitefish, Montana, music scene, then another location piece on Appleton, Wisconsin, on page 49. It happened, dammit.
As expected, there were a lot of deep, sincere emotions coursing through my body and mind looking at page 44 and 49, especially sitting at the Koffee Kat, in a town that was the starting line of this journey those many years ago.
I'm 37 now. When I was 13 years old, I was first exposed to Rolling Stone magazine. Already a young music freak, I'd discovered the publication that spoke to the feelings and admiration I had for music and musicians. At that time in middle school, I was just starting to scratch the surface of live music, attending some of my first shows across the pond at Memorial Auditorium in Burlington.
But, it was Mr. Gallagher's ninth-grade art class that changed everything. As a fellow music freak, he had dozens of old copies of Rolling Stone on the shelves in the classroom, mostly for the students to find advertising pieces to trace for art projects. Me? I would spend the entire class reading every issue cover-to-cover.
Even at that age, I knew I wanted to spend my life around music and musicians. They simply fascinated me. I wanted to know as much as I could about physical embodiment of the sounds they created that illuminated such joy, happiness and inspiration within my soul.
Once I declared my college major as print journalism during my junior year in Connecticut, it's been a 17-year road of twists and turns, this whirlwind of endless interviews, writing while burning the midnight oil and haphazard travel from coast-to-coast. Organized chaos, to say the least. But, with the big carrot of someday being published in Rolling Stone always dangling in front of me, just out of reach, but close enough to never stop chasing after it.
Eventually, through the fate of the universe, I got a cold call from Rolling Stone in 2018 to cover the 30th anniversary of Warren Haynes' Christmas Jam in Asheville. Just that assignment in itself was the end all, be all, at least for what I've wanted to do with my time on this earth. From there, it's been countless articles for the Rolling Stone website — festival reviews, artist profiles, and so forth.
But, being printed in the actual magazine had remained elusive. Funny enough, it was the most straightforward of assignments that made it into the September 2022 issue. Initially, I'd figured the Whitefish and Appleton articles would, once again, end up on the website. Nope. Sent to the printer, onward to newsstands.
And here I sit, typing away wildly to make sure this column gets to my publisher in time to edit and submit. My body and fingers are vibrating in a jovial tone. Maybe it's the second iced coffee of the morning. But, me thinks it's what's in that Barnes & Noble bag a few inches away from the laptop.
And yes, I am getting five copies for my mother.
Life is beautiful, grasp for it, y'all.