Archived News
Canton announces plans for new town hall, police department
Wednesday, August 31, 2022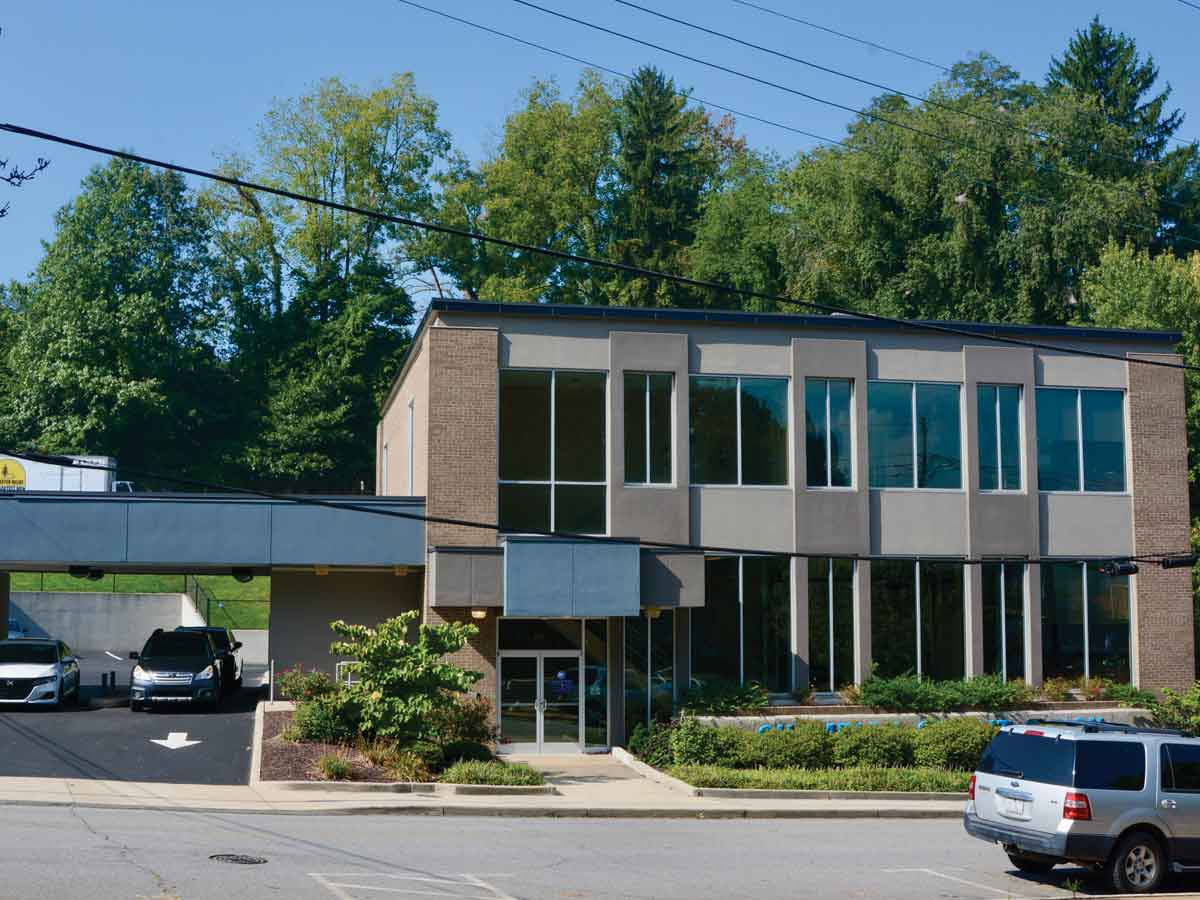 Canton's town administration will move into this Academy Street building once the sale with Champion Credit Union is complete. Cory Vaillancourt photo
Almost immediately after deadly flooding swamped downtown Canton for the second time in less than 20 years, town officials began talking about building back smarter. Last week, the town took a big step — two, actually — toward that goal.
On Aug. 24, a joint press release from Canton and Champion Credit Union announced that the town would purchase two buildings from the financial institution to house operations that had previously been carried out in the now-gutted William G. Stamey Municipal Building on Park Street.
"We are very appreciative of the longstanding relationship between Champion Credit Union and the town," said Zeb Smathers, Canton's mayor. "We are watching one of our largest employers recommit to the town of Canton by consolidating their workforce. At the same time this will allow us two buildings that are well-suited for our town administration and police. For both of us, it recommits us to our people and the place we call home."
The first building, located at 401 Main St., sits on a quarter-acre plot just 100 yards southeast of the Stamey building that is 20 feet higher in elevation.
Built in 1920 as the Champion Bank and Trust Co., the classical-style building comprises 3,500 square feet and is adjacent to a 12-space parking lot.
Last sold in 2015, the building is currently assessed at $389,000 and serves as office space for Champion Credit Union's back-office personnel, human resources, employee development and mortgage and lending teams.
The second building, 138 Academy St., consists of two parcels totaling more than three quarters of an acre and is assessed at $953,400. Champion currently uses the 57-year-old building to house other back-office employees along with support and administrative staff, but after the sale it will become Canton's new town hall.
Currently, Canton's police and town administration are operating out of modular structures on Spring Street.
The Academy Street building is 40 feet higher in elevation and almost twice the square footage of the current municipal building, giving the growing town more room for a staff and administration that will likely expand in the coming decades.
The new police station will also give officers more room to grow, but a key feature of the transaction is that both buildings are out of the Pigeon River floodplain.
In the aftermath of the Aug. 17, 2021 flood, which killed six people upriver, Canton officials faced a number of challenges in addressing the damage from the disaster. All emergency services, including police, fire and town administration were offline, power was out and communications among the myriad first responders were hampered by a lack of redundancy.
The locations of the new facilities will go a long way toward ensuring that when the next flood occurs, the town will be in a better position to respond.
This building on Main Street will become Canton's police headquarters, probably sometime in 2024. Cory Vaillancourt photo
"By relocating the Canton Police Department and Town Hall outside of the floodplain, we are more resilient to future events and can better serve the community during good times and bad," Town Manager Nick Scheuer said in the release.
Although Smathers said there's already an agreement on the terms of the sale, the deal between Canton and Champion is neither final nor public.
At some point, the Canton Board of Aldermen/women will have to hold a vote to approve the purchase, but opting to rehabilitate the two buildings in Canton's downtown core is expected to save taxpayers millions over the option of building something new.
Smathers expects the board vote sometime this fall and said the funds for the purchase and renovation of the buildings would come from an $8.3 million direct allocation made by the General Assembly in this year's budget.
Once renovations begin, Smathers said he thinks it will take about 18 months for town operations to commence in their new locations.
The fire station behind the Stamey Building, which is still in operation, remains an open question even though Smathers is confident it will move from its current location.
As for the Stamey Building, Smathers said that if the town takes a FEMA buyout as expected, the building would be no more.
"There's a lot of opportunity there, but both the current fire station and town hall will cease to exist as buildings," he said. "By law, that will all be torn down, and then we'll talk about what our options are."
Ultimately, the parcel would end up back in town hands and Smathers already has a clear vision for what he'd like to see there.
"I think it will serve as another major component of our recreation master plan. I see soccer fields, football practice fields, walking amenities," he said. "Then Park Street will be more of what is already is — a 'park street.' That will go a long way toward attracting young families and continuing the revitalization of downtown, like Sorrells Street Park has."
Meanwhile, Champion will continue to operate its member services location at 3 Academy St., but will take advantage of the opportunity to bring its teams together in a new build within the town limits of Canton.
"The intent is that at the same time that we close on those two buildings, we close on the roughly 14-acre parcel just past Food Lion on New Clyde Highway," said Jake Robinson, CEO of CCU. "We will be developing that land and that will bring all our operational teams together."
Although Robinson didn't identify the parcel, there are a number of likely candidates along New Clyde Highway or off Wellstown Road.
Like Smathers, Robinson expects those real estate closings to take place sometime this fall, while Canton waits for that $8.3 million to hit its bank account.
Robinson hopes to be in the new building "as fast as possible" depending on the availability of materials and labor.
"It's been one of our strategic goals to continue building relationships across Western North Carolina," Robinson said, "but Champion Credit Union wouldn't be here today without the people of Canton, who have supported us since we opened in 1932. Canton's in our blood. It's who we are."