Archived News
Ceremony celebrates High School Equivalency grads
Wednesday, August 24, 2022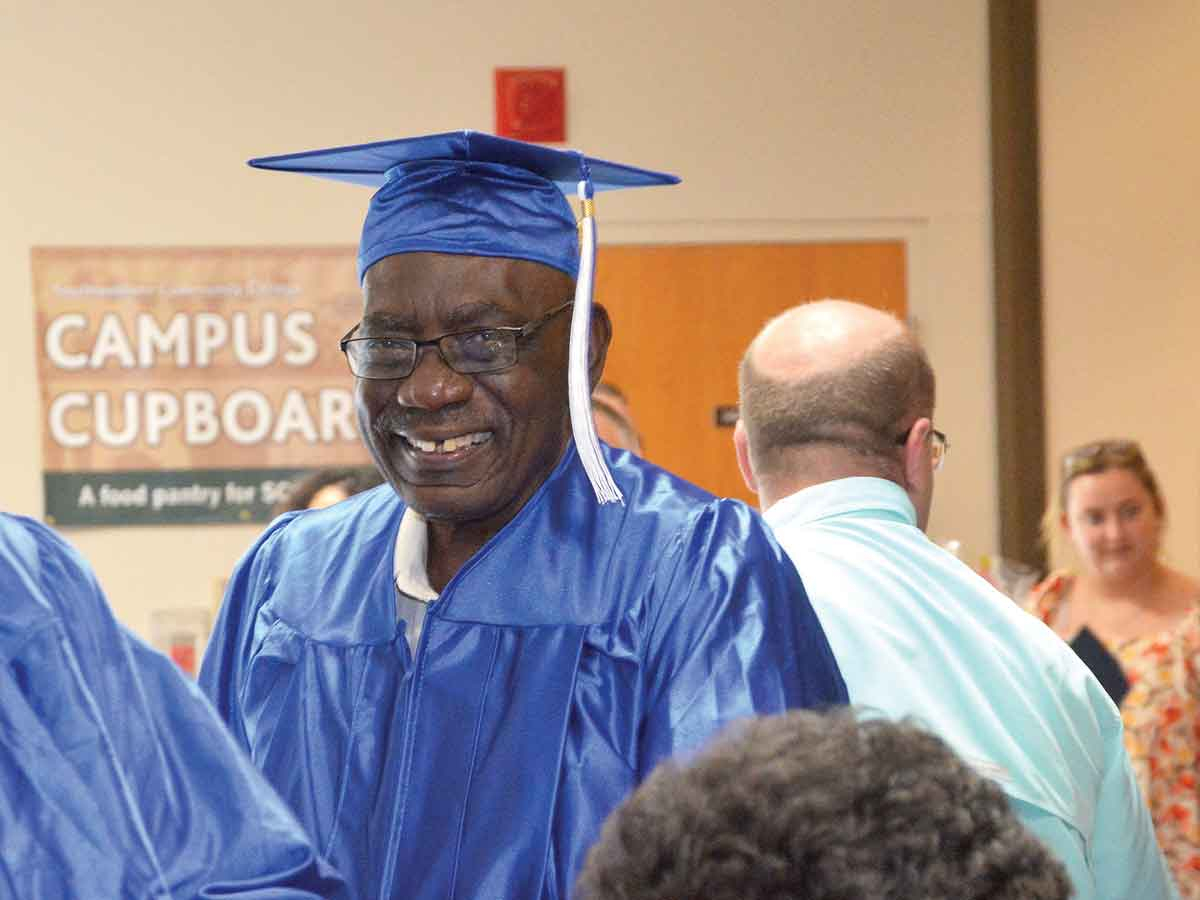 Calbert Christian, who is originally from Jamaica and now resides in Sylva, received his diploma during SCC's High School Equivalency commencement ceremony on Aug. 2 in Myers Auditorium on the college's Jackson Campus in Sylva.
Like every other graduate at Southwestern Community College's High School Equivalency commencement ceremony, Calbert Christian navigated a unique road on his way to receiving his diploma earlier this month.
His journey just involved a few more years — and miles — than most anyone else's.
"I'm from Jamaica, and I didn't have an opportunity to go to a nice school growing up," said Christian, who recently turned 68 and currently resides in Sylva. "I came here to live in 2015. I was looking for a job, but everyone wanted a high school diploma. So my wife (Arlene) encouraged me to take [High School Equivalency classes]."
He initially started taking preparatory classes elsewhere but didn't feel confident enough to continue until meeting with Crystal Snover, SCC's College and Career Readiness Director.
With her support, he gave Southwestern a try. When the time came, he sat for the exam and came tantalizingly close to a passing score.
"I failed math by one point, and I decided to not go back," he recalled. "But my wife kept encouraging me. She said, 'It was only one point.' So I went back. The teachers at SCC were so helpful. They would sit beside me and go over and over and over each lesson until I got it."
With his wife's encouragement and his instructors' assistance, Christian was successful on his second exam attempt, and he flashed a wide smile after receiving his diploma Aug. 2 on SCC's stage.
"Calbert was a police officer in Jamaica," Snover said. "He's very quiet, but he's been very determined. We're extremely proud of him."
For more info or to get started on High School Equivalency classes at SCC, contact Donna Wilson at 828.339.4272 or This email address is being protected from spambots. You need JavaScript enabled to view it..
Leave a comment
1

comment
Great job my husband, above the sky is one limit,am so proud of you and your accomplishments, you set an example that all one needs to do is to take a step forward and everything will fall in place.

Tuesday, 08/30/2022