Archived News
Delivered through the storm: Cruso man's struggle to rebuild eased by community's compassion
Wednesday, August 17, 2022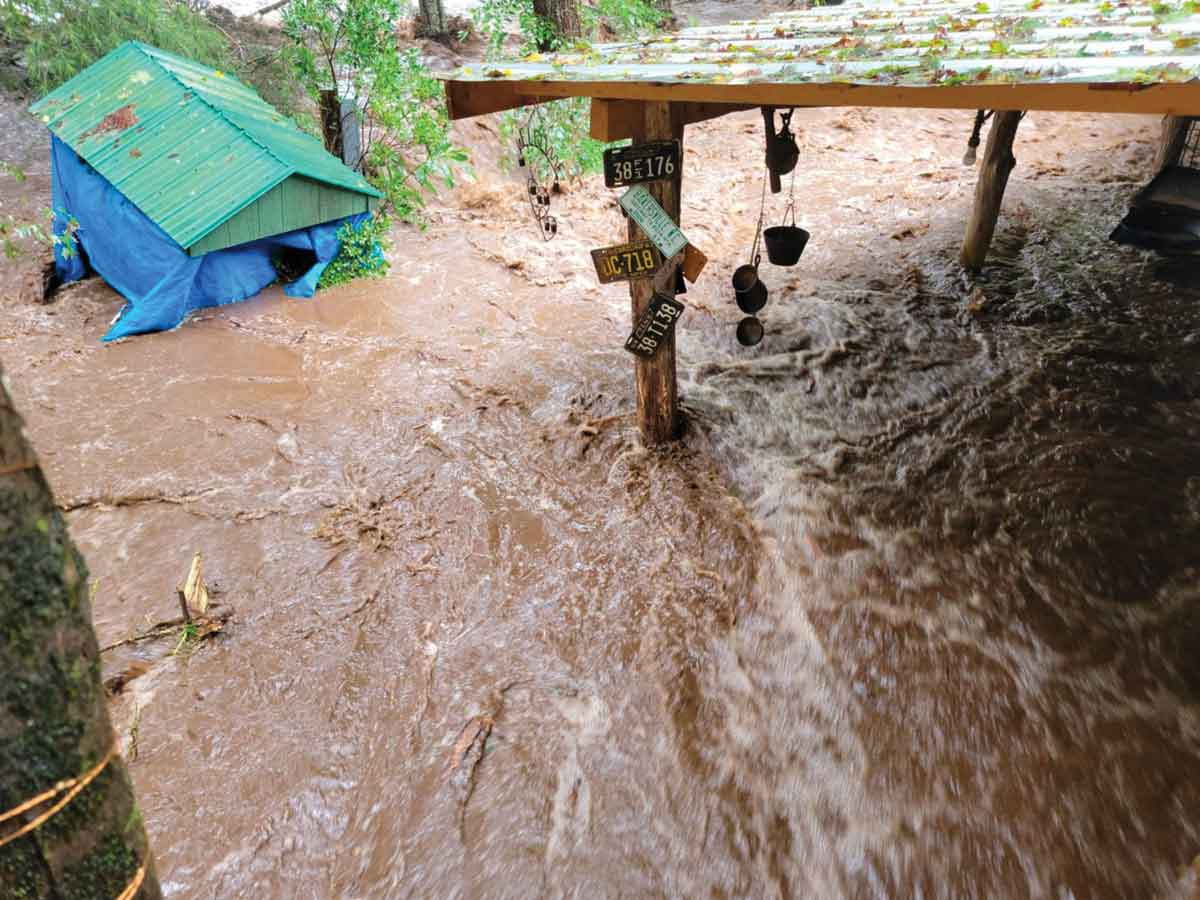 This image was captured by Ben Wilson from the tree as flood water raged beneath him. Ben Wilson photo
Ben Wilson recently got around to looking at footage from security cameras at his home captured the day he watched the bloated East Fork of the Pigeon River shoot through his house as he clung to a tree.
Even without watching the footage of most of his animals getting washed away, Wilson was still emotional simply recalling the catastrophic damage caught on camera — cars, trees, buildings being washed downriver, an astonishing display of the destruction water can unleash. Wilson said that simply hearing the sounds of crashing trees and twisted metal associated with the disaster were enough to stir up some emotions.
"That'll bring you tears," he said.
Putting the pieces back together
Wilson said that the flood hit just a couple of months after he'd finally finished extensive renovations on his once dilapidated mountain home that sits nestled in the woods just across the river from the Laurel Bank Campground, where several lives were lost during the flood. Wilson said he had gotten some video of the raging river to post on social media and when he went out to his porch to upload it, the water surged; he saw a wall he said looked about four-feet tall. As Wilson watched large debris — including trees larger than the one he was in — pass by, he was afraid his might not hold and even had moments where he anticipated he'd not make it.
While Wilson didn't recall the fateful day in too great of detail, he remembered the one concern that ran through his mind on a loop as the water rushed beneath him.
"I thought I was gone," he said. "I was worried if the kids would find the will. I saw the building left with my file cabinets and that panicked me. I asked myself 'will that be in the cloud? Did I put it in the cloud? Is it even valuable in the cloud? It's not notarized, but it still has to be good, right?'"
By the time the water receded in early evening and he returned to the muddied ground below, he became aware of the widespread devastation.
What has followed has been a long string of repairs followed by new repairs as more issues are discovered — all of which have been hard to complete with a lack of resources and reliable contractors.
One of the first items on the list was mold remediation.
"That was pretty horrible," Wilson said. "It sat so long, and we had to wait for the adjuster. It took him a week or two just to release the property because around the same time, Louisiana got hit, and then New York and he was MIA. The mold was just up the walls. They eventually treated it twice with those expensive chemicals, and because I had to stay out, I just slept on the porch."
Wilson will tell anyone that he feels fortunate to still have his life, but recovering has been a massive task that has required a ton of focus and more out-of-pocket money than he ever thought he'd have to spend.
Now, as he puts his home and his life back together, there are constant reminders of the continuous struggle — from exposed electrical outlets to sparse furniture to floors that have been replaced but still not sanded or oiled.
Ben Wilson points out the spot in a tree by his house where he held on during last year's flood. Kyle Perrotti photo
Finding love and compassion
It's clear upon meeting Wilson that he clings to optimism in any given situation.
He said that as he held onto that tree, he achieved sudden clarity. In the grand scheme of things, so many things we get wrapped up in — a high electric bill, a partner forgetting to pick up some groceries, someone taking a good parking spot — those things suddenly wash away, and what's left is a sudden appreciation. That feeling was only confirmed by the outpouring of support Wilson experienced in the last year.
Although Wilson's home is still far from returning to how it was before the flood, there's a deeper sense of joy he has found that was perhaps not even possible without the disaster — people can still love one another, they can still help a stranger in need. Along with receiving aid from fellow Cruso residents over the last year, Wilson has had Haywood County residents he's never even met bring him everything he could need and want, from food and beer to simple companionship.
Wilson mentioned a few specifically. First, he spoke about Robert Riker and his family. Riker and Wilson's friendship had only existed on social media prior to the flood.
"He walked up in his flip flips through the woods carrying three days' worth of food for everybody," Wilson said.
Wilson also spoke about his former neighbors, Natasha and Kile Bright (see "After the Flood," pg. 9), who even amid their own struggles coming to grips with losing their home, rolled up their sleeves and helped him get his home back to livable condition.
Wilson mentioned Rodney and Kara Rogers, who would show up with their kids ready to help him whenever they could.
"They were here every day, and that guy works 60 hours a week and has kids in school," Wilson said. "He would come in after working at the mill. Sometimes, he would work until dark with flood lights. He cleaned, and he buried animals for me. He just did all kinds of stuff."
With all the help Wilson received, there's one person who he was immediately drawn to — Tasha Tafelski. Tafelski would bring Wilson vegetables, as well as coffee from his favorite spot, the Coffee Cup Container. What began as a warm acquaintanceship blossomed into a valuable friendship and eventually a romance.
"I'd call her and complain, and she just put up with my incessant babbling and then I was hooked," he said. "I was always excited to see her, and then in January we got more flirty. At first, I just considered her my buddy I could call up when I was feeling off or just to talk about mundane things, but then we became more."
As difficult as the flood recovery has been, Ben Wilson was happy to meet Tasha Tafelski. Kyle Perrotti photo
New floods, new worries
Prior to the last flood, which changed the very path of the East Fork, there were large berms along the banks to keep the river at bay during storms. Those berms were washed away last year, which combined with the leftover debris has become a concern for Wilson and others still traumatized by last year's disaster. Just a few months ago in May, amid more heavy rains, Wilson's land flooded again.
While neighbors fearing another catastrophe went elsewhere earlier that day in anticipation of potential flooding, Wilson wasn't aware the river had come up as much as it did until he returned home that afternoon with Tafelski and her five-year-old son after picking him up from school. Normally, he would take his UTV across the river, but the water was too high and swift. Wilson took a risk and decided to test the waters. Once he determined it was passable on foot, he put Tafelski's son on his shoulders and they all crossed.
After arriving on the other side, they decided to get clothes and essentials, crossed back over, and stayed in a small cottage on the other side that Wilson rents out as an Air BNB. Although they felt safer on the other side, anxiety percolated among all of them.
"Now that the berm is gone, the river just runs right up through here," Wilson said.
"We were up every hour that night checking the river," Tafelski said.
While the water level that night was threatening and Wilson saw large debris getting carried downstream, it ultimately paled in comparison to last year's devastation. As scary as it was though, Wilson still had a reason to smile as he relayed the harrowing story. Several members of the Cruso Fire Department came to check on Wilson, Tafelski and her son, who they believed were still inside Wilson's home, and didn't leave until they were certain the trio was safe.
"How freaking awesome are these people?" he said of the first responders. "It gives me chills just talking about it. They said they were trying to figure out how to get us out if they needed to."
Following that flood and its disastrous predecessor, Wilson said there's still no shortage of cleanup needed even beyond what's needed to get his house in working order.
"It's still a mess," he said. "My son and I are still cleaning under the porch and finding debris, and we'd already cleaned that once. Since that berm's not fixed, we'll just keep having water run under the house."
But Wilson remains undeterred in the face of adversity and the sluggish recovery many have lamented since the flood. In the near future, Wilson, who has become a local social media sensation with tantalizing posts of his culinary creations, hopes to build a full outdoor kitchen. But for now, it's one step at a time.
When asked what he'd want to say to local folks about his ordeal and what he's learned, his answer came quick.
"I've been through floods; I've been through three hurricanes," he said. "And I've never seen a community come together like this. I'm thankful to be where I am in a place where people will genuinely give you the shirt off their back. They'll do anything if it means you can be dry and warm. I have never seen anything like that ever. It makes me proud, and I don't think I could ever be anywhere else."
Leave a comment
1

comment
For the many who lost their homes and all their belongings and most of all their family and loved ones I still grieve in remembrance of that days drive up Curuso Road and the shock of tragedy it all was. My heart seemed to stop as one winding curve after another unfolded the devastation of so many families and lives by that once little rushing river/creek. I felt immediately consumed by the sorrow and I cried all the way to The new chiseled out road across the mountain slope to Bens. Wrapped in his arms And knowing that he made it through all that I had passed through….my heart whisperd with the rejoicing gratitude of my mothers heart ….that our Ben had made it?

The love and support of the community that poured forth daily brought healing to his heart and so many many others.
I want to fly a banner across and through those beloved mountains winding through all the streets and countryside of Haywood County with joyous exclamation of gratitude from Bens MomDad and family!!!

Thursday, 08/18/2022