Archived News
BearWaters to host community event on anniversary of catastrophic flood
Wednesday, August 10, 2022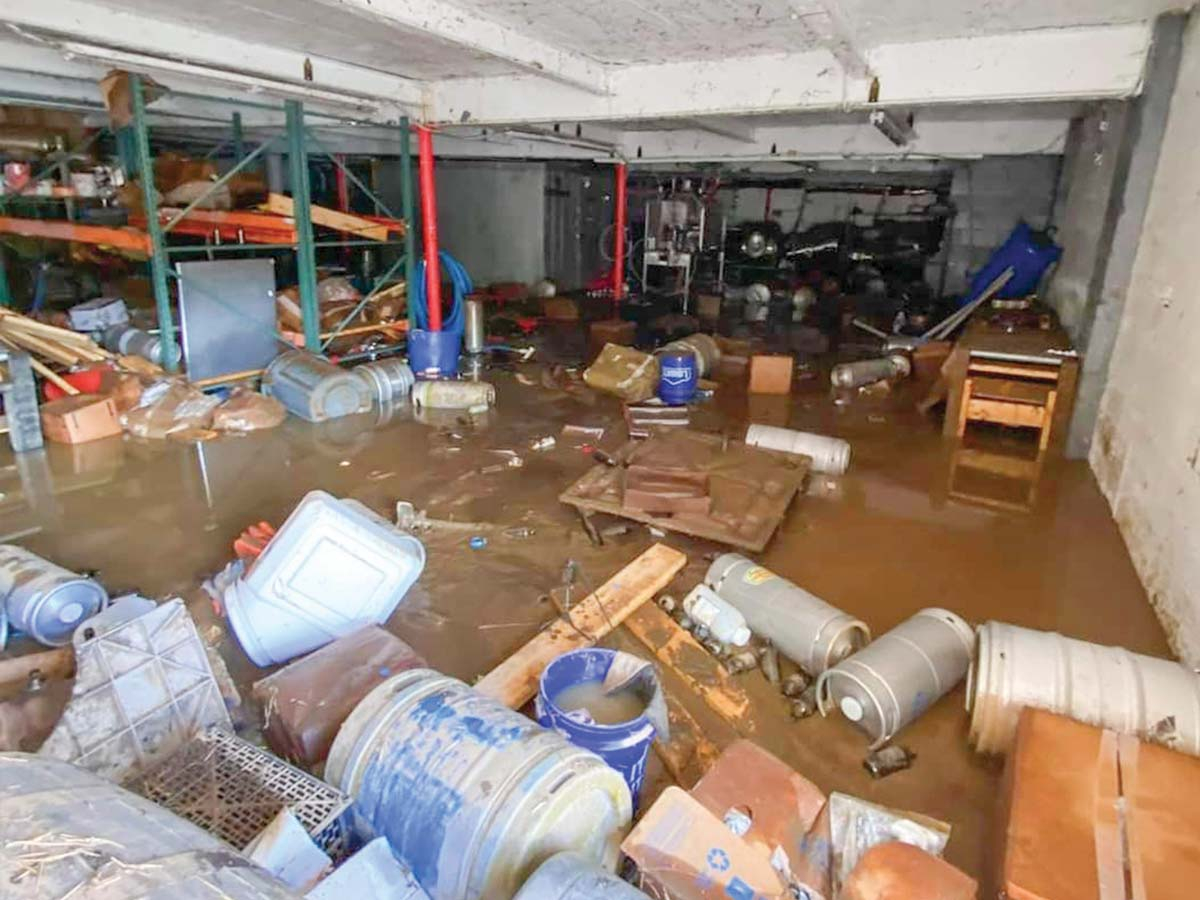 Last summer's flooding wrought by Tropical Storm Fred severely damaged BearWaters' basement. Kevin Sandefur photo
Exactly one year after a flash flood killed six people and wreaked havoc in Haywood County, BearWaters Brewing Company is hosting an event to honor the lives lost while also celebrating the strength the community showed amid the disaster.
As the rivers and streams rose on Aug. 17, 2021, folks in Cruso and Canton quickly realized what they were experiencing was no normal rain event. They were about to face destruction not seen since the infamous floods of 2004. Along with the lives lost, the flood ultimately destroyed numerous homes and businesses and caused hundreds of millions of dollars in damages.
Once the waters receded and folks began to clean up, BearWaters owner Kevin Sandefur was greeted with devastation of his own, especially in the basement of his business where much of the brewing equipment and many kegs are stored.
However, as difficult as that experience was, Sandefur is also quick to point out that the community's willingness to rally around one another made a quick recovery possible for his business. The brewery reopened less than a month and a half later on Oct. 1.
"Obviously it was very devastating, but it also really galvanized our relationship with the community because they're who brought us back," he said. "That's another reason we want to do this. Without them we wouldn't be open today."
For the event, BearWaters will partner with several local churches to host a free spaghetti dinner from 6 to 8 p.m. on Aug. 17 at its Canton location.
"We just wanted to do a free community dinner to let the community come in and have fellowship and visit with each other," Sandefur said.
In addition to food, Sandefur said they'll offer free drinks for two hours. Long's Chapel Lead Pastor Chris Westmoreland will do a memorial service at 7:30 p.m., then six Chinese lanterns — each bearing the name of a victim whose life was lost in the flood — will be released into the air.
Sandefur said the free event is meant for anyone who was affected by the flood or anyone who aided in the community's recovery.
"We would like to invite anybody from affected communities and first responders who helped serve," he said. "That's who we're asking to come. Anyone who volunteered or anyone who wants to honor the memory of the lives lost."
Leave a comment
1

comment
Chinese lanterns can cause wildfires.

Wednesday, 08/10/2022