Archived Arts & Entertainment
This must be the place: When the west was wild and the land was free, how a western word would travel for a country mile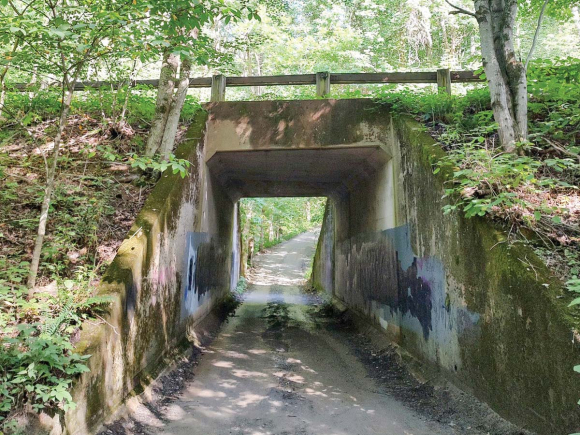 Once the paved road turned to dirt, I noticed a small pull-off to the right. Putting the ole Tacoma in park, I emerged from the vehicle and could hear the sounds of passing cars on the Blue Ridge Parkway just above me and through the nearby tree line on this lazy Monday afternoon.
Leaving the truck behind, I started to jog up the winding dirt road, under an old one-lane bridge holding up the Parkway, only to disappear down the Mountains-to-Sea Trail, the path appearing to the left with the only marker of its existence being the small white circular piece of plastic nailed to a large tree looming over the entrance into the woods.
After several switchbacks up the muddy ridge, the trail soon rolled along the contours of the mountains cradling Waynesville and greater Haywood County. Entering the trail at such an off-the-beaten-path point, I had the place to myself for most of the hour and a half trek.
At one juncture, I startled a random older gentleman as I came trotting around a curve in the route towards him. He wasn't paying attention as I said hello, to which he grunted in his surprise in seeing another human being in the depths of Mother Nature. And yet, I didn't get a response back, which was odd — where's your trail solidarity, my brother?
No matter. Even with the switchbacks and such, my legs felt pretty good. I slowly settled into a rhythm of pace and endless thoughts rolling through my restless mind. Sweating out the numerous beers hoisted high in the air and heavy emotions shared throughout the past weekend between dear friends and strangers soon to become fast friends in the midst of the unknown midnight hour.
It was a truly memorable weekend. One for the books, to say the least. My best friend in all time and space came to town for a couple days. He's 40, married, with a two-year-old daughter. Nice home. Two new cars in the driveway. All-American family. Good folk, you dig?
He lives in Knoxville, Tennessee, but was calling Waynesville home when we first crossed paths almost a decade ago. He had a free weekend and decided to visit. He also just started a new gig after spending most of his adult life in a completely different profession. The stress of that gig led to this career change — more money, less stress and, most importantly, more time with his young family.
The two of us hit downtown and merged with my other best buddy, a 39-year-old Waynesville native, one who spent 10 years in California before circling back to Haywood County a few years ago.
Back in Carolina, he's got an incredible girlfriend and beautiful home way up in West Waynesville. He also is entering a new career path, one where he'll be relocating to Charlotte next month for the better part of a year to complete the training required.
The three of us are thick as thieves when our powers combine for a night of mischief and adult beverages. And there were many reasons to celebrate. They each were in a transitional phase of the next, unwritten chapter of their respective lives. And, for me, it was probably the most surreal crossroads of my 16-year career in journalism, thus far.
Ever since I was 12 years old and first opened a copy of Rolling Stone magazine, my biggest dream in life was to someday, somehow write for them, my name in the same masthead as my heroes: Hunter S. Thompson, David Fricke, Austin Scaggs, Brian Hiatt, Kurt Loder, etc.
And, since Dec. 2018, I've been writing for the Rolling Stone website. Numerous articles and features online, but an appearance in the physical publication has remained elusive.
Well, elusive at least until last week, seeing as I received an email from one of the senior editors that two of my recent assignments for them will be printed in the September issue of Rolling Stone. On newsstands, worldwide, and a place in that masthead I've been ogling over since middle school (I'm 37 now). Crazy, eh?
Not even a day later, I also received word that I was nominated for "Writer of the Year" by the International Bluegrass Music Association (IBMA), with the award show in late September in Raleigh. Shit, a lot to absorb and process, and also not get ahead myself as old-school Irish Catholic guilt and ancient superstitions keep me in check as to take everything in stride, and with sincere gratitude.
And as I made my way down the Mountains-to-Sea Trail, reflecting on the weekend's shenanigans and in-depth conversations between our trio about the past, present, and unknown future, I remembered one moment in particular.
It was Saturday morning. Probably around 9 a.m. Friday night was a zigzag of people, places and things around downtown Waynesville. Beers. Shots. Laughter. Hearty banter. Our trio ended up back at my humble abode once the bars closed, a nightcap of bourbon and putting a nice bow on top of the round-robin topics of conversation that evening.
I awoke Saturday morning to the sounds of the old-school box fan in my bedroom, the small air-conditioner humming away in the front room. Slowly getting up, I could see my Knoxville friend passed out on his air mattress in the front room, the Waynesville crony in deep slumber on the couch nearby.
And, in that instance, I felt several emotions coursing through my heart and soul. One of appreciation for being able to have ride-or-die friends like the two dudes who crashed at my place after a wild night. And another of that seemingly mundane scene Saturday morning, where nothing will ever really be the same the next time we all cross paths.
Once everyone wakes up and gets on with their day, the dice of chance and circumstance has been rolled. After Waffle House and strong coffee, we bid farewell and adieu. See you down the road. New jobs. New chapters. New friends. New adventures. New visions and interactions. Such is life, eh?
Life is beautiful, grasp for it, y'all.