Archived News
Haywood gets almost $400k for more flood mitigation
Wednesday, August 03, 2022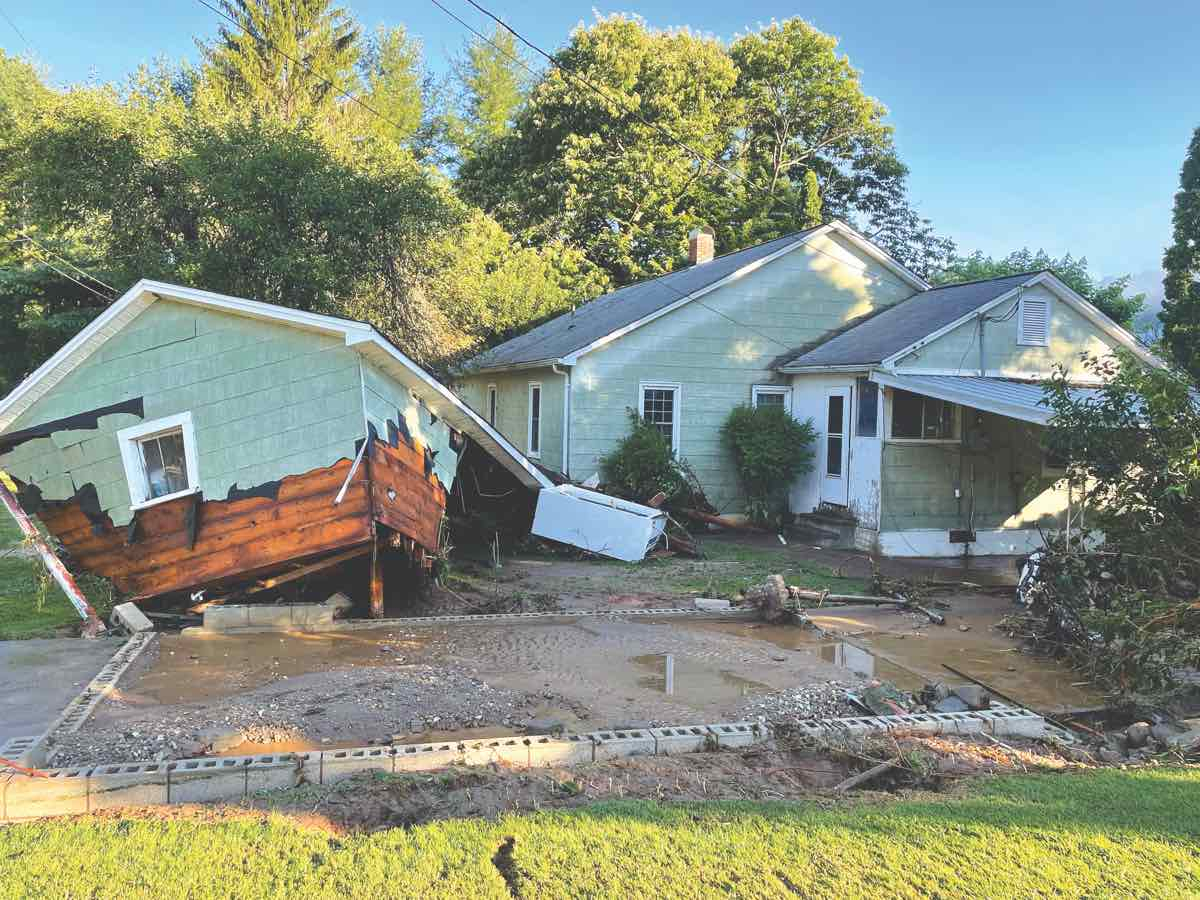 Devastating floods tore through eastern parts of the county on Aug. 17, 2021. File photo
As the one-year anniversary of deadly flooding from Tropical Storm Fred approaches, Haywood County officials are still busy chasing down funding that will prevent or reduce the impact of future storms.
Although the county was not selected for a recent USDA emergency watershed protection grant, Haywood's Soil and Water Conservation District Director Duane Van Hook did have some good news for commissioners on Aug. 1 — nearly $400,000 for dike repair.
"When this opportunity for the state flood mitigation program came about, we applied for funding to address three sites, and luckily we were awarded this grant ," Van Hook said.
In the immediate aftermath of the Aug. 17, 2021, flood, Haywood's soil and water district gathered damage reports to determine where improvements could be made through debris removal, flood mitigation projects or watershed repair in the Pigeon River watershed.
North Carolina Emergency Management (NCEM) released a funding opportunity on Feb. 21, 2022, noting the availability of $15 million in funding for between five and 30 no-match emergency management disaster relief and mitigation grants.
On June 8, Haywood County was notified of the $379,400 award.
According to the notice of award, the funding can be used for flood mitigation efforts that stabilize areas and reduce future damage or for pre-development assistance to provide small and underserved communities with technical assistance to identify and design shovel-ready projects related to disaster relief and flood mitigation.
The project has a total timeline of 36 months, with the first year spent on acquiring designs and permits, and the second and third years focusing on construction and landscaping. The scope of work includes erosion control and stream bank repair to prevent flooding in the future.
One site, off Riversedge Way near hard-hit Cruso, is called Hidden Valley. According to the grant application, a dike washed out at a weak point, and downstream houses could flood if water rises above the lowest point in the breach.
Another site, off Pisgah Drive near Mountain View Church of God, experienced a similar dike failure that washed rocks and sediment into a field. Sediment could affect ecological conditions in the river, and lingering debris could make future flooding far more dangerous than in 2021.
Photos of the third site, Sunburst Trout Farm located on Cruso Road near Howell Cove Road, show absolute devastation. Figures included in the grant application estimate millions in damages, and the application also mentions that at least one of the six flood victims who lost their life was found in the vicinity.
The state grant is actually a reimbursement; NCEM will repay the county after it expends the funds, so long as the funds are used as outlined in the award letter.
"The state has stepped up big," said Commissioner Tommy Long. "I'm very proud of the State of North Carolina for what they've done to help folks after the tropical storm."