Archived News
Obsolete Haywood body armor headed for Ukraine
Wednesday, August 03, 2022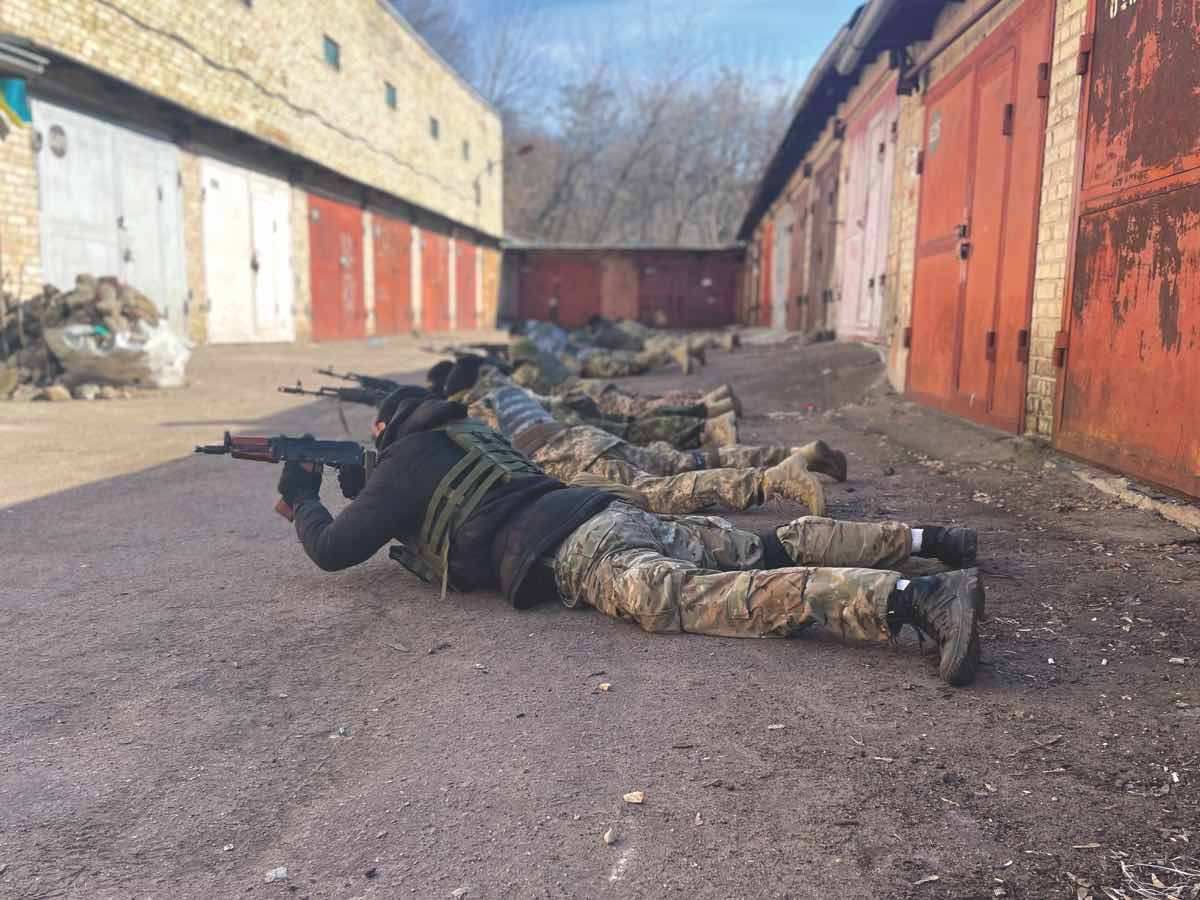 Russia invaded Ukraine on Feb. 24, 2021.
Jane Ferguson photo
Eight sets of unusable level 3A ballistic armor are now on their way from Haywood County to Ukraine thanks to a serendipitous partnership involving law enforcement, nonprofits and elected officials from the federal to the local level.
"I personally, along with the office and I think I speak on behalf of the sheriff as well, am very honored to be able to participate in this," said Jeff Haynes, chief deputy with the Haywood County Sheriff's Office. "It's a very small but very important piece that could potentially save someone's life and further the causes against the transgressions that are being pushed upon the Ukrainian people right now."
Every one of Haywood County's 80 or so full-time sworn deputies wears body armor on a regular basis; however, the donated vests — heavier and bulkier than the rest — are only used for the county's special operations group.
Armor is rated by the National Institute of Justice, based on a scale from 1 to 5. Level 1 armor no longer meets the NIJ's standards, so it isn't preferred for law enforcement use, but levels 2 though 5 can be.
The "a" designation means the armor is more effective than the lower level armor but doesn't meet the protection standards of the higher level, so the 3A armor donated by Haywood County could effectively be called "2.5" — better than 2, but not quite 3.
Nonetheless, it can protect against calibers as large as .357 and .44. Vests offering both front and back armor cost upwards of $2,500, but they don't last forever.
"The shelf life, they have just increased it to 10 years as of a couple of years ago. Prior to that, it was five years. I'll be quite honest with you. I would have no problem whatsoever wearing it," Haynes said. "Many, many years ago I was wearing Vietnam-era flak jackets, and I felt very secure with those as well. I think the actual life versus the manufacturer's recommendation, probably there's probably a huge gap there."
Haywood County uses the expired armor for training purposes, mostly to get deputies accustomed to carrying out their duties while wearing it. If the time comes when it's needed, Haynes said, then deputies are already familiar with how it feels, and how it affects performance.
Similar to other surplus county property disposal proceedings, Haywood commissioners approved the donation to Samaritan's Purse during a meeting on July 18.
"These were rotated out of the normal operational rotation just very recently," Haynes said. "They have already been replaced because we, via our budget, replace so many a year as they fall through their expiration dates."
The county's staggered replacement program ensures a steady flow of new equipment, so the armor donation won't leave Haywood's deputies unprotected, like aid workers in Ukraine are.
"Since the end of February, Samaritan's Purse has been working on the ground in Ukraine. Our brave church partners are delivering food and other life-saving supplies to areas that are currently under siege. They are risking their lives to help people," said Kaitlyn Lahm, assistant director of marketing and media relations for Samaritan's Purse. "Body armor can help keep them safe as they deliver basic necessities to innocent civilians in great need."
On Feb. 24, Russia invaded Ukraine, initially making substantial gains until "refocusing" their efforts to the eastern part of the country after encountering staunch resistance from Ukrainian fighters and substantial opposition from western countries, including the United States.
Since then, tens of thousands of Russians have died or been wounded as western aid has flowed into Ukraine in the form of weapons and supplies.
The United Nations estimates that around 5,000 Ukrainian civilians have been killed as of June 27. Estimates of Ukrainian military deaths from several different sources are all unreliable, but range from a conservative 5,000 to a more realistic 35,000.
Ukraine has reclaimed many areas formerly under Russian control, but as fighting continues in the east, a humanitarian crisis is unfolding in other parts of the country.
Samaritan's Purse has already distributed more than 14,000 metric tons of food, 5.4 million liters of clean drinking water and tens of thousands of blankets, hygiene kits, solar lights and tarps in the Ukrainian theater.
"Together, Sen. Thom Tillis' office and Samaritan's Purse saw an opportunity to send body armor that could no longer be used in North Carolina to brave Ukrainians helping their neighbors in need," Lahm said. "The senator's office contacted North Carolina police departments and sheriffs' offices to inform them of this opportunity."
Rockingham County Sheriff Sam Page was an early proponent of the plan. Recently, the North Carolina Sheriff's Association put out a call for donations. That call has been answered by a number of North Carolina counties, including Martin and Mecklenburg. Departments from other states have joined in the effort as well.
"There is no easy way to dispose of used body armor that's out of date, and there is certainly a big need for protective equipment in Ukraine," said Eddie Caldwell, CEO of the North Carolina Sheriffs Association. "We're very fortunate that Samaritan's Purse has the wherewithal and the resources to manage this project."
Caldwell has been a sworn law enforcement officer since 1977 and has worked for the NCSA since 1996 as a contract lobbyist and lawyer until becoming executive vice president and general counsel in 2004.
"You know, you can't just fly out and go to Ukraine and just start dropping stuff off. Ultimately, we found out that Samaritan's Purse was already flying supplies into Ukraine and complying with all the federal regulations and so it was a natural partnership," Caldwell said. "The Association agreed to support that effort. We sent out the notice to every sheriff in the state, every police chief, and all of the state agency heads, law enforcement agency heads, letting them know that this opportunity was available."
Representatives from Samaritan's Purse said that the Haywood donation was picked up on July 28, just 10 days after commission approval. Once Samaritan's Purse receives the proper export license, the donations will be airlifted to the area on a DC-8 and hit the ground about five weeks after that.
"Samaritan's Purse will work with local church partners to identify the individuals most in need of the body armor in Ukraine," Lahm said. "This body armor will be delivered to courageous Ukrainians who are risking their own lives to serve their neighbors by transporting basic necessities to innocent civilians."
The armor, Lahm said, would end up on the frontlines protecting aid workers — right where it can do the most good.
"Nobody's looking for accolades at all. It's just an opportunity to help," Haynes said. "Obviously, we're never going to see the results of it and see where it goes to, but that's not why we're doing it. It's just to know that we're doing the right thing. We would hope others would step up and help us if in need, and we feel very confident that that would probably happen."
Leave a comment
1

comment
That type of body armor will only stop handgun caliber rounds up until .44 Magnum. It will not stop a rifle round. Its a complete waste and only symbolizes the twisted logic of supporting a corrupt and vile regime that exists in Ukraine which is on par with Russia.

Monday, 08/08/2022