Archived News
'Call Me MISTER' holds orientation at WCU
Wednesday, August 03, 2022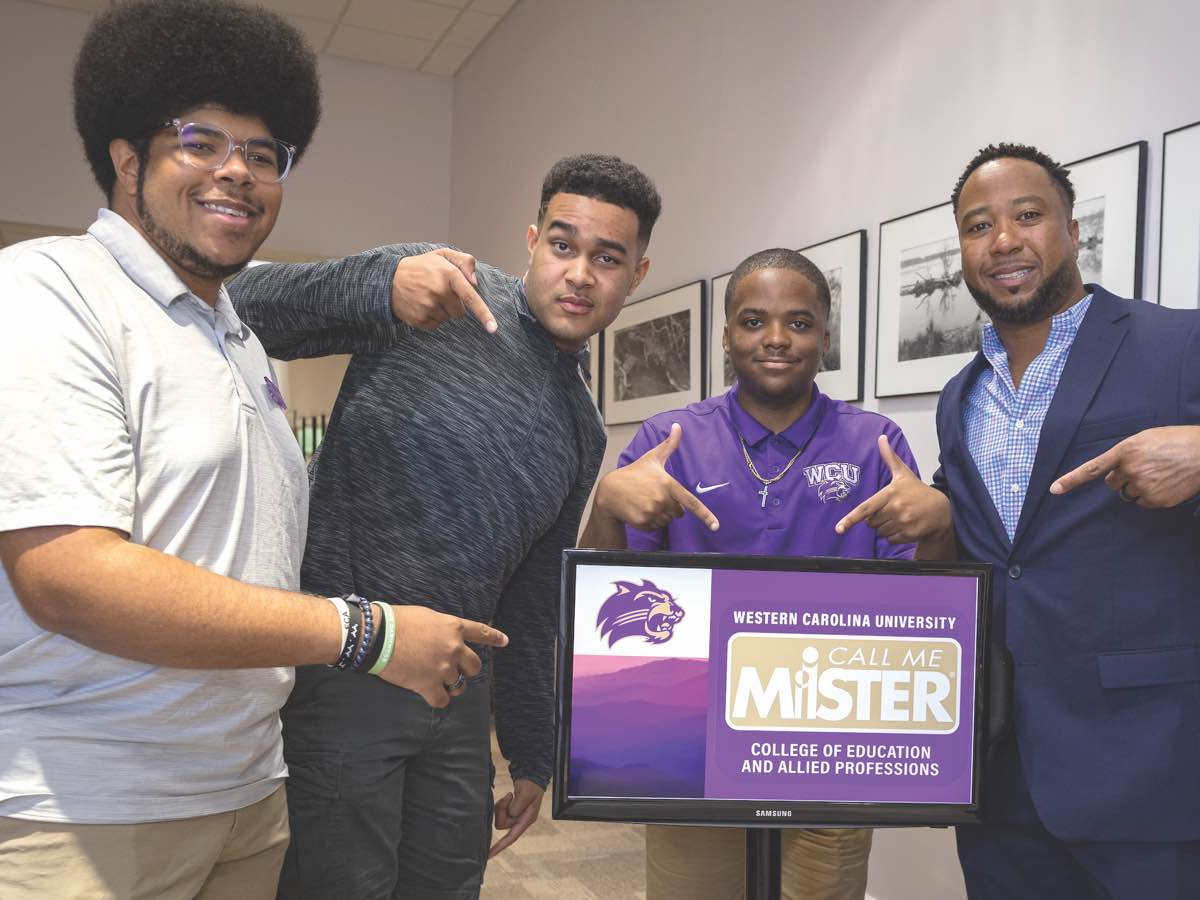 From left to right, Call Me MISTER's Montgomery Moore, Anthony Freeman and Andrue Smith, with Kyle Baldwin. WCU photo
An instrumental program for educating future K-12 teachers while more accurately reflecting real world demographics began its second year at Western Carolina University.
Call Me MISTER, an acronym for Mentors Instructing Students Toward Effective Role Models, aims to increase the pool of available male teachers of color in the country's classrooms. The program originated at Clemson in 2000. WCU is the only institution in North Carolina to offer the program.
Kyle Baldwin was an early participant at Claflin in 2001 and was keynote speaker for this year's kickoff, held at the N.C. Center for the Advancement of Teaching in Cullowhee. He now teaches fourth grade at Chattahoochee Middle School in Duluth, Georgia.
"The camaraderie that I got to build with the other MISTERS, the servant leader principles and other principles that were taught to us by those in leadership, were crucial," said Baldwin.
Some of the requirements to be a MISTER include pursuing a degree in elementary, inclusive or middle grades education, or music, art or health and physical education with an elementary or middle grades focus; attending all scheduled seminars and activities; and, upon graduation, teaching one year in an elementary or middle school for each year they received funds from the program.
"Call Me MISTER is the beginning of our efforts in the College of Education and Allied Professions to support and involve minority men of color who will serve and lead in the field of education," said Charmion Rush, WCU's program director.
WCU looks to add three to five participants from racially or ethnically diverse backgrounds each year. For more information on the Call Me MISTER program, contact Rush at This email address is being protected from spambots. You need JavaScript enabled to view it..