Archived News
Retired vice chancellor receives lifetime achievement award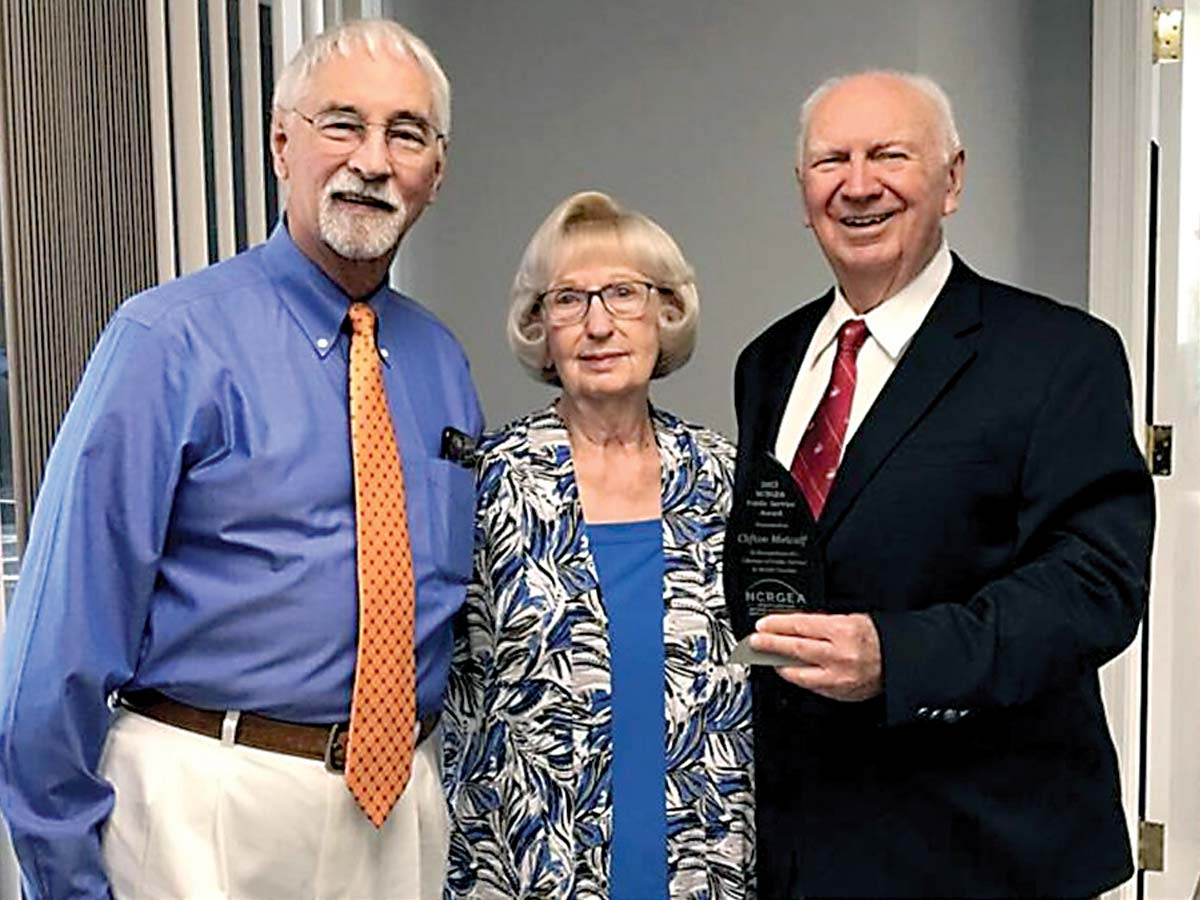 Clifton Metcalf (right) with his wife, Marie, receives the inaugural lifetime achievement award from the North Carolina Retired Governmental Employees' Association, presented by the group's president, Van Langston (left).
A former Western Carolina University vice chancellor for advancement and external affairs who enjoyed successful careers as a community journalist and as an administrator in the University of North Carolina system is the inaugural recipient of a lifetime achievement award presented by the North Carolina Retired Governmental Employees' Association.
Announced on June 6 as part of the NCRGEA's Celebration of Public Service Week, the association's Lifetime Public Service Award is the latest in a long line of accolades bestowed on Clifton Blake Metcalf.
The NCRGEA's new award will be presented annually to a retired government employee who has made significant contributions as a career public servant in North Carolina and who has continued to support the community in retirement through volunteering, community service efforts and other contributions.
Metcalf retired from service to the state of North Carolina in February 2013, stepping down as vice chancellor for advancement and external affairs at WCU, a position he had held since January 2002.
In that role, he oversaw a WCU division encompassing public relations, marketing, communications, media relations, alumni affairs, creative and design services, governmental affairs and the Mountain Heritage Center Museum. He joined WCU's senior administrative team in January 2002, arriving at the Cullowhee campus after serving as the UNC system's senior liaison to the N.C. General Assembly from 1998 to 2002.
Among his most notable accomplishments during his time at WCU were his leadership role in WCU's first-ever comprehensive fundraising campaign, which netted more than $51 million in contributions and pledges of private support when completed in October 2009, and his efforts in developing the legislation that permits Western Carolina and other UNC institutions to develop millennial campuses.
Before joining the leadership team at WCU, Metcalf simultaneously served as interim vice president for public affairs for the UNC system and as associate vice chancellor for public affairs at Appalachian State from 1996 until 1998. During his career in higher education, he held several positions at the University of North Carolina at Chapel Hill, including federal and state government liaison, associate vice chancellor for university relations and director of news services.
Upon Metcalf's retirement from WCU, the university's Board of Trustees presented him the Trustees' Award, one of the institution's highest honors. At the time, Metcalf was only the ninth person in university history selected to receive the award.
He also was presented that year with the Order of the Long Leaf Pine. Among the highest honors the governor can bestow upon North Carolinians, the Long Leaf Pine award is designed to recognize individuals who have a proven record of extraordinary service to the state as exhibited by contributions to their communities, extra effort in their careers and many years of service to their organizations.
Metcalf began working at UNC in 1990 after a 30-year career in journalism. He is a former executive editor of The Mountaineer newspaper in Waynesville, where he started as a general assignment reporter in 1961. During his tenure at The Mountaineer, he served as vice president and partner with a publishing company that also owned sister newspapers The News-Record of Madison County and The Canton Enterprise.
He was founding president of the Haywood County Schools Foundation, founding vice president for the Folkmoot USA international folk festival, and chairman of the Haywood County Public Library Board of Trustees. He served several years on the board of directors for the NCRGEA and as treasurer and chairman of its finance committee.
Metcalf has served on the Mountain Area Health Education Center Board of Directors and the School of Nursing Development Council at WCU. He also was a member of WCU's advisory council working to improve relationships and foster partnerships with the Eastern Band of Cherokee Indians.
Metcalf was nominated for the NCRGEA's Lifetime Public Service Award by resident Zeta Smith, who worked with him as director of special events at WCU and as advertising director at The Mountaineer newspaper.
"Clifton Metcalf has lived a life defined by service — to his country, his community and to others," Smith wrote in her nomination. "Following retirement from the university, Clifton continued to be involved in community and volunteer activities designed to build community and to positively impact lives."
A veteran of the U.S. Marine Corps, Metcalf earned his bachelor's degree in 1959 from UNC-CH, where he was a Morehead Scholar in journalism and a Naval ROTC cadet. He now resides at Lake Junaluska in Haywood County.