Archived News
Pisgah Legal opens Waynesville office, offers program to help working families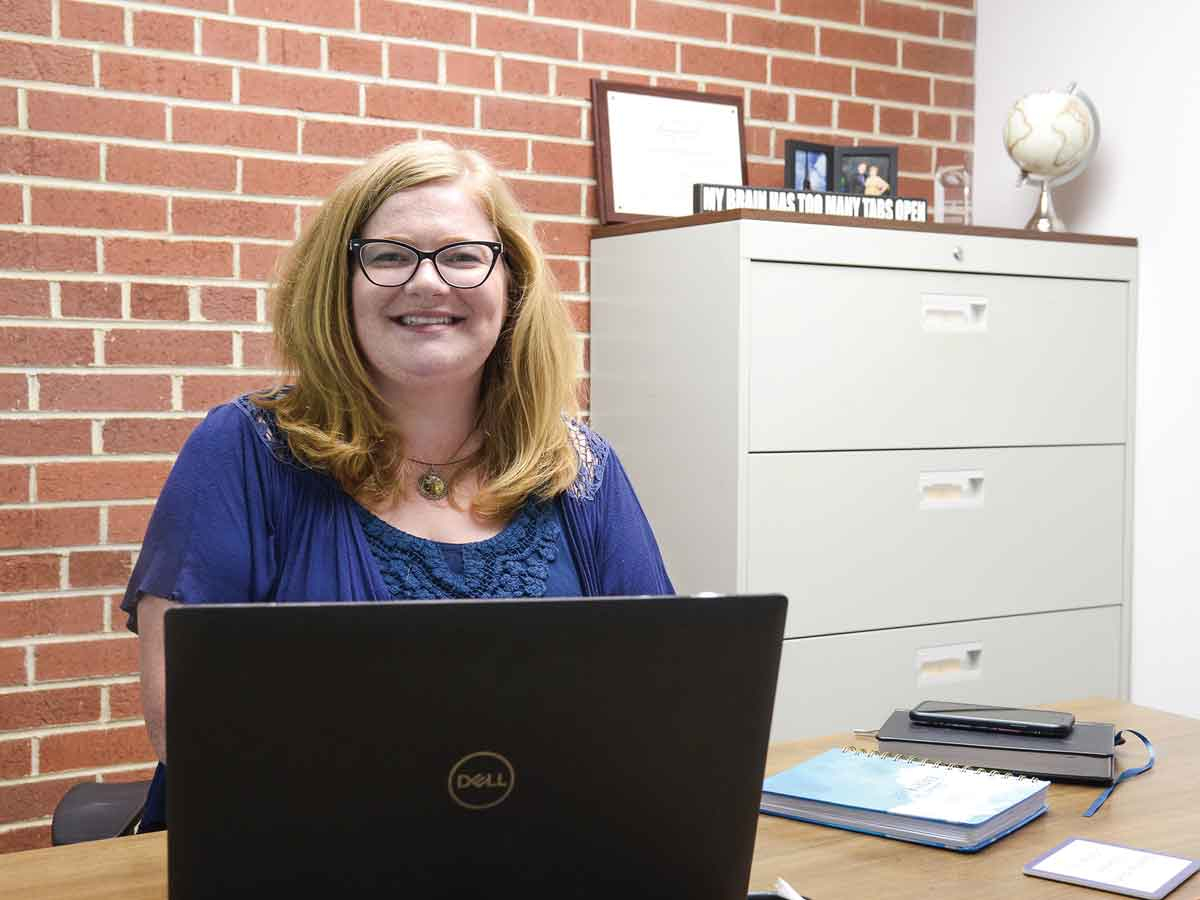 Jessi Stone.
As Pisgah Legal Services continues to grow and better serve its clientele, a key challenge has simply been getting word of its ability to help low-income households out to the public.
The nonprofit covers the 18 counties that make up Western North Carolina, but sometimes the seven westernmost counties can be a bit tougher to navigate, considering they are the most rugged, and some are sparsely populated and offer few resources.
However, that problem may have been slightly alleviated as a new office has opened within Mountain Projects' Waynesville building.
New digs
In addition to bolstering Pisgah Legal Services' presence in the western counties, the nonprofit also hopes it will ease the burden that can fall on clients who have to drive long distances amid record-high gas prices.
Staffing the Waynesville office is Jessi Stone, Regional Director of Health and Economic Opportunity for the western counties. Stone, who was previously The Smoky Mountain News' news editor, has been on the job about five months, the last two of which she's spent in her new digs.
Stone, who noted Pisgah Legal Services is also looking at setting up offices in Sylva and Franklin, said that while she spends plenty of time traveling around Western North Carolina, her new spot gives her the opportunity to do something she couldn't when working from home.
"Now I can have office hours here," she said. "People can call and make an appointment, and they can bring in documents."
"I can do evening hours too if someone needs an appointment after 5," she added.
If someone doesn't have time for a long meeting, they can drop off forms for Stone to scan remotely so she can work without them having to be present.
"I can call them when their return is ready or if I have questions during the process," she said.
The new office builds on an existing partnership between Pisgah Legal Services and Mountain Projects.
"It's good to be in the same building as our grant partner," she said. Their intake people see clients, and they can send people to me for taxes or healthcare, and it's a built-in trust network. If Mountain Projects refers them to us, then I'm right here in the building."
In a release sent out by Pisgah Legal Services, Mountain Projects Executive Director Patsy Davis conveyed her excitement.
"Anything Mountain Projects can do to get nonprofits to work together and serve people with multiple problems from the same office location is something I really believe in," Davis said.
Tax services
As inflation continues to climb past its current 40-year high, Pisgah Legal Services is also offering free help for families with a household income below $58,000 per year that can get them money they are due from the federal government, with some folks receiving upward of $15,000.
In the news release, Pisgah Legal Services Executive Director Jim Barrett said there's no reason to leave money on the table.
Jaclyn Kiger and Jim Barrett.
"Even if you earn little or no money and don't usually file taxes, you may be eligible for thousands of dollars in child tax credits," he said. "There are two special tax credits available to working families that could add up to thousands of dollars. The Child Tax Credit pays up to $3,600 per child and the Earned Income Tax Credit is worth up to $6,700."
But that's only if someone files a tax return. The IRS estimates that nearly 9 million people don't file taxes each year, meaning local residents could be missing out on these income-boosting tax refunds. On top of that, about 20% of North Carolinians who qualify for the Earned Income Tax Credit don't claim it.
Stone wanted to make it clear that while those who've already filed aren't able to file again, if someone hasn't filed, they might not know what they're missing out on.
"There's a lot of single moms out there with young kids, and maybe they hadn't had a job that they had a W2 with or enough earned income to file taxes, but they can get those child credits and that can be money to pay for childcare," she said.
Barrett said something similar in the release.
"Maybe folks are working seasonal, part-time, temporary, or gig jobs and don't make enough that they are required to file taxes," he said. "They may be missing out on thousands of dollars in flexible cash payments for themselves and their families. Congress created these credits to help them make ends meet. Pisgah Legal doesn't want them to leave that money on the table. Our trained staff and volunteers will fill out the paperwork with them at no cost."
With Stone in Waynesville and tax advocates also living in Sylva and Hayesville, there are ample opportunities for folks to find someone in their area to work with, especially considering they can make house calls.
"We have an elderly lady that hasn't done her taxes in years in Bryson City, and she can't get out," Stone said. "We have a tax credit advocate who can go out to her."
Along with possibly allowing folks to get a good chunk of change, filing taxes may also make them eligible for health care coverage under the Affordable Care Act.
Pisgah Legal Services Chief Operating Officer Jaclyn Kiger echoed much of what Stone said. Kiger, who has been with the nonprofit for 12 years and has been in her current role for three, said it's important for folks to come in and see if the staff can help with taxes, even if they feel like there may not be any extra benefit to them. You don't know what you don't know.
"Even the earned income credit can be very significant for lower income families," Kiger said.
In addition, Kiger said there are plenty of people who may still be able to receive stimulus payments that were authorized during the pandemic, even if they were initially ineligible to receive them since they hadn't filed taxes.
"We're also focusing on families who haven't received the child tax credits which can be up to $3,600 per child," she said. "This could literally be thousands of dollars."
"Another reason we were really hoping to get the message out about tax prep services is that we can file taxes at any point," she added, "People think 'oh, if I didn't file by April 15, I missed out.'"
But those people have to file if they want to see any of that money.
"The way this works is the system is designed for those who are already in it," Kiger said, adding that Pisgah Legal's employees will look at each case individually and determine what's in the client's best interest — in other words, they aren't there to police people who've skipped out on taxes before; they're just there to help.
"All of our services are free, and everything is confidential … Perhaps you haven't filed, and you've done something wrong; we won't pressure anyone to file, we want to help you understand your situations."
Kiger also highlighted the importance of getting as many people as possible the healthcare they need.
"We've seen how important quality health care coverage can be," she said. "We had someone who ended up in the hospital after enrolling in January for the first time. They did not have to pay hundreds of thousands of dollars. We believe that's a very important part of ending poverty."
When someone falls ill or has an accident, it can remove that household income, which may lead to an out-of-control spiral that can be destabilizing or even devastating.
"So many of my clients who were facing evictions needed help accessing quality affordable healthcare," Kiger said. "Housing is health and health is housing. In many ways, they're related.
Kiger also made a point of noting how society benefits when everyone has access to affordable health care options.
"When more people have healthcare, the costs are lower for everybody," she said. "We aren't having those uncovered costs and people relying so heavily on the safety net and using the ER for what should be preventative and routine care with a primary care provider. It allows people with chronic health conditions to manage them and avoid the extreme results. That allows more people to work because they're able to manage their chronic health conditions."
Like Stone, Kiger also wanted to reiterate that anyone is welcome to come and see if Pisgah Legal Services has any programs they could benefit from.
"Our services are free, and we have very well-trained staff and volunteers who are available right now," Kiger said. "We have appointments, and we would be glad to meet with you and talk about your options, and at the end of the day make sure you're aware of what's out there. You may be eligible for thousands of dollars, and we want to help you get that."
To make an appointment with the Waynesville office, call Jessi Stone at 828.210.3429 or learn more at pisgahlegal.org/taxes.