Archived News
Cherokee tribes voice joint opposition 
to recognition for Lumbee, other tribes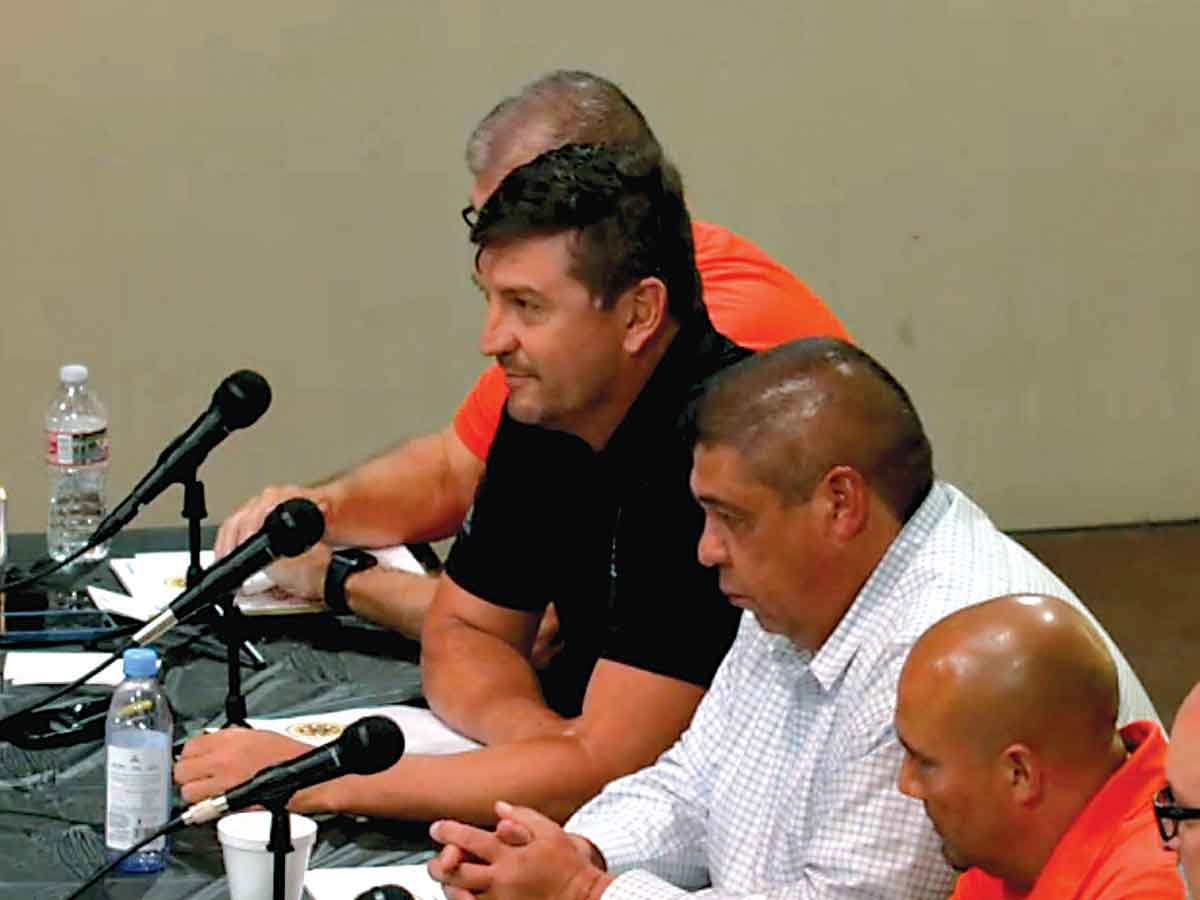 Vice Chairman Albert Rose speaks to the gathering at Tri-Council. EBCI photo
During their annual Tri-Council session held Thursday, June 23, the three Cherokee tribes agreed unanimously to a resolution opposing state and federal recognition of groups they say erroneously claim Cherokee identity.
"The Tri-Council of the three federally recognized Cherokee tribes does hereby oppose federal or state recognition of the Lumbee Tribe, the Chickamauga Tribe, MOWA Band of Chocktaw, Wolf Creek Cherokee Tribe and any other recognition effort from a group claiming Cherokee identity that seeks to avoid or circumvent the Department of Interior office's federal acknowledgement process," the resolution reads.
Held each year in June, Tri-Council is a gathering of the tribal councils for the Eastern Band of Cherokee Indians, Cherokee Nation and United Keetoowah Band of Cherokee Indians. This year's Tri-Council was held at The Venue in Tahlequah, Oklahoma, and hosted by the United Keetoowah Band.
The group passed a total of three resolutions, all by unanimous vote. The first requests that museums, media and other entities refer to living Cherokee people by their tribal enrollment and/or affiliation, while the second supports President Joe Biden's nomination of Roselyn Tso, a citizen of the Navajo Nation, to serve as the next director of the Indian Health Service. The recognition resolution was the third, last and most-discussed item on the agenda.
"There is a war on our identities right now, and just us having to go to D.C. and educate our senators and congressmen about who we are, this is going to be huge what we've done today," EBCI Vice Chairman Albert Rose said of the approved resolution.
The EBCI has for years opposed recognition of the Lumbee Tribe in particular. The 55,000-member tribe is centered in Pembroke, North Carolina. Though it has enjoyed state recognition since 1885, the tribe has so far failed to secure federal recognition — and the funding and benefits that would come along with it.
Over the years, the tribe has tried numerous times to claim federal status through congressional legislation. In January 2020, EBCI Principal Chief Richard Sneed testified before the U.S. House of Representatives Subcommittee for Indigenous Peoples of the United States, together with Lumbee Chairman Harvey Godwin Jr., on a bill seeking to do just that.
Sneed argued that the Lumbee had little to no support in the historical record for their tribal and individual identity and that granting the tribe federal recognition would draw federal resources away from impoverished tribes in desperate need of them.
"After that particular congressional meeting, I said to my fellow elected officials and to our lobbyist Wilson Pipestem, it cannot be just us fighting this fight," Sneed told Tri-Council. "It's too easy for the members of Congress to dismiss us as, 'Well this is about money,' money being gaming."
It is about money, Sneed said, but not casino money. While the EBCI is more fortunate, hundreds of the country's 573 federally recognized tribes are completely dependent on Indian Health Service and Bureau of Indian Affairs funding. With annual increases of 2-3% those appropriations don't even keep pace with healthcare inflation or inflation overall. If recognized, the Lumbee would become the country's nineth-largest tribe, but there is no guarantee that federal funding for Indian Country would increase accordingly.
Following the January 2020 hearing, Sneed said, the EBCI built a coalition of almost 60 tribes opposed to federal recognition for the named groups.
"There was one piece missing, and that piece missing was Resolution Three that just passed today," said Sneed. "So I applaud everyone here today — the chiefs, the council members. We must stand together."